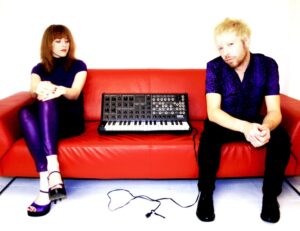 VILE ELECTRODES are a colourful trio consisting of Anais Neon, Loz Tronic and Martin Swan who formed due to an unhealthy obsession with analogue synthesizers and a desire to escape reality through dressing up.
And dress up they do. They also describe themselves "Vulgar – Eloquent, Vitriolic – Electronic, Vintage – Embittered, Visceral – Epicurean, Vague – Ephemeral."
Their best track so far is 'Deep Red', a title inspired by Dario Argento's 'Profondo Rosso'. It's a gorgeous seven and a half minute synth ballad that comes over like Client B born and raised in the Home Counties fronting Dindisc-era ORCHESTRAL MANOEUVRES IN THE DARK.
Their other material has disco potential, ranging from the dark neo-rave of 'Empire Of Wolves' to the shiny indie electro of 'Play With Fire' which musically is what THE SMITHS probably would have sounded like if Johnny Marr had picked up a Roland instead of a Rickenbacker!
---
VILE ELECTRODES will be playing a number of gigs towards the end of the summer at: London Putney Half Moon (19 August), Sheffield West Street Live (2 September), London Camden Purple Turtle with INERTIA and MECHANICAL CABARET (10 September)
http://www.vileelectrodes.com/
https://www.facebook.com/vileelectrodes/
https://twitter.com/vileelectrodes
---
Text by Chi Ming Lai
19th August 2010