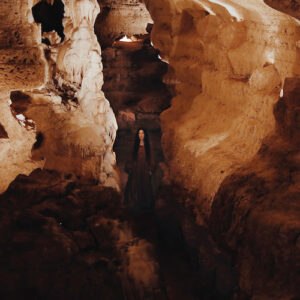 Nika Roza Danilova, born Nicole Hummel, is the artist behind the ZOLA JESUS project.
Having debuted in 2009 with grossly underrated 'The Spoils' LP, Hummel continued to charm in an almost witchy fashion through her output. At times more poppy like 'Taiga' to the dark and hunting 'Okovi', her main instrument being the eerie, operatic voice around which she builds her song structures.
With deep admiration of Russian language, culture and landscapes, her productions ooze coldness and depth, showcasing the darkest corners of electronica.
Historically Danilova would prefer to have reins over all aspects of songwriting, production and instrumentation; she would be the one constructing the finished piece. With 'Arkhon' however, she hit a wall of not being able to create and desperately felt she needed to bring in new blood.
That led her to sending her demos to Randall Dunn and collaborating with Matt Chamberlain. The latter, who was well known for his work with Bob Dylan and David Bowie, helped to define the sound of 'Arkhon'. Spurred by others' contributions, her creative juices started flowing, where she could feel that her ideas expanded "into a sound that (she) never would have been able to think of on (her) own".
Indeed the opening 'Lost' serves as a perfect example, where the layered urgent vocals, sparsely placed over native drums claim the voice of desperation, yet are embroiled in hope. 'The Fall' marries vintage Zola and modern pop, meandering between paced and urgent, vocals at times reminiscent of the late Aaliyah and otherwise very Grimes.
The album's synth marvel comes in next, embodied in the magnificent 'Undertow', with darker elements meeting a twisted take on synthwave. 'Into The Wild' is gentle and innately beautiful, sung from the depths of consciousness while 'Dead & Gone' featuring friend and touring violist Louise Woodward is an epiphany of healing amidst gloominess.
The pulsating 'Sewn' written in total collaboration with Dunn and Chamberlain is fast paced and native, juxtaposed with the bare 'Desire' with its simple piano and palpable pain expressed upon the end of a relationship. Perhaps it wasn't Danilova's 'Fault' who is "only human and some things don't make sense". Possibly the best track on the opus, this gem with cleverly placed electronic elements is reminiscent of instrumental DEPECHE MODE marvels circa 'Music For The Masses' and with exhilarating vocals, towers high over many of ZOLA JESUS' contemporaries.
'Efemra' goes back to tribal before the closing 'Do That Anymore' is loaded with the feeling of the new found freedom; "There is a moment where you stop fighting with yourself. That's when things can really happen". And they did…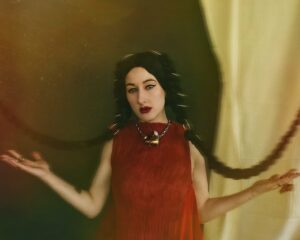 Having to change the perspective on music making and allowing others to share in the process, ZOLA JESUS "could enjoy being in the moment, putting that into the music and letting it unravel or evolve in its own way. To let it have its own story that I only had a part in telling". 
'Arkhon' doesn't only mean "power" or "ruler" in Ancient Greek but also translates into a Gnostic idea of power wielded through a flawed god, tarnishing the corrupted humanity with ZOLA JESUS firmly believing to be the sign of modern times.
Perhaps not as accomplished as 'Okovi', this latest representation of Danilova's abilities certainly ushers a new era in her song making. And perhaps having finally shaken the shackles, she will enjoy future collaborations to enhance her enormous talents.
---
'Arkhon' is released on 24th June 2022 via Sacred Bones Records on CD, cassette and a variety of limited edition coloured vinyl LP variants via https://www.sacredbonesrecords.com/collections/zola-jesus
https://www.facebook.com/zolajesusofficial/
https://www.instagram.com/zolajesus/
---
Text by Monika Izabela Trigwell
Photo by Shervin Lainez
22nd June 2022