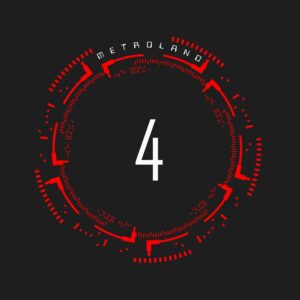 Numbers! METROLAND are back and they have started counting…
While Passenger A and Passenger S are a duo, 4 is the classic line-up of KRAFTWERK, the classic line-up of DEPECHE MODE, the classic line-up of ULTRAVOX and the classic line-up of NEW ORDER.
The latest work from METROLAND is '4', a rhythmic precursor to a new album acting as the first in a series of 4 singles and like 'Enjoy The Silence – The Quad Mix', the track has been reworked 4 times to tie together as one extended sonic adventure.
Counting down 4-3-2-1 with a darker approach compared to their previous artistic journeys and more in the vein of their B-side '(We Need) Machines Without Romance', METROLAND crunched the numbers with ELECTRICITYCLUB.CO.UK…
What is the power of 4?
You could say the elements of surprise in lots of ways. In fact, the song '4' is cut up in 4 parts that blend as one, taking you over an epic playing time of 20minutes. Each part is actually the same arrangement, but every time from a totally different musical angle. And we took '4' to an entire new dimension by allowing more experimentation in our soundscape. '4' is also mixed as one song on the mixing desk, so it is not like we did recorded 4 different versions and glued them together. The goal was to deliver one entire song. And then there are the 2 remixes or call them "interpretations" by Passenger A & S, each done in their solitude and then brought together (a thing that will return in our next singles). To top it off, you get four edits of each of the parts as a download set.
Both these remixes and the 20 minute full version of '4' are exclusive to a good old fashioned 12 inch vinyl. A vinyl coming up in 2 luscious colours holding a full version of '4', each coming with a unique 30×30 poster (the size of an album sleeve ready to be framed).
So, yes, '4' is absolutely our element of surprise.
The number 4 is the 8th most 'winningest' car number in F1 history, yet is considered unlucky in the Far East, but what is the significance of 4 to METROLAND?
Well, we can already say that it has nothing to do with cars, nor is it geography related.
'4' is the countdown towards a new album, an entire new concept, and a more profound definition of the next sound of METROLAND. The details of the new album and its concept will remain hidden for some time, as we still want to use some milestones to enhance them. All will be revealed in due time, but slowly the concept should become clear ('4' is already a huge chunk of it)
So '4' has four parts, how was the work conceived and constructed?
In view of the new concept at hand, we wanted to emphasise it through and through from the start while not giving anything away yet.
Our crazy minds could not find a better way than having a track called '4', calling the release '4', cutting it up in 4 parts and topping it off with the 4 edits listed up from 4.1 to 4.4, and all this after 4 years from our former album (but that last one is a pure coincidence).
Is '4' the launch of a new number themed METROLAND album?
We simply have to give 2 answers here: yes and no. '4' is definitely the launch towards the new album and there is a countdown, but the concept is not numeric at all. Still, the concept holds a sequence in history. And by now you know everything and nothing 😊, that is what we always strive for, a thorough concept that from A to Z (or 4 to none maybe) is linked together.
Next will be 3 more singles, albeit digital, including some remixes by external bands and ourselves.
---
'4' is available as a download and red or transparent 12 inch vinyl single from https://www.808dotpop.com/shop.html
http://www.metrolandmusic.com/
https://www.facebook.com/metrolandmusic
https://twitter.com/MetrolandMusic
---
Text and Interview by Chi Ming Lai
24th June 2022