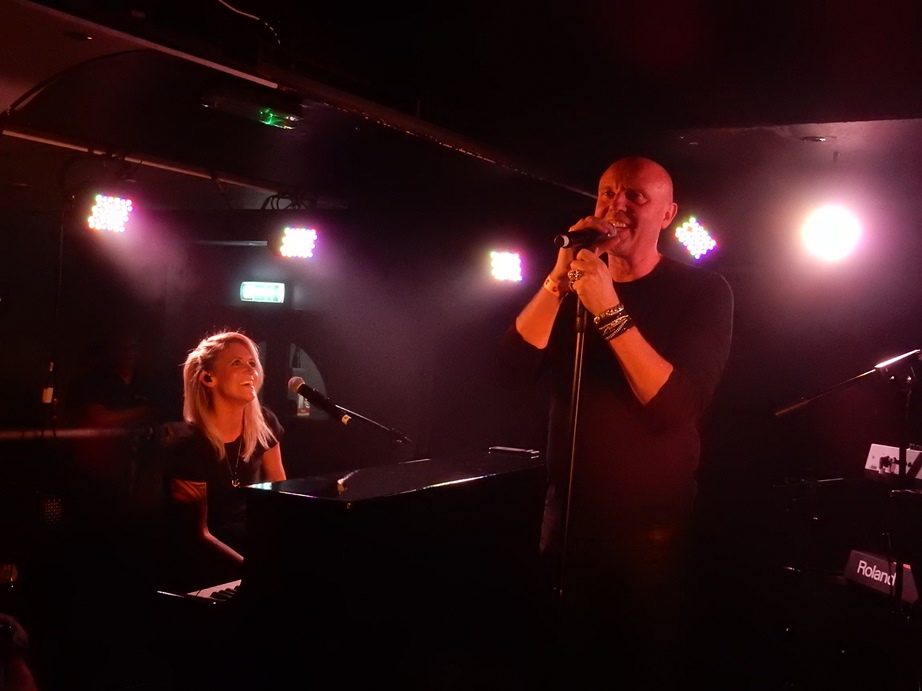 AFTERHERE are Berenice Scott and Glenn Gregory.
Gregory is best known as the front man of HEAVEN 17 while Scott is a singer / songwriter who is also the Sheffield electronic pioneer's live keyboardist; she joined their concert set-up in 2011 while releasing her most recent solo album 'Polarity' in 2014.
As well as HEAVEN 17, the pair have also been part of HOLY HOLY.
A supergroup led by Spiders drummer Woody Woodmansey and producer Tony Visconti, HOLY HOLY perform the songs of DAVID BOWIE from the period between 1969 to 1973 at concerts around the world and it was while touring that AFTERHERE came into being.
What began as a platform for soundtrack work eventually mutated into songs for their debut album 'Addict'
; "Glenn being part of one of the most innovative electronic bands calls to mind elements of KRAFTWERK and of course HEAVEN 17" Berenice Scott said, "We both love classic, brilliant songwriting such as the HALL & OATES catalogue and one of my favourite singers is Karen Carpenter, and then we kind of end up meeting somewhere in the middle with a shared love of DAFT PUNK."
For their debut gig at Venue 2 of 229, an underground location in Central London, Scott and Gregory reversed their known roles from HEAVEN 17. Beginning with an introspective instrumental 'Butterfly', it was certainly unusual to see Gregory behind two synthesizers.
The soulful electronically assisted pop of 'After the Night' had its rainy backdropcomplimented gentle backbeat from Al Anderson on electronic drums,
It showcased how with Scott taking the majority of the lead vocals, AFTERHERE's songs take on a more personal and emotional level compared with the socio-political animal that is HEAVEN 17.
'Darkstar' saw Gregory take the first verse in a duet with Scott, their two very different voices working well in unison and providing enough anguish around a solid bassline, swooping electronics and subtle piano.
Aided by a synthetic rumble and thundering rhythms from Anderson, 'Unbroken' was full of emotive drama with Scott exclaiming "I'll be there for you". The jazzier overtones of 'It's OK' were disturbed by some solid schaffel beats, although Scott's terrifically rich voice was not overawed by the dominant percussive backbone.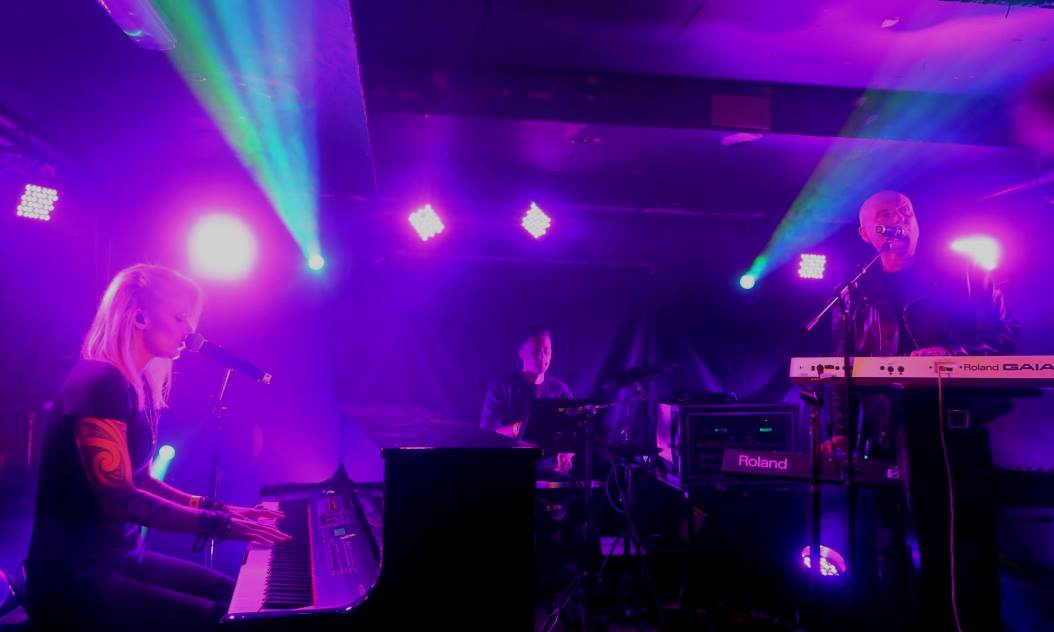 With a solemn demeanour, 'I Won't Cry' with its mix of piano and synths came over like an electro-FLEETWOOD MAC and was amusingly boosted by Gregory's BEE GEES inspired falsetto backing vox. Then in a nod to HEAVEN 17 and David Bowie, Scott provided solo piano interpretations of 'Temptation' and 'Wild Is The Wild' which were both voiced by Gregory.
The haunting overtures of 'Liar', which formed part of AFTERHERE's first soundtrack commission, more than suited the parent TV show's heavy subject content; "is he dead?" grinned Scott to the audience at the song's conclusion in a reference to the series one cliffhanger…
The excellent 'Addict' album title track dealt with emotional exploration of relationships, but proceeding were injected with a dancey boost, courtesy of the funky GOLDFRAPP of 'Breaking Rules'; with groovy reminisces of 'Twist' and 'Yes Sir', the song's captivating sexually charged seduction almost got Scott up on her feet, although she remained somewhat the reluctant front woman despite having the voice and looks to more than fulfil the role.
The nocturnal atmospheres of 'A Place To Be' were perfect as the penultimate song of the evening before Berenice Scott and Glenn Gregory closed with a stark trip-hop styled cover of 'All Along the Watchtower'.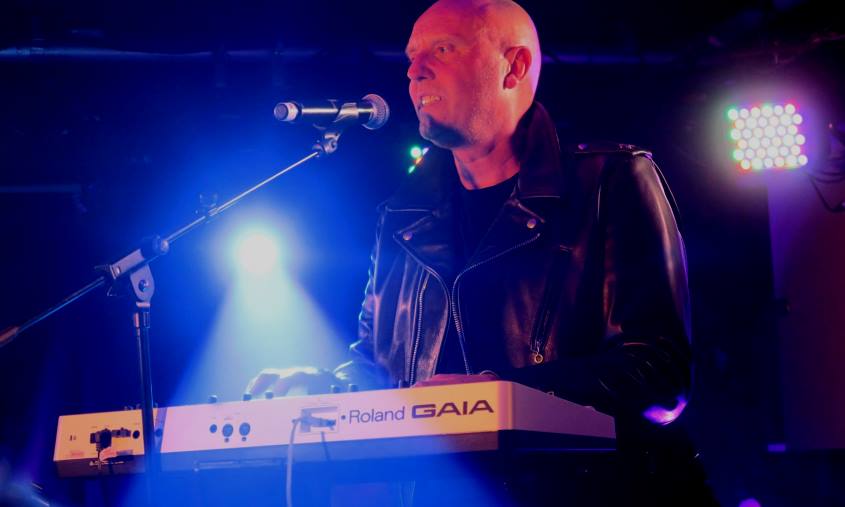 With an introduction by 'Liar' and 'Vanity Fair' director James Strong, he explained how he wanted the music for his shows to be slightly darker in tone. A song that has been reinterpreted by many in the past including Jimi Hendrix, Bryan Ferry and U2, authentic guitar sounds emerged from Gregory via his Roland GAIA. Combined with Scott's spooky air, it came over like MORCHEEBA doing Dylan.
It was an enjoyable debut performance from AFTERHERE with Scott particularly impressing. Gregory had said he was particularly nervous in his new role as a live musician, but he needn't have worried. Both he and Scott just need to get a bit more confident within their role reversals and everything else will nicely fall into place.
---
With thanks to Sacha Taylor-Cox at Hush PR
'Addict'
is released by Manners McDade in CD and digital formats
https://www.facebook.com/AfterhereMusic/
https://twitter.com/WeAreAfterhere
https://www.instagram.com/weareafterhere/
http://www.mannersmcdade.co.uk/composer/glenn-gregory-berenice-scott/
---
Text by Chi Ming Lai
Photos by Chi Ming Lai and Richard Price
8th October 2018