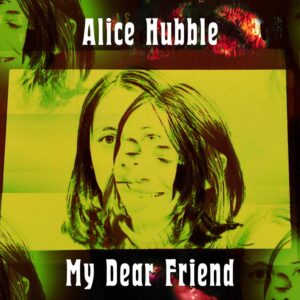 Following her acclaimed 2019 debut album 'Polarlichter' which was released on Happy Robots Records and gained the support of Lauren Laverne, Steve Lamacq and Gideon Coe from BBC 6Music, synth earth mother Alice Hubble will issue its follow up 'Hexentanzplatz' this Autumn.
Named after a Harz mountain located just over 70km south west of Magbeburg, Hexentanzplatz literally means "Witches' Dance Floor" in German and accurately captures the mystic air of the old Saxon cult site where legend has it, ancient fertility rites were practiced and sacrifices took place.
However, the second single from the album 'My Dear Friend' is more optimistically romantic having been inspired by the discovery of a collection of love letters written by Alice Hubble's mother to her father around the time that they first met. "My mother passed away when I was in my teens" she said, "these letters gave me a real insight into who she was as a person, her 'newly in love' giddiness jumping off the page".
The hazy kaleidoscopic black and white video for 'My Dear Friend' directed by Alice Hubble herself captures an immersive hazy feeling while the song itself, with its combination of understated drums from Matt Kelly and a whirring cacophony of varyingly tuned synths, recalls the electro-organic pagan ritual of LADYTON's 'Mirage' from the 'Gravity The Seducer' long player which is now 10 years old.
While the already premiered 'Power Play' with its important statement on the #MeToo movement reflects Alice Hubble's embracement of collective digital activism and serves as her protest song, one of the glistening highlights on 'Hexentanzplatz' comes with the rousing indie synthpop of 'Projections'.
---
'My Dear Friend' is available via Happy Robots Records on the usual online platforms including https://happyrobotsrecords.bandcamp.com/album/my-dear-friend
'Hexentanzplatz' will be available in vinyl LP and digital formats on 10th September 2021, pre-order from https://happyrobotsrecords.bandcamp.com/album/hexentanzplatz
Alice Hubble 2021 live dates include: London Folklore (7th October), Nottingham Old Cold Store (8th October), Leeds Wharf Chambers (15th October)
https://www.happyrobots.co.uk/alice-hubble
https://www.facebook.com/alicehubblemusic/
https://twitter.com/alice_hubble
https://www.instagram.com/alice_hubble/
---
Text by Chi Ming Lai
8th July 2021