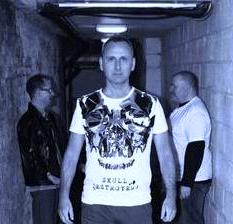 What's this, is it the new OMD single?
No, it isn't but ANALOG ANGEL have recorded an immediately enjoyable new song 'We Won't Walk Away' which could be perceived as a laudable tribute to OMD's classic 'Organisation' era, complete with primary chord structures, one-fingered melodies and motorik rhythm programming. There's even a bit of Andy McCluskey tinged tenor or Ian Donaldson of H2O if you want to reference closer to ANALOG ANGEL's hometown of Glasgow, although McCluskey's father Jimmy was a Weegie and played for Celtic!
There's also the more cosmic tones of LA DÜSSELDORF looming but most listeners will recall OMD simply because Wirral's finest have been one of the greatest exponents of selling German influenced electronica back to the Germans!
Eschewing the more industrial template of their previous 2011 album 'The Thin Line', 'We Won't Walk Away' is from ANALOG ANGEL's new EP 'Pride'. Formed in 2009, ANALOG ANGEL, who consist of John Brown (vocals, synths), Derek MacDonald (synths) and Ian Ferguson (synths), have supported the likes of VNV NATION, ASSEMBLAGE 23 and TOYAH. This new collection of songs showcases a richer sound, complex layers of programming and some decidedly Euro-romanticised lyrics.
This broader palette has without doubt widened their appeal but whether ANALOG ANGEL's existing fanbase will enjoy their new direction remains to be seen. It could be the best thing they have done, but just one thing though… Paul Humphreys might want his Prophet 5 back 😉
---
'We Won't Walk Away' is from the download EP 'Pride' and released on 1st February 2013 by Carbon 12 Records
http://carbon12records.com/artists/analog_angel/index.htm
---
Text by Chi Ming Lai
26th January 2013