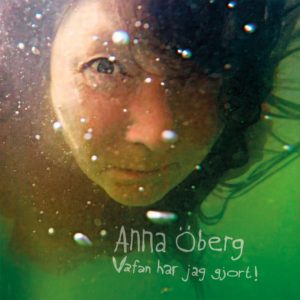 The Swedish band LADOMIR, who described themselves as "synth and string", was the jump start for Anna Öberg, who had long been a stand-alone composer and lyricist.
A self-confessed lover of pop, Öberg decided to take the plunge into the ocean of electronica, releasing 'Härsknar' as her first solo long player.
This amalgamation of new wave, punk and heavy industrial elements was produced by Charles Storm, known for his collaborations with HÅKAN HELLSTRÖM.
This year sees Öberg's return with a follow-up, 'Vafan Har Jag Gjort!', which sweetly translates as "What the f*ck have I done!"
So, Anna, what the f*ck have you done!?
Promising "further steps into her very personal synth universe and masterful craftsmanship", Öberg claims that this time she's pushing "a little harder", but at the same time "a little more sweet".
Indeed, the harder pushing, nearly psychedelic sound LSD induced and with rave qualities, introduces the album with 'Jag Blir Inte Kysst' ('I Don't Get Kissed'), where the artist goes all out with pitch changing vocal, gritty synth and dirty textures, that attack from the onset.
The question of today is 'Vafan Har Jag Gjort!', which is repeated several times in the course of the song, pushing further and further like uncomfortable probe, to ease off for seconds before the machine starts up again. From the clear protest song, to this of arm swaying quality, the regretful plea ebbs and flows until it disappears into the abyss of Öberg's disturbed mind.
'Daga Att Gråta' sees a more demure approach with sluggish rhythm, slower beat and poetic verses, interwoven with heavier elements to complete a more uncertain track, full of Pagan imaginary and artistry.
Vintage synth a la FAD GADGET's 'Ricky's Hand' ushers 'Jag Såg Dig På En Lördag' where that Saturday feeling drives the fast paced beats, continuously paying homage to the analogue machinery, showing off the fact Öberg can do "the happy" as well as the harsh and sad.
The unusual returns on 'Bråk', which is "fraction" like GAZELLE TWIN meets BJÖRK. The main musical elements are a choir, sparse synth and echoed voices. 'Ich Bin' changes the tongue to German and Öberg warns in no uncertain terms the she needs love: "Achtung Achtung Ich brauche Liebe", over possibly the most interesting musical manipulation on the production.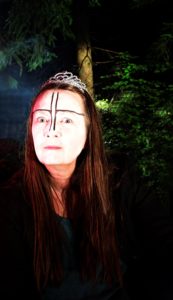 A PET SHOP BOYS like dance sound enters on 'Fortfarande 16'. The clash of voices and sounds bursts out like Jack in a Box, paying further homage to synth of the past times, while the closing 'Omöjligt' wraps up the album with the strangest of tunes. Dark, smoky and spooky, this persuasive piece evokes uncertainty and fear, with very few sounds, which develop into a plethora of sci-fi light and truly "impossible" imaginary.
Nobody said this was easy listening music, nobody warned against harsh words, nobody prepared against heavy statements, but Anna Öberg cares not. Having Charles Storm taking the reins of production again, as well as the inclusion of the poet Bob Hansson, John Lindqwister and Russ Rydén, Öberg achieves higher levels of musical wisdom, thanks to her ever expanding electronic horizons.
---
'Vafan Har Jag Gjort!'
is released by Xenophone International as a CD and vinyl LP, download available from https://annaberg.bandcamp.com/releases
https://www.facebook.com/Anna5Oberg/
---
Text by Monika Izabela Trigwell
16th March 2019