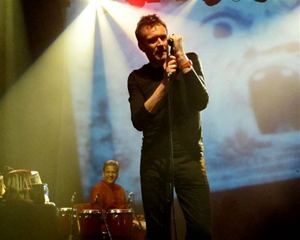 BLANCMANGE presented a sharp show at London's Koko as part of their highly welcomed comeback.
The duo of Neil Arthur and Stephen Luscombe recently released their first album for 25 years in 'Blanc Burn', a dark collection of songs delivered in a modern technical setting but retaining all the hallmarks of their quirky and humourous sound.
Unfortunately, Stephen Luscombe has been diagnosed with a spinal aneurysm and unable to take part in the tour; ELECTRICITYCLUB.CO.UK wishes him all the best and a speedy recovery.
However tonight, he's able to observe proceedings from the sidelines as his charismatic band mate Neil Arthur leads honorary mangers Pandit Dinesh and a deputising Graham Henderson through a spirited if short set to a crowd of eager onlookers who interestingly seem to have more hair than the average OMD or NEW ORDER audience!
Following a great warm up DJ set by the ubiquitous Mark Jones from Back To The Phuture who digs up the lost synthpop classic 'Haven't We Met Somewhere Before?' by TELEX for all to hear, a taped intro of Vishnu acts as overture before BLANCMANGE begin with 'I'm Having A Coffee'. An everyday tale of life how life can pass you by, of course one way to stop this from happening is to try something new… opening with an impressive new number is a fine statement of intent that this is not to be a complete night of nostalgia. It acts as a perfect starter before the main course which consists of half the tracks from their brilliant debut album 'Happy Families'.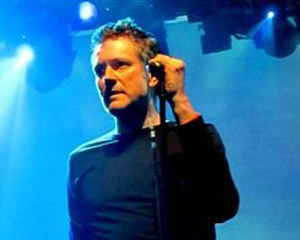 "Long time innit?" murmurs Mr Arthur by way of a greeting. JULIAN COPE will probably be skating on another copy of 'Happy Families' if he can hear the amazing response that is greeting tunes like 'I Can't Explain', 'God's Kitchen' and 'I've Seen The Word' tonight.
On 'I Can't Explain' in particular, Arthur almost turns into Ian Curtis as the blistering synths accentuate the overall intensity.
Meanwhile, 'I've Seen The Word' retains its melancholic beauty while the observational narrative on religion of 'God's Kitchen' recalls a time when record companies were willing to take risks on unconventional musical subjects.
And all this a couple of years before DEPECHE MODE's 'Blasphemous Rumours' too.
Neo-referencing ROXY MUSIC's 'Do The Strand', new single 'Drive Me' is part autobiographical as Arthur adds some theatrical surrealism when recalling his youth, particularly on meeting a DAVID BOWIE impersonator who refused to shave his moustache! Throughout the colourfully lit proceedings, Pandit Dinesh effortlessly taps his way through probably the largest array of ethnic percussion instruments ever to have been gathered to add a rich, spicy flavour to proceedings. He acts as the perfect sidekick in Luscombe's absence to Arthur's wonderful down-to-earth charm.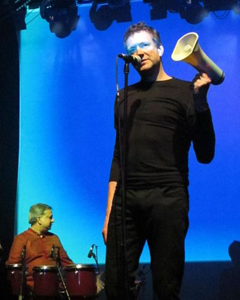 On 'Don't Tell Me', the first hit single of the night, Neil Arthur is both dramatic and self deprecating. And the big belting voice of yore that has been more subdued on 'Blanc Burn' returns, bringing many smiles from the crowd.
Further amusement occurs when Arthur reaches for a megaphone for a rendition of 'Probably Nothing'. He even treats onlookers to a spot of Tai Chi, no doubt the secret to his enormously fit, lean and healthy look.
Arthur's joyful demeanour often disguised the edgier lyrical elements of BLANCMANGE's catalogue in the past which have only become more obvious in retrospect.
A nice welcome surprise arrives in the shape of the brilliantly funky 'Game Above My Head', B-side of 'Waves' while the magnificent A-side itself really does sound like SCOTT WALKER fronting OMD. With further roars of approval plus the passion which Arthur gives to this crescendo ballad, JULIAN COPE will probably now need to find two copies of 'Happy Families' to skate on!
'The Western' is an addition to the tradition of 'Don't Tell Me' and 'Living On The Ceiling' and is probably the album's most instantly accessible track. And when Koko gets 'Living On The Ceiling', this smash that still fills dancefloors and gets used in adverts acts as a symbol of BLANCMANGE's musical and cultural legacy. An audience singalong is conducted superbly by Arthur's animated arm actions coming over like a Lancastrian David Byrne.
During the bionic electronic disco of 'Blind Vision', the frantic rhythmical rattles and clouts are faithfully reproduced although occasionally, there is a strange aural cavern in the absence of the mighty female gospel vocals that appear on the original. Towards the final straight, a futuristic updating of 'Feel Me' gets the one of the biggest cheers of the evening as the audience "feel the pain". Its dynamic adventure is a reminder than there are 101 things that can be done with a Linn Drum Computer.
Genuinely flattered by the response and attention, Arthur and co encore with 'Starf*cker', the sinister highlight from the 'Blanc Burn' album. It recalls the sound of BLACK GRAPE as it rightly attacks the UK's shallow and vapid obsession with celebrity. It is unmistakeably BLANCMANGE but could never have come from 'Happy Families', 'Mange Tout' or 'Believe You Me'. Now that's progress! Then, unfortunately that was it!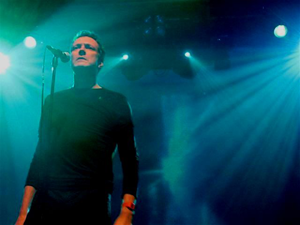 At least one thing BLANCMANGE manage to do is leave everybody wanting more. While the brief set was a fine balance between the immediacy of their classic songs and the vitality of the new material from 'Blanc Burn', there was no room for the ABBA cover 'The Day Before You Came' or the engaging nearly single of 'Kind'. However, with the mixed emotions around Camp BLANCMANGE at the moment, it's great just to hear these fantastically under-rated compositions within a concert setting again.
The final word though has to go to the amazing Pandit Dinesh who shouted out "Jai Ho" as the band said their goodbyes. This is a Hindi victory shout… roughly translated into English, it means even "you rock"!
A pint of curry anyone?
---
Special thanks to Stuart Kirkham at 9PR
'Blanc Burn' is released on Proper Records
https://www.facebook.com/BlancmangeMusic
https://twitter.com/_blancmange_
---
Text by Chi Ming Lai
Photos by Richard Price
27th March 2011