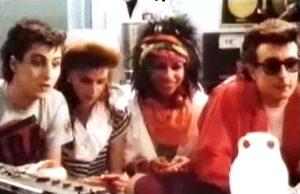 Picture the scene…
A hopeless New Romantic styled pop band consisting of two boys and two girls, all suffering the signs of major hairspray abuse.
They sit excitedly as they play their not very good demo tape to a passively unimpressed corporate record company executive.
The song with its immortal couplet "Alien invasion… what on earth are we gonna do?" rather resembles THE HUMAN LEAGUE meeting GARY NUMAN down at the Crazy Dystopian Disco. The band's leader suddenly proclaims "This is the best bit…" before a hysterical scream blasts from the ghetto blaster!
The bemused record company man, played by actor Gavin Richards who found fame as Terry Raymond in 'Eastenders', calls time with one of the UK's favourite chocolate wafer snacks. He looks at the group and snorts: "You can't sing, you can't play, you look awful…YOU'LL GO A LONG WAY!" before allowing himself a wry smile. He poignantly gives off the aura of a modern banker who has just awarded himself a huge bonus despite having just run his organisation down to the ground!
This famous Kit Kat TV commercial entitled 'Pop Band' was produced in 1984 and a spot-on satirical observation of how modern fashion and popular culture was being perceived by the ordinary citizen.
All good skits have scarily authentic reference points so thanks to the flamboyant and aspirational (although many would say vapid and greedy) nature of the period, this amusing ad is still remembered and quoted whenever the latest pop wanabee steps into town.
---
Text by Chi Ming Lai
15th August 2012