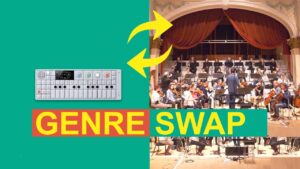 So what would a piece of electronic music sound like played by an orchestra? And what would a piece of orchestral music sound like performed electronically?
Two musicians did an experiment to swap genres, to highlight not just the differences but also the similarities in their respected artistic forms.
Composer David Bruce studied dance producer Jeremy Blake's electronic track 'Aquamarine' to create an orchestral version performed by the Orchestra of the Swan conducted by Jason Lai. This was an interesting project for the Singapore-based conductor as he had endured his sister Sarah's DURAN DURAN tapes as a youngster.
Jason Lai is a second cousin of ELECTRICITYCLUB.CO.UK's founder Chi Ming Lai and became the Assistant Conductor of the BBC Philharmonic after winning the BBC Young Conductors Workshop in 2002. In 2006, he was a panel expert on the BBC's 'Young Musician of the Year' and then a judge for the BBC classical music talent show 'Classical Star' in the following year.
But one of his most high profile moments came in 2008 when he was the professional mentor in the BBC celebrity conductor reality TV show 'Maestro' to the eventual winner Sue Perkins. He recently presented 'Heart Of Thailand', a series of short documentaries about the country's culture for BBC World News.
Swapping roles and returning the complement, Jeremy Blake then reworked David Bruce's orchestral piece 'Fanfarrón' into an electronic version using a variety of software instruments and samples. The two videos make interesting viewing…
With Gary Numan having worked with the Skalaris Orchestra and OMD with the Liverpool Philharmonic in a live concert context, while producer William Orbit has brought classical music to an electronic dance audience via his two 'Pieces In A Modern Style' reinterpretations albums, genre swaps are very much part of the 21st Century music landscape.
This idea for the Electronic Music versus Orchestral genre swap first came about following a YouTube challenge thrown up by producer Andrew Huang to see how different producers would use a sample from a single song 'Foreign Bodies' by Lucy Swann. Jeremy Blake was among those taking part in the eventual '4 Producers Flip The Same Sample' films.
---
https://twitter.com/davidbruce
https://www.facebook.com/jasoncwlai/
---
Text by Chi Ming Lai
28th June 2020