After almost a year's delay, Texan duo ELEVEN:ELEVEN have finally released their debut album 'Through The Veil'.
Combining elements of Italo Disco, Hi-NRG and Electroclash with the feisty template Of Terri Nunn's BERLIN and the Mittel Europa romanticism of VISAGE, ELEVEN:ELEVEN deliver a melodic but edgy style of electronic dance music which doesn't cause death by four-to-the-floor! Fronted by the feline demure of Sicca and powered by the crisp electronic backing of Jake Childs, ELEVEN:ELEVEN have been described as the musical love child of GIORGIO MORODER and ADULT. The duo's debut EP 'Infection', with exquisite songs like 'Infection', showcased the subtle dynamics of their futuristic disco friendly sound influenced by the likes of producers such as Bobby Orlando as well as the man named Giorgio.
The original promotional concept of 'Through The Veil' had been to the release a track one-at-a-time before culminating in a finished ten track album but after six were premiered, things went quiet while the duo were signed to Canadian label Cliché Musique, part of Universal Music.
It comes as a big surprise though after all the delays that the whole album has been given away as a free download… but what a freebie! The songs are uncluttered, and allowed space to breathe rather than just having the kitchen sink thrown in. Punching forth at the start is 'Escape' which combines atmosphere, danceability and emotion for a superb opener.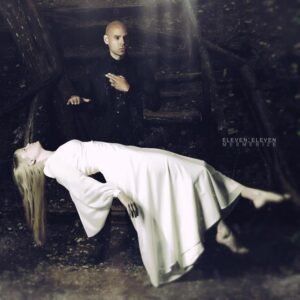 Taking on a more Eurocentric countenance with a hint of A-HA's 'Take On Me' is 'Essence' although Sicca doesn't try to attempt falsetto. With a moodier percussive outlook, creepier synths hook-in at a steadier pace on 'Mesmerize' with Sicca all haunted and exclaiming "You're toxic, mesmerise me… I waste away"; it all gives 'Through The Veil' a kind of sexy gothic allure.
'The Play' explores bondage chic, a theme often referenced in ELEVEN:ELEVEN's artwork. Feeling the need for speed, it is more frantic than the other numbers running through the core of 'Through The Veil'.
There's plenty of highs and lows in its two minutes. The exploration continues on 'The Chains' and at four plus minutes, is the longest song on the album. Strangely, it does sound a little too long…
The synthetic seediness of 'No Words' is reminiscent of MISS KITTIN & THE HACKER but whereas Ms Herve would just speak, Sicca coos with a sultry allure… it actually makes a change to hear a singer on an electronic backing track like this rather than the expected deadpan monologue. Driven by an arpeggiated bassline and analogue drum machine clatter, 'Little White Lies' is rather divine with Sicca sounding quite seductively resigned over some great syncopation, club friendly without being overbearing.
'Isolate' and 'Justified' maintain the quality of the album and don't veer too much away from the 'Through The Veil' template. But the best number comes last with the brilliantly sparkling title track which put quite simply, is just great angelic synthpop.
An impressive debut, the main noticeable trait of 'Through The Veil' other than its quality dance stance is that the songs are all short and sweet. There's no unnecessary 20 inch dance mixes needed as the point can be made in less than three minutes… so DJs and dance acts, PLEASE LEARN!
At thirty-two minutes, 'Through The Veil' does not outstay its welcome and with its enjoyable ten variations of a theme, it showcases how there is subtle, crafted thinking within EDM from this promising electronic duo.
---
'Through The Veil'
is available via the usual digital platforms
http://www.facebook.com/the.eleveneleven
---
Text by Chi Ming Lai
19th November 2013, updated 8th July 2018