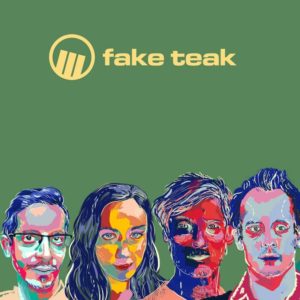 FAKE TEAK were actually first name checked by VILE ELECTRODES back in 2011.
With diverse influences such as Krautrock, Afrobeat, funk, rock and electronica, the band has since evolved and it would be fair to say they have a unusual hybrid sound that falls neither into exclusively synth or alternative music circles. After a long gestation period, the London-based quartet of Andrew Wyld (bass, synthesizer + vocals), Alastair Nicholls (guitar, synthesizer, bass + vocals), Joanna Wyld (synthesizer, flute + vocals) and Andrea Adriano (drums, production + vocals) finally get to release their self-titled debut long player.
As an opening statement of intent with hand-driven organic synth sounds galore, the spectre of LCD SOUNDSYSTEM looms heavily on 'Dance Like Nobody's Watching' while on the frantic seize the day mantra of 'Bears Always Party The Exact Right Amount', early TALKING HEADS enter the mix via a groovy rhythmic backbone. Meanwhile, 'Post Office Tower' is a quirky ode to that London monument with the revolving restaurant, traditional yet slightly off-the-wall.
The new wave flavour of 'Solid-State' makes good use of an ARP Odyssey Mk1 as FAKE TEAK sing of "going electronic again" while the unwavering art funk of 'Recall A Thought' explores an inner Byrne.
'Whole Lot O' Grief' throws offbeats and flute into the equation alongside a bassy synth rumble, but 'Lagos 82' takes on a great energetic FRANZ FERDINAND feel and codas with a wonderfully glorious chant. Meanwhile, '101' is not a tribute to DEPECHE MODE but actually comes over bizarrely like DR HOOK backed by AZTEC CAMERA and when the Roland Juno 60 strings kick in, it sounds even weirder!
But the best is saved until almost last; an affectionate parody of HOT CHIP's 'Ready For The Floor', 'No Shame' is a delightfully odd but catchy disco tune about that strange moment when people with nothing in common come together on the dancefloor.
With plenty of synth action, there's a rousing church-like middle section in which each band member contributes vocals to provide a rather fabulous harmonious effect, recalling the Alex Kapranos produced CITIZENS! Closing with the eerily filmic 'Breathless', the syncopated rhythmics are offset by layers of synths and eccentric vocals.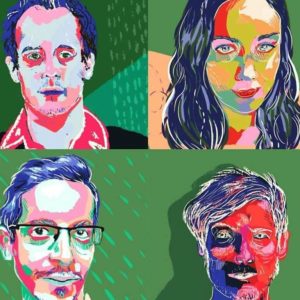 What stands out about FAKE TEAK is how they don't stylistically pander to any musical fashions.
And despite their use of vintage synthesizers, the synths are not the excuse for the song, but neither are they for pose or just part of the background to fill out the odd chord here or there.
If you like the idea of a distinctly English take on LCD SOUNDSYSTEM and TALKING HEADS, topped with a dash of HOT CHIP and FRANZ FERDINAND too, FAKE TEAK may be right up your country lane.
---
'Fake Teak'
is available on the usual digital platforms
https://www.facebook.com/faketeak/
https://www.instagram.com/faketeak/
https://soundcloud.com/faketeak
---
Text by Chi Ming Lai
5th November 2018