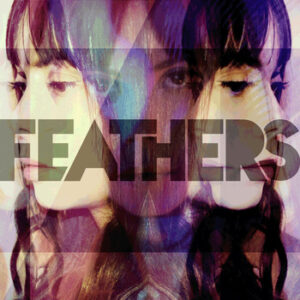 One of the strongest albums of 2013 came from Texas based FEATHERS with 'If All Now Here'.
Essentially the musical vehicle of Austin based singer / songwriter / programmer Anastasia Dimou, Softsynth described it as "about as good a debut as we've heard in a yonk's age" while Popjustice simply said it as "very good" and listed it in their Top 33 Albums of 2013.
As Softsynth said in their review, to call FEATHERS the female DEPECHE MODE is apt but rather over simplifying it.
Combining modernism, dystopia and deserts with a husky, gothic allure with Middle Eastern overtones, FEATHERS' moody dramatic torch songs such as 'Land Of The Innocent' and 'Leaves Start Trembling' combine well with their vibrant danceable synthpop such as 'Dark Matter', 'Familiar So Strange' and 'Soft'.
Most importantly though, they have tunes and choruses. Speaking about FEATHERS' album, Dimou remarked that 'If All Now Here' "may be too poppy for some, and too dark for others" but to ELECTRICITYCLUB.CO.UK, they sound like the perfect pop group!
FEATHERS' filmic impressionism and spacious dynamics have impressed all the right people. This has resulted in an invitation to support DEPECHE MODE on the January 2014 leg of their European tour.
Comparisons with Basildon's finest are inevitable for the Sisters Of Night but whereas some acts literally try to reproduce the classic DM sound layer-by-layer, FEATHERS are different straight away by the virtue of Dimou's vocals and its contrast with the predominantly electronic backing. This ultimately gives the girls their own, very promising identity. To coincide with their big break supporting Da Mode, FEATHERS have released their first new material since 'If All Now Here' on a maxi-collection entitled 'Only One'.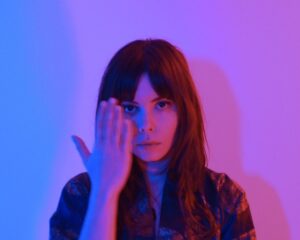 The title track 'The Only One'though is driven by a more obscure programmed rhythm construction. Dimou's vocal does wow and flutter in a fashion that takes a bit of getting used to, but the result is delightfully unusual in the context of electropop. Plus there's another of those dreamy harmonic chorus sections leading to a fabulous middle eight. It is stuff like this that makes FEATHERS so enticing. An alternate take on the 6/8 stomper 'Believe' is one of the bonuses.
Interestingly, it is slightly more electronic than the slide guitar laden version on 'If All Now Here' so now sounds a little less like DEPECHE MODE's 'Soothe My Soul'. At points coming over like GOLDFRAPP fronted by THE BANGLES, it begs the question as to what DM would sound like now if they actually used their synths again, instead of just having them to accessorise their 'Delta Machine' blues!
To finish, there's the Vogel remix of 'Familiar So Strange'. Stripped of its electro disco elements and paced down, with its mix of Dimou's seductive allure and sttacato vocal treatments, it really could fit onto the soundtrack of 'Drive'.
The two new songs from 'Only One' indicate that FEATHERS are still on track after their impressive start with 'If All Now Here'. The doors opened by the DEPECHE MODE support tour could help lift them into the big time.
---
The 'Only One' EP is available as a download from http://feathers.bandcamp.com/album/only-one
The debut album 'If All Now Here' is still available for download via Bandcamp, Amazon or iTunes
FEATHERS open for DEPECHE MODE on the following European dates:
Barcelona Palau St Jordi (15th January), Madrid Palacio de Desportes (17th January), Madrid Palacio de Desportes (18th January), Montpelier Arena (21st January), Lyon Halle Tony Garnier (23rd January), Antwerp Sportpaleis (25th January), Birmingham LG Arena (27th January), Paris Bercy (29th January), Paris Bercy (31st January)
They also play their own headline show at Birthdays in Stoke Newington, London on Saturday 1st February 2014 http://www.ticketarena.co.uk/events/Feathers-1/
https://www.facebook.com/feathersmusic
---
Text by Chi Ming Lai
13th January 2014