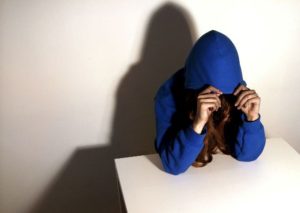 Mysterious hauntronica artist GAZELLE TWIN has unleashed a fierce taster of her new sophomore album 'Unflesh' with the percussive 'Belly Of The Beast'.
Continuing her metaphysical explorations in sound using synths and samples, Elizabeth Bernholz (née Walling) has moved away from the template of her avant cinematic debut 'The Entire City' to something more confrontational and industrialised.
The lyrics talk of "I'll take it like milk from a baby" over incessant Moog generated arpeggios and a squelchy rumblestrip. The powerfully enigmatic video directed by Bernholz and Esther May Springett features CCTV footage of an earthquake and somewhat surreally, but poignantly with some of the acts of God that have been happening around the UK, a milk flood!
Using the breadth of her talents, GAZELLE TWIN recognises the impact of a visual context to compliment her aural expression. In a 2012 interview with ELECTRICITYCLUB.CO.UK, she said: "Film is the bedrock for many of my compositions in the past and now – although just as much in the thematic sense as the musical".
Following the interim 'Mammal' EP issued in early 2012 which featured a remix of 'This Is My Hand' by acclaimed film score composer Clint Mansell and a striking cover of WIRE's 'Heartbeat', 'Belly Of The Beast' sees GAZELLE TWIN back on the campaign trail. Performing live while veiled and often with minimal lighting, she evokes a Fourth World presence that represents a stark back-to-basics type of futurism. Her cover of 'He's A Liquid' on the John Foxx curated 'Exponentialism' covers EP added a sexual tension not apparent in the original.
Having had her brooding music featured in a trailer for 'Prometheus' and endorsed by the likes of John Foxx, 'Unflesh' will be a key release for Bernholz that could potentially establish her alongside key experimentalists such as THE KNIFE.
---
'Belly Of The Beast' is released by Anti-Ghost Moon Ray Records
https://www.facebook.com/gazelletwin
http://www.antighostmoonray.com/
---
Text by Chi Ming Lai
Photo by Esther Springett
8th March 2014