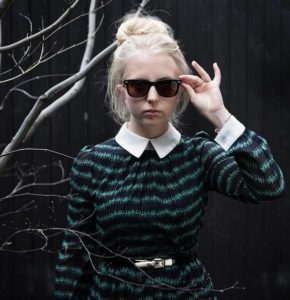 The label which brought the world DEPECHE MODE, FAD GADGET, YAZOO, ERASURE, MOBY and GOLDFRAPP has been continuing its tradition of developing artists who combine quality songwriting with musical experimentation.
Along with Northampton's MAPS, Colchester born songstress POLLY SCATTERGOOD is one of a number of up-and-coming acts now on the legendary Mute roster. She was first introduced to Mute supremo Daniel Miller by Neil Ferris, a legend in DEPECHE MODE fan circles for his promotional work via The Ferret Plugging Company for the Basildon boys.
Her self-titled debut came out on Mute in 2009 to largely positive reviews. An intense organic collection of ethereal songs, Scattergood revealed herself to be a promising talent unafraid to express emotion and vulnerability, especially on numbers such as the quirky 'Nitrogen Pink' and the embittered epic 'I Hate The Way'. Meanwhile, 'Other Too Endless' was bolstered by a superb Vince Clarke remix and highlighted the compatibility of her music within a synthesized environment.
Following a breathy guest spot on BEF's 2012 covers LP 'Music Of Quality & Distinction Vol3 – Dark' performing 'The Look of Love', Scattergood finally launched the campaign for her second album 'Arrows' with the electro-COCTEAU TWINS twist of 'Wanderlust' in February 2013.
Support slots with label mates GOLDFRAPP followed in the summer before the album was finally unleashed to the public in September. The brilliant 'Cocoon' indicated that while she there were still signs of her folkier roots, synthetic textures and technological trickery were now much more part of the action.
More uplifting uptempo elements also featured with the accessible pop drive of 'Falling' and 'Subsequently Lost'. Her love of BJORK and KATE BUSH however has been maintained, especially with the highly emotive 'Miss You' and the dreamy 'Silver Lining' which sounded like it could have been a collaboration with MOBY.
In all, 'Arrows'
is a true grower of an album in which the obvious passion and vulnerability of the kooky Essex songstress can only attract empathy with Polly World. With a busy 2014 ahead of her, POLLY SCATTERGOOD took time out to chat about her career so far…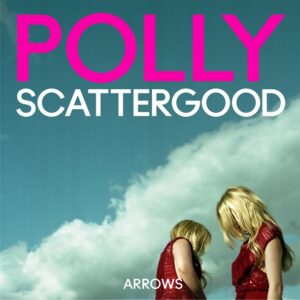 After what appears to have been a steady start to the 'Arrows' campaign, things appear to be gaining momentum now?
Yeah, it feels good. I have made an album I'm proud of and the reaction from the people and the press and stuff has been great.
We played a sold out show in London the other week and my new single is out March 10th – it all feels good.
How does 'Arrows' differ for you compared to your debut?
Big uplifting highs next to big lows… my debut album was mainly lows.
You hopped between Berlin and Norfolk to write and record. How did those contrasting environments help with your muse?
I'm massively influenced by my environment and each location gave me energy and I put that into the songs.
A fair number of your songs lyrically refer to the mind of a casualty like 'Subsequently Lost', 'Disco Damaged Kid' and 'Falling' whether from a personal or narrative point of view; are these autobiographical experiences?
Some of them are autobiographical. It's a mixture, in order to write a song that makes people feel something, I think you have to feel it yourself.
'Wanderlust' is a startling avant pop number and appears to be a pivotal song on 'Arrows'?
Yes, for me it was one of the tracks that really started the writing journey that I went on for this new album.
'Wanderlust' also signalled what appeared to be a greater use of electronics in your work? What sparked that shift?
I have always been fascinated by electronics. When I made my first album, although I enjoyed experimenting, it was all fairly new to me. But by the time I made 'Arrows', I guess I felt more confident in the sound I wanted to make.
What sort of instruments have you been you newly experimenting with for 'Arrows'?
So many I can't list them all, but the Minimoog is my favourite. And I played on an Axis Virus last week, I really want one. Synths and shoes they are my vice.
Just out of interest, what made you choose the Moog Little Phatty as your live synth of choice?
Because we used a Moog lots on the album and so it seemed like the right choice to play it live. It's also such a beautiful instrument, it looks cool and it sounds cool.
You also use an iPad app in your show which acts a nice visual component. How do you see music technology heading? Is there something you would like to have that perhaps hasn't been made yet?
I do think that the iPad is an incredible instrument, I wish they would put it on a strap so you can hang it round you like a guitar. People maybe see it as a gimmick but they maybe haven't really used it to its full capabilities. The iPad has some incredible apps we used it quite a lot on the album. It's great for noise and is visually interesting too.
You dig deep emotionally, especially with tracks like 'Miss You'. Where does that strength come from and how do you handle having to revisit those feelings when performing live?
I sleep for hours after a show, I think subconsciously it takes a lots of energy… but is quite cathartic.
I understand you're a fan of LEONARD COHEN. What did you think of his electronic phase with songs like 'First We Take Manhattan' and 'I'm Your Man'?
I love most things he has done. I saw him at Glastonbury a few years ago, it was one of the best gigs I have ever experienced.
You attended the Brits School. How did you find being in such an environment?
I am always a bit of an outsider, I have a few really close friends that I made there, but I am quite shy, and it takes me a while to get really close to people.
It was a good place for me though, I learned a lot, it was the first time in my life I enjoyed being educated.
How aware were you of Mute's history when you were considering signing with them?
I had grown up listening to Mute bands so I knew how legendary they are as a label.
Your music is quite esoteric and not immediate in a pop sense. What are the advantages for you of being with Mute as opposed to a conventionally focussed label?
They are a great label they understand me as an artist. They put great care into everything they do and have supported me through two albums which is rare especially in this day and age.
Of course, one of Mute's major success stories is Vince Clarke who did a mix of 'Other Too Endless' and has now contributed his reworking of 'Subsequently Lost'… how was that for you?
Yeah, it was an absolute honour to have him remix 'Subsequently Lost', I have been a fan of his work for years
Remixes are quite a big part of Polly World. There have been some great remixes from people like THE GOLDEN FILTER on 'Please Don't Touch' and TARA BUSCH on 'Bunny Club' while you have also done remixes yourself of other artists such as MAPS and M83. How does remix culture sit within your own musical ethos and development?
I think it's good, it's like a breath of fresh air when you hear another artist's take on your work, especially for me when people remix tracks I have worked on for a couple of years. I suddenly hear all these new bits I forgot I had done and got buried in the mix. I love remixing other artists, I would like to do more. You get to have all the fun of being in the studio and playing with someone's work, their baby, but then you give it back at the end of the day and the pressure is off. It's an enjoyable experience.
Between your debut and 'Arrows', you performed and recorded a great cover of 'The Look Of Love' with BEF. Would there be any other songs you would like to reinterpret?
I covered 'New York New York' for EA games' 'Crysis 2' trailer. I do enjoy reinterpreting other people's songs, but I think deep down nothing beets the buzz of writing them yourself.
What is next for you in 2014?
Well my new single 'Subsequently Lost' is out March 10th and you can pre-order it now! I have a few other things in the pipeline, I am working hard in the studio writing again which is my greatest pleasure. I'm also doing a few side projects and in my downtime I'm doing a little collaboration with my friend who is a jewellery designer; we are designing an 'Arrow's inspired collection for her company Bloodymarymetal. So it's going to be a busy 2014 but all exciting!
---
ELECTRICITYCLUB.CO.UK gives its warmest thanks to POLLY SCATTERGOOD
Special thanks also to Mellissa Bradbury at Brilliant! Artist Management
'Arrows' is available via Mute Artists
The new single 'Subsequently Lost' is released as a download EP on 10th March 2014
http://www.pollyscattergood.com/
https://www.facebook.com/polly.scattergood
https://soundcloud.com/pollyscattergood
---
Text and Interview by Chi Ming Lai
Portrait Photos by Frank Bauer
Live Photos by Richard Price
5th March 2014