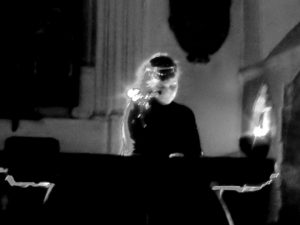 Within the sedate setting of St Pancras Old Church in London, Hilary Woods launched her debut album 'Colt' with an intimate live presentation.
It couldn't have been any different from when at the age of 20, she found fame as the bassist of Irish indie trio JJ72.
Going on to open for MUSE and COLDPLAY, Woods left the band in 2005 to pursue her passion for film, art and literature.
Woods started making music again in 2014 to begin the journey towards 'Colt'
, a highly personal collection recorded in an abandoned flat somewhere in Dublin. With an invitation from THE CURE's Robert Smith to play at his Meltdown festival, it is an indication of the regard with which she is held by other musicians.
While 'Colt' itself combines piano, synths, field recordings and old string instruments, Woods accompanied herself alone on keyboards and guitar, save the occasional appearance by a violinist.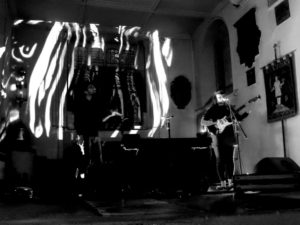 Opening with a stripped back version of 2016's 'Bathing' from the 'Heartbox' EP, Woods' wonderfully forlorn voice captivated throughout as she simultaneously transfixed herself to her ivory tinkling. It was an indicator of how the show would play out.
Under minimal lighting with a whispery allure in her voice, Woods excelled with her piano on 'Take Him In', while 'Black Rainbow' captured the serene essence of Julee Cruise.
Remembering absent friends, the gorgeous 'Inhaler' left those present breathless in awe at Woods' previously hidden (to the public at least) range of capabilities.
One of the highlights from 'Colt', Woods' rendition of 'Jesus Said' replicated the original, with the wonders of technology allowing its drifting synthesized tones and hypnotic drum machine to augment her beautiful piano passages. Described by the songstress herself as "a song that seeks catharsis", its meditative trance-like quality was perfectly suited for the occasion.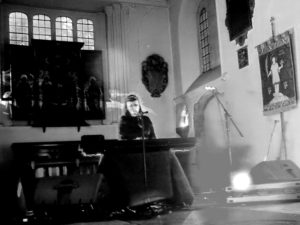 A bare portrayal of 'Prodigal Dog' added some haunting moods while using loop pedals on 'Limbs', Woods built layer upon layer of string machine as a piano motif played out the coda.
'Secret Sabbath' from her first solo EP 'Night' affirmed the evening's endearing understatement and with enigmatically nothing to say until before her closing semi-acoustic rendition of 'Daughter', Woods confessed to having nerves.
But she expressed her heartfelt appreciation of the attentive and informed audience who had gathered. With 'Colt' released by the highly regarded Sacred Bones Records who can count Zola Jesus, John Carpenter and David Lynch among their roster, the Irish songstress has proven she is worthy of belonging in such esteemed company.
With a wonderfully captivating performance of just eleven songs, Hilary Woods provided some welcome air and mystique to a world that has been infiltrated by far too many untalented wannabes playing out their lives in public on islands of love or whatever.
---
With thanks to Frankie Davison and Kate Price at Stereo Sanctity
'Colt'
is released by Scared Bones Records in CD, vinyl LP and digital formats
Hilary Woods performs at Robert Smith's Meltdown 2018 in the Purcell Room at London's South Bank Centre on Wednesday 20th June and The Sugar Club in Dublin on Friday 14th September
https://www.facebook.com/HilaryWoods.Musician.Artist/
https://twitter.com/_hilary_woods
---
Text and Photos by Chi Ming Lai
14th June 2018