In 2015, ace Swedish synthesist Johan Baeckström made a call to arms, declaring that the 'Synth Is Not Dead'. And now in 2018, he presents his 'Utopia'.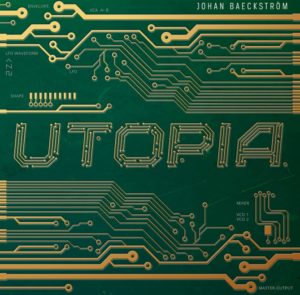 Baeckström first came to prominence with DAILY PLANET, the synthpop duo he formed with Jarmo Ollila who released their debut album 'The Tide'
in 1996. After a hiatus of 18 years, they returned with the album 'Two'
while Baeckström began a parallel solo career a year later.
Titled 'Like Before'
, his album captured the synthpop prowess of Vince Clarke at his finest, while adding that melancholic but uplifting Scandinavian vibe, particularly within the environmental message of the title track and brilliant songs such as 'Running Away With Me', 'Come With Me' and 'Tonight'.
While Baeckström's vocal capability recalled Andy Bell, the appeal of 'Like Before' wasn't so much because it sounded like classic ERASURE, but down to the brilliance of his songwriting and the engaging qualities of the long player's synthtastic production.
But from the off starting with the 'Utopia' title song, the first impression that comes across on this sophomore offering is things are a slight bit darker and grittier. Despite that, there's a rousing chorus and percolating sequences to savour as Baeckström points out the futility of seeking that perfect future.
Brighter pacier electronic tones make their presence felt on 'Homeless', although the metaphoric possibilities of the title reflect on the gloomier uncertainties that currently embroil the world. A near namesake of the DEPECHE MODE hit, 'The World Through Your Eyes' utilises a synthetic noise backbone in a steadfast tempo that has weightier thoughts and deeper resonances emanating from its core.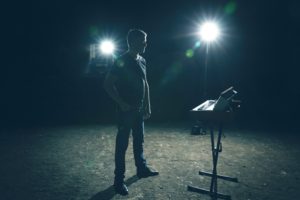 Continuing those deeper resonances, 'Better Stories' uses minimalistic expression at its heart, allowing Baeckström's soulful vocal to shine before a multi-layered build as per the Altered take on DEPECHE MODE's 'Any Second Now'.
But the mood takes yet another turn when 'I Can Read Your Mind' delightfully goes into full YAZOO mode with its melodic circuitry and precise digital drums.
Imagining a dream collaboration between Vangelis and Vince Clarke, 'Cassini' is a wonderful instrumental that is swathed in filmic intrigue. And without a vocal present, it showcases that like Clarke, Baeckström has a place for every single musical part where individual lines and counter melodies give the impression of chords and sweeps for a spacious end result.
Adopting a more frantic pace, Baeckström rallies everyone to 'Ask Them Why', while 'Blood Red Moon' is understandably sombre as he bids his goodbyes to a loved one, despite some sonic sweetening.
An orchestrated sequence of synths, influenced at points by Wendy Carlos, takes proceedings 'Into The 80's' with Baeckström's post-modern take on Canadian rocker Nick Gilder's 1979 thoughts on that future decade.
The bouncy ERASURE-ish superpop of 'Silence' pleas for restraint despite the party atmosphere, highlighting the contrast of light and shade that lingers simultaneously throughout this 'Utopia'
. Closing with 'Blinded', the soaring swaying ballad lets a young choir girl named Lina innocently offset the drama of its electronic interplay.
In hard times, people get nostalgic and through its composition of sound, 'Utopia' does as the ninth track suggests and makes references to the past. However, whereas 'Like Before' was very much about escape embroiled in optimism, 'Utopia' is much more of a reality check, darker and perhaps less immediate, but still pristinely crafted and textured. For all that, the spirit of 'Utopia' is hardly 'Black Celebration', although it adopts its attitude of being realistic rather than pessimistic.
Johan Baeckström uses his many analogue machines to turn his well-written songs into appealing and emotive synthpop, proving indeed that the synth is not dead. This is a fine and accomplished second album by the man from Karlskoga that gets better with each listen.
Instruments used on 'Utopia': Akai AX-73, ARP Odyssey, Arturia Minibrute, Crumar Bit One, Dave Smith Instruments Prophet 08, DB Noise Can, Korg Mono/Poly, Korg MS-20, Korg Volca Bass, Moog Little Phatty, Minimoog, Roland Jupiter 6, Roland Juno-106, Roland SH-09, Sequential Circuits Pro-One, Waldorf Streichfett, Yamaha DX7 and Yamaha CS-10
---
'Utopia'
is released by Progress Productions in CD and digital formats, available direct from https://johanbaeckstrom.bandcamp.com/album/utopia-2
https://www.facebook.com/bstrommusic/
https://twitter.com/bstrommusic
https://www.instagram.com/johanbaeckstrom/
http://www.progress-productions.com/product/johan-baeckstrom-utopia/
https://open.spotify.com/album/43qhyXv3PcMvVaVK1jsqSv
---
Text by Chi Ming Lai
Photos by Helene Shippey
13th June 2018