Colin Newman is best known as the front man for WIRE, the genre-crossing band that put the po in post-punk.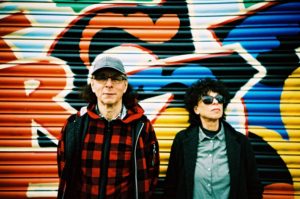 His solo work has been covered by THIS MORTAL COIL and was key to the soundtrack of 'Silence of the Lambs'.
Besides WIRE projects, Newman has produced VIRGIN PRUNES, PARADE GROUND and MINIMAL COMPACT – the last of which led to a long-term relationship with bassist Malka Spigel. Together with Spigel, Newman sometimes produces material as IMMERSION, an act with strong electronic sensibilities.
After a long break, the duo have recently taken up that guise in greater earnest. They have released a new album and set up a string of performances on both sides of the Atlantic that should excite fans of their 1990s electronic work and find a wider audience. 'Sleepless'
, the follow-up to 2016's 'Analogue Creatures Living On An Island'
, is at turns funky and futuristic.
The psychedelic patina that has characterised recent WIRE releases can be found in the dream-like airiness of the lead track, 'Microclimate'. Deep grooves and atmospheric synth lines feature heavily, leaving supernatural impressions.
Colin Newman recently spoke about IMMERSION's activity and WIRE's plans.
Krautrock is a clear influence in the new material. What did that movement mean to you both, and what brought it into the foreground for the album?
Like any other musical venture, IMMERSION is at least partly a product of when it started, which was initially in the early 90s. It's always been both electronic and instrumental, but would in those days have been viewed through the lens of techno; then later breakbeat and drum and bass – minimal, ambient or abstract.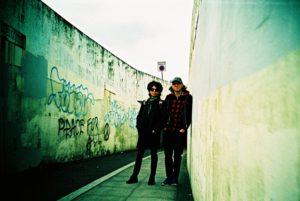 There was a long period, during the last decade and the first half of this decade, when we didn't work on IMMERSION. Since 2004, we made four albums and an EP as part of GITHEAD and a solo album and EP by Malka. Krautrock (a term developed by Virgin's marketing department to sell a FAUST album) has always been there, since the early 70s. By turns hip and deeply unfashionable (depends on who) – and of course we've heard plenty!
During the last couple of years, IMMERSION get seen through the lens of Krautrock. It's quite hard to define electronic music according to style anymore, so we guess it's as valid a descriptor as any. It's one of those terms that if you break it down is as meaningless as any other!
FAUST don't have that much in common with NEU! and CLUSTER aren't much like CAN or TANGERINE DREAM – or KRAFTWERK, come to that – and latter-day Kraut-rockers like TO ROCOCO ROT don't have much in common with any of the others – apart from the fact that they are all German. Interestingly, GITHEAD have often been described as Krautrock!
However, one common thread that seems to be emerging from what people say about the new album, 'Sleepless', is that it is somehow fresh. Some have gone so far as to say it sounds like a debut album! We take that as a big compliment.
Music, if it is to have any relevance, must be about the present moment. We are not thinking at all about history when we are making new IMMERSION music – it's best to not think about much at all, just do! Perhaps the fact that Immersion is now also very much a live entity has influenced our direction?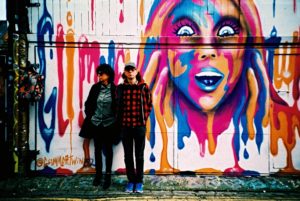 IMMERSION is a project born of your relationship with Malka. Are there compromises you have to make that you wouldn't have entertained in WIRE?
Malka and I work very naturally and easily with each other. I'm not aware of making any compromises – quite the opposite, in fact! Don't forget, Malka and I have been making music together since the mid-80s. We have developed our own distinct working methods.
More recently, within WIRE there has been less involvement with electronics, so has it been exciting to be using synths within IMMERSION?
Well, there are quite a lot of synths on recent WIRE records. There have been keyboard-based sounds pretty much since the beginning, distorted electric piano on some tracks of 'Pink Flag'
for example.
However, it is important with WIRE that everyone gets included in the recording process, so taking a more obvious electronic route would leave out Rob and not really be WIRE (especially as his drumming is a defining aspect of WIRE's sound).
When Malka and I work on music, obviously, we don't have that limitation (if it can be seen as such) and can work in ways that come naturally.
The main difference, if you want to find one, between WIRE and the work that Malka and I do, is that Wire has always been based on songwriting (mainly mine), whereas Malka and I develop material together. They are two very different processes.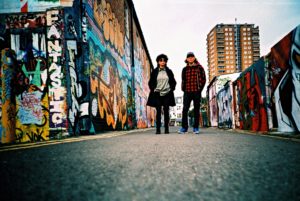 We don't really see IMMERSION as being about synthesisers per se, with the exception of the Korg MS-10, which has been present in IMMERSION's work since the beginning.
It's a simple mono-synth with a very distinctive colour. Malka has had one since the early 80s, and she still manages to get interesting results from it. It's kind of a combination of a lead vocal and a secret weapon!
Has there been any new hardware that has proved particularly inspirational?
In terms of new hardware, we aren't analogue obsessives and haven't thrown ourselves into the Euro-rack world. For us, it's more about the results than how you get there. I think probably the most useful bit of hardware we got for this album was the Kenton USB to CV converter which had enabled us to sequence the MS-10 allowing Malka to perform on the filters etc. in real time without having to play the part at the same time.
Two obvious results from that are the lead part on the title track 'Sleepless' which starts as almost a woodwind sound and evolves into something obviously synthetic and the main synth in 'Propulsoid' which is actually two separate passes! Having said that we do sometimes buy synths. The last one we bought was the MS-20 re-release. I'm sure it'll feature on the next album!
There was a point in WIRE's development where you felt confident enough as a producer to take a bigger role in the studio. Did it change the dynamic of the band to have you on both sides of the mixing board?
There are two important points here. One is that, in WIRE, I produce the music but not the people. I'm not "in charge" in the studio. I provide a service to get a result from recordings we have made together. Also, I run the record company, so I am very aware of deadlines and things that need to be done to achieve the results the band wants – which is why I've spent a lot of this year so far working in the 70s re-releases.
The two roles are, from my POV, very much connected. For me, it's about developing strategies that work in a practical sense and enable the band to be creative.
If WIRE were to go into a studio with a conventional producer to be released on some other label, I doubt whether there would be much being made out of it. It's not about the money; but frankly, if a band isn't really earning much from its records, then in the end there becomes less reason to do them.
The dynamic is changing all the time – it's not always easy and there are strong personalities involved. It's in the nature of the project!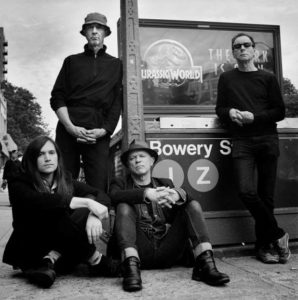 While WIRE is a unit, there have always been collaborators from other disciplines on the scene – Russell Mills or Graham Duff, for instance. Is it fair to speak of a WIRE extended family? What role do they play?
Yes, very much. We've even used that term in the past. It's actually quite a big family!
I personally like to work with people over a long period of time. Pinkflag (Wire's label) doesn't have any direct employees; but, like swim~ (Malka's and my label), we take people for specific tasks.
I feel like, if I list one or two people, I should list everyone, as they are all important! I'm not sure your readers want to read a big list of everyone we work with!
WIRE played on the same bill as DEPECHE MODE at the Pasadena Rose Bowl in 1988. What are your recollections of the show? Would you play with them again?
It was a strange event. We were on tour in the USA anyway, and the invitation to be part of the event probably had more to do with the Mute / Daniel Miller connection than any other.
We were getting a fair bit of US MTV in those days (as were DEPECHE MODE, of course!) so I don't think anyone thought the billing weird. For us, it was a somewhat surreal event.
We were, I think, the openers, so people were only just beginning to come in. It was like a big sports stadium with the stage at one end; so, although there were probably a few thousand people there, they were mainly very far away. What we could see were the guest seats right in front of the stage, in which were sitting Daniel, Jon Savage and various people who worked on our US releases at the time. So, it was a weird combination of a very distant general audience but up close people who we mainly knew!
The Rose Bowl was an afternoon show for us. That evening we played a club show of our own in LA.
Obviously, the circumstances have changed considerably since those days. We don't really do a lot of supports. I'm sure we could somehow end up on a festival together at some point.
Can we expect more DRILL: FESTIVALs? Which artists would you like to add to the bills?
I would personally love to do more DRILL: FESTIVALs; although, to be honest, they are a lot of work.
There's nothing in the pipeline right now; however, WIRE's next period of serious activity will not be until early 2020, when the next album will come out. Not much has been decided yet for how that year unfolds, apart from a plan to start recording the next album later this year.
There are definitely places we have not held any DRILL: FESTIVALs in yet; and it will be, as ever, a case of finding the right partners for the events. My focus is usually on the practicalities, and my personal taste is pretty wide; so I would tend to the view that, once we have city and dates, we need to find out who is available given that we can't afford to be in the position of having to fly anyone in for the shows.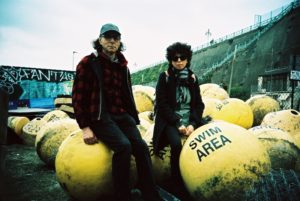 Pinkflag and swim~ have been indie innovators. Is swim~ still going? How has the shift to streaming impacted you?
Swim ~ is still going. We don't release stuff every year but 'Sleepless'
is very much on swim~, as was its predecessor 'Analogue Creatures Living On An Island'
, as well as everything Malka and I have been jointly involved in since 1993!
Both Pinkflag and swim~ have always been pretty hands on, and the backbone has always been the studio / label combination. True, we do record in other studios for both labels, but everything is always finished in-house. This does reduce the costs, but it's in allying that with the means to release that they become more singular ventures.
I'm guessing it takes a certain mindset to work like that or else everyone would be doing it! Ultimately, you have to believe in yourself enough to invest in yourself.
As creative artists, I don't think we should allow ourselves the luxury about being snobbish about format. We are making music to be heard by other people, so we should not be somehow insisting or even hinting that anyone who streams your music on their phone is somehow lesser than someone listening to vinyl. Some people want to own items and others just want to listen to tunes. What is important to all artists is that there is an income stream from however the music comes out.
As labels, we should be making physical releases attractive…by the way, both WIRE and IMMERSION sell more on CD than vinyl, still!
With WIRE, the increased audience does allow for innovative formats (like Special Edition books). I'm still looking for a way to make a Special Edition for a swim~ release.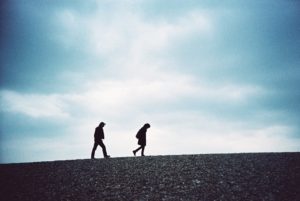 What's next for IMMERSION – or anything else within the WIRE camp?
We are just about to embark upon a North American tour. This is quite a big deal for us.
Although we have been doing gigs sporadically over the past couple of years, this is the first actual tour. One month coast-to-coast!
Matt Schulz from HOLY F*CK will play with us on about half the dates. He's someone we have played live with before. Interest in IMMERSION does seem to be increasing, so maybe we will tour more often – maybe in the UK, too.
In parallel with the gigging, we also have our own occasional Brighton-based event called Nanocluster. Apart from an opener, the evening consists of three sets: one by IMMERSION; one by our guest(s); and a third by a collaboration between Immersion and our guest(s).
Although each artist has a different working method, we try, over the days before the event, to develop a set of material that is both original and specific to the collaboration – recording in our studio as we rehearse. There will eventually be a Nanocluster album.
Previous events have been with TARWATER and Laetitia Sadier. This is something we may repeat in other places, There has been talk of London with Laetitia and Berlin with TARWATER.
For WIRE, obviously the re-releases are the big news for this year; and, as I've already said, we are moving towards a new album for 2020.
---
ELECTRICITYCLUB.CO.UK gives its grateful thanks to Colin Newman
Special thanks to Frankie Davison at Stereo Sanctity
'Sleepless'
is released by swim~ on CD, vinyl LP and digital formats direct from https://swim.greedbag.com/buy/sleepless-76/
The 'Sleepless' album launch takes place at Rough Trade East in London on Saturday 16th June 2018 – free entry with IMMERSION on stage at 6.30pm
IMMERSION 2018 US tour dates include:
Los Angeles Bootleg Theatre, LA, California (23rd June), San Francisco Cafe Du Nord* (24th June), Portland Doug Fir Lounge (26th June), Seattle Barboza (27th June), Salt Lake City Kilby Court (29th June), Denver Larimer Lounge (1st July), Kansas City Record Bar (3rd July ), Minneapolis 7th St. Entry (5th July), Chicago Schubas* (6th July), Detroit Third Man Records Cass Corridor* (7th July), Toronto The Drake* (9th July) , Montreal La Vitriola* (11th July), Aliston Great Scott* (13th July), Brooklyn Rough Trade NYC (14th July)
*with Matt Schulz on drums
https://www.facebook.com/immersionHQ/
---
Text and Interview by Simon Helm
15th June 2018