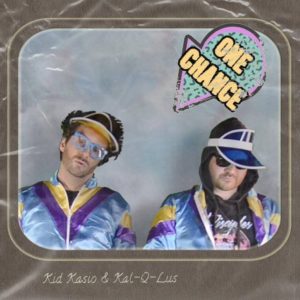 The video for the final single from KID KASIO's 2015 'Sit & Wait' album has an interesting back story as mainman Nathan Cooper told ELECTRICITYCLUB.CO.UK:
"Back in 1991, Lewisham Council ran a 'Search For A Video Star' competition.
The idea behind the initiative was to provide a platform for young local performers to showcase their talent and foster a sense of community between local musicians and the beleaguered council, who had recently had their arts funding slashed.
The 'video' angle set the contest apart from your run of the mill talent showcase, and tied in neatly with the launch of a local cable TV station, which was scheduled for later in the year (it never happened).
Woolworths had got on board, and a futuristic looking booth was erected in the Riverdale shopping centre and the whole affair advertised in the pages of the local Newshopper. I turned up one sunny summer morning in that July of 1991 with my friend KAL-Q-LUS clutching a cassette demo of a song we had recently recorded.
It took some persuading to let the engineer put our tape into the overdubbing machine, as most people turning up that day had been encouraged to sing over popular hits of the time, but after 20 renditions of RIGHT SAID FRED's 'I'm Too Sexy' and BEVERLY CRAVEN's 'Promise Me', I think he was secretly quite pleased to be hearing something different."
"We stepped inside the booth and stood in front of the green screen as the sound of our scratchy demo drifted over the speakers. It was a shame that my mum, who had accompanied us on the day, insisted that my young cousin Toby joined us in the booth. In hindsight though it was Toby's dancing that really stole the show that day.
As we exited the booth we were asked to choose a backdrop for the video that would be super imposed onto the green behind us. We chose a random series of acid house style patterns called something like 'future rave' and we headed home excitedly clutching a VHS tape of our masterpiece.
The following week the local paper printed a Top 10 of what they deemed were the best performances from the weekend of the booths stay at the Riverdale centre. We didn't make the Top 10…"
Now some of the facts in this story may not be entirely true… but as the late and much missed Tony Wilson of Factory Records fame once said: "When forced to pick between truth and legend, print the legend."
Directed by Ed Crofts and filmed at the synthtastically equipped Fiction Studios in Central London, this tongue-in-cheek video certainly helps perpetuate this KID KASIO myth.
---
Special thanks to Nathan Cooper
'One Chance'
is from the album 'Sit & Wait'
, both are available via the usual digital platforms
https://www.facebook.com/kidkasio/
https://www.instagram.com/kidkasio/
---
Text by Chi Ming Lai
18th June 2018