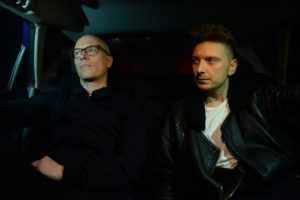 The moody debut single 'What Waits?' by HOW TO LIVE possesses some tribal fervour laced with intense guitar harmonics and electronic chimes of doom.
The duo comprise of Tom Pether who also has a solo project called THOMAS ANONYMOUS and Robert Görl lookalike Rich Summers who more recently has been spotted performing with DEPECHE MODE tribute band SPEAK & SPELL.
Using a hybrid of guitars, bass, electronic rhythms and synths, the former members of dark alternative rockers SUZERAIN have described their gritty musical dramas as like "Hans Zimmer in a nightclub". One of their unique selling points is their use of the Roland Wave Drum, a 21st Century update of the flying saucer shaped Synare 3, to provide some organic rhythmic syncopation.
Embroiled in gothic film noir, 'What Waits?'
comes from HOW TO LIVE's forthcoming EP 'A Good Life' and anxiously rumbles with uncertainty. It comes with a suitably monochromatic night drive visual accompaniment which partly echoes that of 'Between Four Walls' by the much-missed MIRRORS.
Among HOW TO LIVE's soon-to-be-aired portfolio is 'Confetti', a gloomy dramatic number with an eerie beepquence where Pether declares it is "so nice to meet you" while more guitar driven, 'Lawns Of England' aggressively mows away with a brooding grandeur in the vein of BAUHAUS and THE CURE.
Within the percussive mantras, there is an air of Budgie from SIOUXSIE & THE BANSHEES, so it is no big surprise to learn that Steve Lyon, whose credits include THE CREATURES, NITZER EBB, RECOIL, THE CURE and DEPECHE MODE, offers his seasoned expertise at the production helm of HOW TO LIVE.
In the pair's own words: "At least we have something new to listen to while we wait…"
---
'What Waits?'
is available from the usual digital platforms
https://www.facebook.com/howtoliveband/
https://www.instagram.com/howtolivemusic/
https://twitter.com/_howtolive
---
Text by Chi Ming Lai
Photo by Karla Da Silva
12th December 2018