Back in 2009, ARTHUR & MARTHA released 'Navigation', a promising debut album by the quirky duo of Adam Cresswell and Alice Hubley.
The highlight was 'Autovia', a synthetically motorik soundtrack that was ideal for motorway journeys north of Watford Gap.
Although the pair have been silent since then, Adam Cresswell has remerged as RODNEY CROMWELL, a solo project inspired by Belgian artist Stromae and centred around vintage synthesizers and old drum machines.
But the lo-fi aesthetic of ARTHUR & MARTHA is still very much in evidence on the debut album 'Age Of Anxiety'.
"For about six months this was going to be the second ARTHUR & MARTHA record" Cresswell told ELECTRICITYCLUB.CO.UK, "the sounds are all made on the same collection of synths. There is the same simple approach to song-writing; why use two chords when you can use one, as long as there is plenty of melody"
Although the title may seem a little heavy, its calling card 'Barry Was An Arms Dealer' is an upbeat number with references to the Cold War and THE SILICON TEENS. "I just wanted an excuse to rhyme the words 'love' and 'Kalashnikov'" recalled Cresswell, " in fact it started as a one chord Krautock drone thing until I reluctantly introduced the second chord. The idea of using the name Barry came from my two year old son who randomly shouts out the name Barry all the time. It seemed like a good electro-synthpop name to use, a-la Barry from ADD N to X. Although I don't know him and I'm sure he's not an arms dealer too!"
Incidentally, one of the album's highlights 'You Will Struggle' features a duet with Alice Hubley, now a member of COSINES, indicating the wind-down of ARTHUR & MARTHA was amicable. "I hated the whole emerging MySpace driven social networking self-promotion aspect of being in a band too. I've never wanted to connect with my people, being aloof and difficult is so much more fun, even if it is an act. Alice loves gigging though, so she rightly moved onto other projects rather than wait for me to sort myself out". The pair sing together again on the album's lengthy but tremendous closer 'Black Dog' which recalls SECTION 25.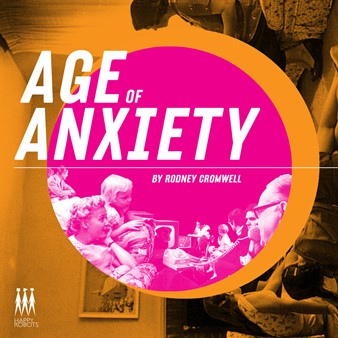 Meanwhile the sombre and aptly solitary 'Fax Message Breakup' features the sort of mournful melodica and doomy six string that embellished many an early NEW ORDER record. But 'Age Of Anxiety' is not all about vocals or doom, as the pretty and bouncy instrumental 'Baby Robot'
demonstrates.
The remainder of the album is a must for those who like their synthpop lo-fi but with tunes. "I just didn't want to sound like every other autotuned soft-synth electro-pop record …" says Cresswell, "the vocals might not always be pitch perfect, the guitars and synths a bit rough round the edges, but those records got soul!"
---
'Age Of Anxiety' is released by Happy Robots and available as a CD or download via https://rodneycromwell.bandcamp.com/
https://www.facebook.com/rodneycromwellartist/
---
Text by Chi Ming Lai
23rd March 2014