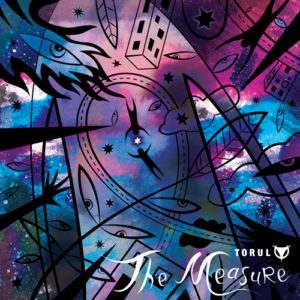 After TORUL's acclaimed albums 'Dark Matters', 'In Whole' and 'Tonight We Dream Fiercely', with the latter seeing the Slovenian trio supporting MESH on their 2013 European tour, electronic audiences are now treated to their latest offering, 'The Measure'.
Torul Torulsson's musical involvement over many years in the industry is clearly palpable on this publication, with his influences as wide as THE CURE and MASSIVE ATTACK to THE PIXIES and DEAD CAN DANCE. A rather eclectic selection of tunes, wrapped around gripping and ever-changeable vocals of Jan Jenko, it delivers exactly what it says on the tin. It is a measured album, which no doubt will be of interest to any weathered TORUL fan and connoisseurs of anything that's different, interesting and unique.
'Lonely Night', the opening track, hits the unprepared ear as a matter of instance, with beefy synth lines and Borut Dolenec's rough guitar riff, resembling THE CURE at their best, and of course, charismatic vocals over an atmospheric sound of electronically charged and self-regulating melody. Undeniably, it's a full on "measure" to start the record.
The sequenced opening to 'The Balance', resembles LADYTRON, yet the song continues to flow like a mirror image of 'Mad World' by TEARS FOR FEARS, which has been covered, with considerable success, by TORUL already. The similarities are actually so obvious, one could question the infringement of publishing rights, no matter how decent the song naturally is, or how skilfully it has been produced and performed. Orzabal and Smith's opinion could prove to be like gold dust here.
Moving on, 'Higher' sounds strong, decisive and carefree, yet melancholic and nostalgic, the songs by Texan duo IRIS come to mind at this stage, yet, unlike the previous track, this one sounds original and fresh; it restores the faith in TORUL's own ability to turn out a rounded track.
The fabulous intro to 'Difficult To Kill' promises great things to come; a magnificently experimental sound and vocals by Jan resembling AND ONE's Steve Naghavi at first, transitioning into higher tones of pure lushness and sophistication. A superb track and, indeed, fully representing the uniqueness of this bunch and the competence of Torulsson's instrumentation. Invigorating, yet soothing; it is empowering yet easy listening and magnificent.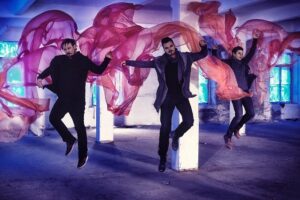 The scantily titled 'All' floats in with vocals bearing the impact of TEARS FOR FEARS again; yet this time, the track is uncommon and unprecedented. Still, the influences of PET SHOP BOYS, and even SCOOTER can be picked out. A proof that the production on this album is based on wide musical tastes, which can be so lacking in the electronic offerings of today. Short and sweet, and an uncomplicated tune, it is as worthy as its predecessor.
The synthy, NEW ORDER-like 'Hearts' follows, with its guitar riffs that Martin Gore wouldn't be ashamed of. With a longer opening before Jan comes in, the full-bodied vocals do not seem to lend themselves to the over produced feel of this song however, making it instantly forgettable and disposable.
The AND ONE vocals return in the opening section of 'We Grow'. An "atmospheric meets progressive" tune, but this one has a clear floating quality. Not over complicated, its simplicity is phenomenal and Jan modulates his voice from deep to levelled, lending to the track's exclusivity and rarity. 'Lost For You' invites one in with a piercing synth line and the exquisite skills of the vocalist. Slower, fully atmospheric, ethereal and of a dream-like quality, it is like bare feet in the meadow of a love affair in itself.
The dreaminess is cut through, however, with the sword of heavy, ear ringing synths and church bells on 'The More We Are'. Another solid, almost mechanical tune, due to the combo of vocals and variable electronic elements, it leads inadvertently to the last song on the album 'Discrepancy'.
Experimental sounding again, with Vlad The Impaler vocals, which no doubt will ring well with the Goths of this world, its vampiric simplicity of scarce sounds give this tune its own genre almost, the vocal leading the flow of the production in a rather superb manner. It's an extraordinary way to finish off this interesting album, with salvos of fireworks lighting up the dark night sky.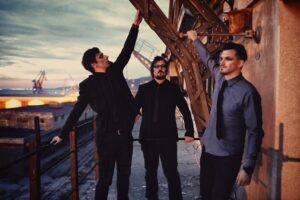 It is fair to say that TORUL, with their unique sounds and array of musical approaches, as well as a mix of influences, are as original as it gets. The production is extraordinary and the attention to detail superb. This album fully represents this, and although it may be a grower, it definitely is a valid addition to the catalogue, of not only the electronic music fan, but also alternative and pop listeners alike.
TORUL have an aura of supremacy, magnetism and prominence around them and 'The Measure' surely adds a decent "measure" of all those into the mix. It is definitely a worthy addition to anyone's music collection.
---
'The Measure'
is released by Infacted Recordings on 20th March 2015
http://www.torul-recordings.net/
https://www.facebook.com/torul
---
Text by Monika Izabela Goss
Photos by Nina Kovačič
21st March 2015