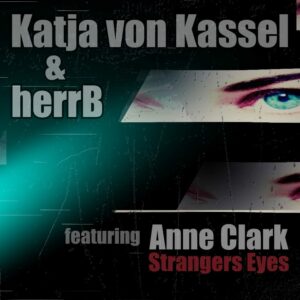 Working under the stage name of herrB, Stefan Bernauer began his music career as a guitarist and songwriter in a number of rock, blues and jazz bands.
But deep inside Bernauer's heart was a love for electronic dance music. 2011 saw his first release as herrB, a vibey deep house offering called 'Dragonfly On Dope'.
But in 2013, he met the artist and post-punk poet Anne Clark, collaborating on the joint EP 'Fairytales From The Underground'. A longer form release 'Life Wires' came in 2014 while further new material is work-in-progress.
Since they came together in the studio, herrB has often accompanied Anne Clark at many of her live performances. And it was at once such performance at the Electri_City_Conference 2017 in Düsseldorf that 'Strangers Eyes' featuring Katja von Kassel on lead vocals came about.
"It all started in Düsseldorf when the sound engineer from Anne Clark saw my performance" said Katja, "Anne and herrB were already at their own soundcheck in another room so they missed it. But herrB and me started talking after Anne's performance and he said the sound engineer mentioned me to him, saying he saw an appearance that illuminated the room. I am a huge fan of his sounds and Anne Clark. So, herrB and me started working together and wrote 'Strangers Eyes'."
The cosmopolitan result sees three sets of seemingly incongruous styles in Eurodance, Weimar Cabaret and stark English poetry coming together in refined unison with a haunting dose of European melancholy added to the mix.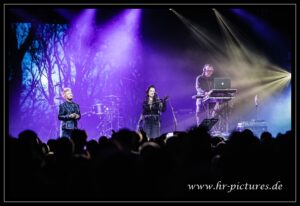 "Anne heard it when she was working with in the studio and added spontaneously her vocals because she really liked the track", remembered Katja about how Anne Clark unexpectedly came to be involved, "At this time I was on holiday in Corsica and got an mp3 from herrB with Anne's vox on it. I totally fell in love with it. I really liked it and she invited me to try it out live with her when she appeared at 'Gothic Meets Klassik' in Leipzig."
While Katja von Kassel's chanson flavoured take on the tragedies of life remains firmly intact, the dancier slant of 'Strangers Eyes' with its beat laden backbone will surprise listeners, especially the single's accompanying four-to-the-floor remix.
---
'Strangers Eyes'
is available via the usual digital platforms or direct from https://katjavonkassel.bandcamp.com/album/strangers-eyes-feat-anne-clark
http://www.katjavonkassel.com/
https://www.facebook.com/katja.vonkassel
https://facebook.com/KatjavKassel/
https://twitter.com/katjavonkassel
https://www.instagram.com/katjavonkassel
https://facebook.com/herrBmusicOfficial/
https://www.instagram.com/herrbmusic/
https://www.anneclarkofficial.com/
https://facebook.com/anne.clark.music
---
Text by Chi Ming Lai
Photo by www.hr-pictures.de
27th December 2019