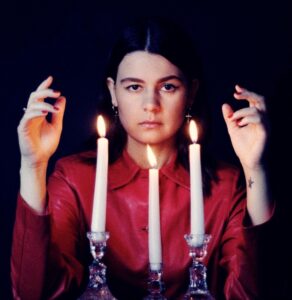 Deniz Çiçek and Robert Heitmann formed KRAKÓW LOVES ADANA after months of eyeing each other up at the same nightclubs in Germany.
Their bond led them to make melancholic dream pop together and their debut album 'Beautywhich' was released in 2010 with a second 'Interview' following in 2012. Their third offering 'Call Yourself New' in 2017 saw the pair form their own record label Better Call Rob, but while its 2018 follow-up 'Songs After The Blue' was issued via this independent platform, they came to the attention of Italians Do It Better, home to CHROMATICS and DESIRE.
Their first fruit of labours for the prestigious label was 'Follow The Voice'
, a rhythm heavy tune swathed in synths, followed swiftly by the more anxious 'Young Again'
, a song made all the more resonant by Çiçek's contralto expressionism.
Recorded over two years at their home studio in Hamburg, KRAKÓW LOVES ADANA present 'Darkest Dreams'. Produced and mixed by Çiçek herself, but sounding completely at home within the stark red colours of Italians Do It Better family, it is a thirteen song compendium comprising of synths and electronic drums walking hand-in-hand with gothic guitars.
The album is trailed by the enjoyably poetic pop of ''The Ocean Between Us'
, with the lyrical couplet "You say it is a phase, wild summer in your gaze" recalling the bittersweet memories of a holiday romance. Deniz Çiçek spoke about an album that explores the human condition's deepest fantasies and desires.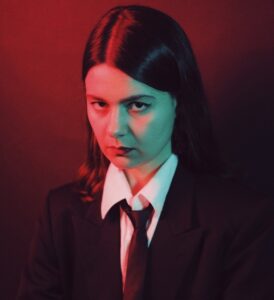 You have been releasing music since 2010 and already have four albums to your name, how do you feel you have developed musically over the past decade?
I think that every record we made actually got us to the point where we are now. It was good to try different things out and now I feel happy with where we stand musically.
How did Italians Do It Better become interested in KRAKÓW LOVES ADANA?
We just sent them our demo and they liked it. It's good to reach out to people whose music you like and give it a shot.
What is the German alternative music scene like? Do you feel like a part of it?
There isn't one specific alternative scene over here, it's more like a mish-mash of bands that are friends with and/or work with certain kind of people. We don't belong to a certain scene, not because there aren't any other musicians around but because besides having a band and having a day-job, we rarely find the time to socialize with other bands.
But truth be told, there really aren't many people in Hamburg whose music I find interesting. Releasing music for the last decade and watching bands come and go, I feel like most of them are a copy of a copy and neither daring nor innovative.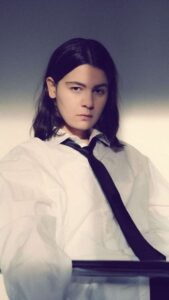 So how is 'Darkest Dreams', your first album for Italians Do It Better different from your most recent album 'Songs After The Blue', what approach did you take?
I always have the same goal and that is to not repeat myself. Without certain songs I wrote in the past, some newer songs wouldn't exist. All my songs exist in specific universes, some exist in darker places than others, some are there to make you look inside yourself and others to make you understand your role in the world.
The difference on this record is that the process of producing it was definitely more challenging because I put more time and work in every detail of this album.
How would you describe the creative dynamic within KRAKÓW LOVES ADANA?
We've got a strict division of work in the band – I write and produce the music, we play live together, do all the visuals together and Rob handles the business side of it. This form of working together has developed over the years and we feel like it is the best way for us to move forward as a band.
Lyrically, KRAKÓW LOVES ADANA are very bittersweet and pained which adds to the dense atmosphere of your music, where do you draw inspiration?
I think it is just the way I am built as a person. We all have these different personality traits that sometimes stand in contrast to another. Writing song lyrics helps me to understand what I think and feel. Also, with everything going on in the world, I want to make people dream and at least for a moment escape the dread of reality.
'The Ocean Between Us' is a fabulous balance between art and pop as a tale about a holiday romance, is the song a conscious move to be more accessible?
With 'The Ocean Between Us', I wanted to write a song that captures the contrast between the lightness most people associate with summer and the burden I feel to enjoy myself during this season. The music feels light but the lyrics are heavy.
I never had the privilege to travel a lot, neither as a kid nor as an adult, I always had to work my ass off growing up and haven't had a vacation since I was 16. During summer I always feel much more isolated from the world than usual because I feel this pressure to enjoy myself and live my best life but I love to work and I love to work on my art so just imagining myself sitting in a sunny park with a guitar in my hand makes me wanna die. So in a way this song is about me displaying my hate for summer.
Does Johnny Jewel being involved help bring in this new perspective to your work?
Johnny produced 'Follow The Voice' but otherwise he hasn't directly been involved in the songwriting process. But I have to say that his work undeniably had a huge impact on mine and I am very proud that he and IDIB have our back and believe in us.
Is there a reason your previous Italians Do It Better singles 'Follow The Voice' and 'Young Again' are not on 'Darkest Dreams'?
Those two songs are way older than the songs on 'Darkest Dreams' and I didn't feel that they matched the mood of the record.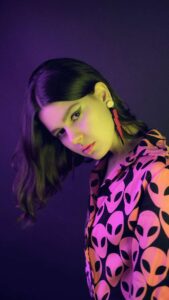 Which are your own personal favourite tracks on 'Darkest Dreams' and why?
I don't have any favourite tracks but I can't wait to share the cover version of ARCHERS OF LOAF's 'White Trash Heroes' with the world. It is a track that has accompanied me and Rob since the day we met and in a way I recorded this song for him.
KRAKÓW LOVES ADANA opened for CHROMATICS and DESIRE on selected dates of the 2019 'Double Exposure' tour; the show was so well designed from the bottom upwards as a well-designed ITIB event. How did it feel to be a part of it. What were the audience reactions like?
It was a unique experience to open for two bands whose music has been part of my life for quite some time. The reactions were great in general but I definitely felt that in Germany, people had their difficulties to believe that a band from Hamburg could be part of the IDIB universe.
What are your hopes and fears as you prepare to release you first long playing record on Italians Do It Better?
I had some doubts when we first released on IDIB, fearing how people would receive our music but we've been welcomed with open arms by a lot of people and I can't wait to share the new record with them this fall.
---
ELECTRICITYCLUB.CO.UK gives its sincerest thanks to KRAKÓW LOVES ADANA
Special thanks to Frankie Davison at Stereo Sanctity
'Darkest Dreams' will be released by Italians Do it Better on 25th Septmber 2020, but the single 'The Ocean Between Us'
is available on digital platforms now
https://www.facebook.com/krakowlovesadana
https://twitter.com/krakwlovesadana
https://www.instagram.com/krakowlovesadana/
https://krakowlovesadana.bandcamp.com/
https://open.spotify.com/artist/2LgLvxq44FkRvstBiPFjsN
---
Text and Interview by Chi Ming Lai
2nd July 2020, updated 24th August 2020