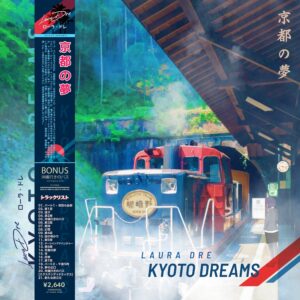 Presenting a swift follow-up to her acclaimed solo debut album 'Moving Spaces', German Filipino songstress and musician Laura Dre presents an ambitious concept record in 'Kyoto Dreams'.
Loving a download only instrumental bonus track of the same name from 'Moving Spaces', her label Outland asked for more of the same and Laura Dre duly delivered, but with a twist.
Having grown up with German Hörspiel cassettes, "I instantly had this crazy idea of creating a story with Japanese voice acting…" she said.
The 12 instrumentals contained on the 'Kyoto Dreams' album inspired by Citypop, chill-synth and lo-fi house are interspersed with a story in Japanese about a workaholic named Rin played by Hiroko Okunishi; she lives without dreams and ambitions but she embarks on a journey of enlightenment to find that something to enrich her future self. Other characters are voiced by Karinne Okunishi, Satomi Kinoshita, kay and Ayumi Kobayashi. To assist non-Japanese speaking listeners, English translations of the story's script are available on Laura Dre's website as well as in the booklet of the CD release.
Of the music, 'Lost in Transit' is an example of how music and speech can come together on an exotic midtempo instrumental. Using glitchy pitched shifted vocal samples, 'Bus To Okinawa' is more jagged in comparison and its darker austere is intriguing. 'Waiting' offers pretty vibes in keeping with its title, while 'Drifting' is a more dreamy flight of fancy where the inclusion of speech also works.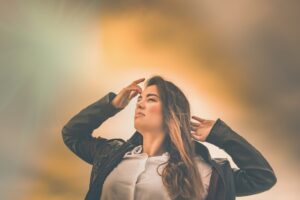 'City Lights' is superb and its danceable NEW ORDER Goes To The Far East backdrop captures a wonderfully nocturnal feel but 'Ocean Adventure' is naturally more nautical, blue and relaxed. The glorious 'Kyoto Dreams' is the Citypop-influenced bonus that was the seed to this ambitious adventure and it remains an enticing musical travelogue with hooks, atmospheres and percussive colours in an example of how a good synth instrumental should be constructed.
With Koto textures galore, the Zen hip-hop of 'Temples' pitches up some of the dialogue to be more child-like and although 'Four Seasons' develops on the hip-hop theme, it does so with a much shadier downtempo approach.
As the album effectively bookends with 'You Are Here', the 'Part 2 – Tokyo 5pm' variation utilises metronomic club beats over its moodier 'Part 1 – Unknown' counterpart, while an extended reprise of 'Bus To Okinawa' and the short conceptual statement 'New Departure' close the 'Kyoto Dreams' album like the soundtrack over the end titles of a film.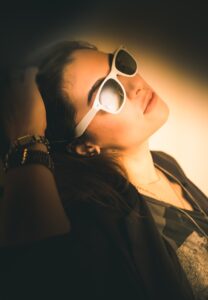 Musically, the 12 instrumentals on 'Kyoto Dreams' stand up as a collection. But for those who may not be as wholly invested in Laura Dre's vision of a radio play and its chapters alternating with music, the story in Japanese may prove to be a frustrating distraction. For casual listeners, this switching music / spoken word approach rarely works and even the mighty YELLOW MAGIC ORCHESTRA at their commercial heights baffled their homegrown audiences with their 1983 album 'Service' by alternating synthpop songs with comedy sketches in Japanese by SUPER ECCENTRIC THEATER!
ELECTRICITYCLUB.CO.UK is certainly not against albums with interspersed conceptual pieces as the site's love of KRAFTWERK's 'Radio-Activity' or 'Dazzle Ships' and 'English Electric' by OMD have proved.
Now whereas those featured tracks of news broadcasts, speaking clocks and airport announcements in international languages respectively, these concrète experiments were shorter and fewer in number, although 'Times Zones' from 'Dazzle Ships' remains a flawed artistic snapshot of the world that outstays its welcome by a minute.
In the case of this sophomore Laura Dre album, listen to it as a whole and see how you feel. As a radio play on its own, a synth instrumental record or as Laura Dre's vision of combining both, what it means to the individual listener is what matters; it will mean different things to different people and only they can decide what to put in their own 'Kyoto Dreams' playlist.
---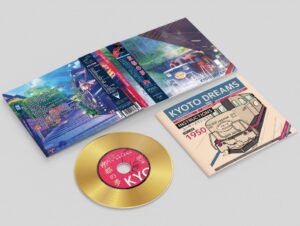 'Kyoto Dreams' is released by Outland Recordings in a gold vinyl effect CD in a digipak with a Japanese / English instruction booklet and digital formats available from https://lauradre.bandcamp.com/album/kyoto-dreams
https://www.facebook.com/lauradreofficial
https://twitter.com/LauraDreMusic
https://www.instagram.com/lauradre/
https://www.twitch.tv/lauradreofficial
https://soundcloud.com/lauradre
https://www.youtube.com/channel/UC-i6CW5oGLsKIOOIHV9sEHA/
https://open.spotify.com/album/02tAfJaZg4cQ692gxq59L6
---
Text by Chi Ming Lai
Photos by Wiebke Kreinick
27th December 2021