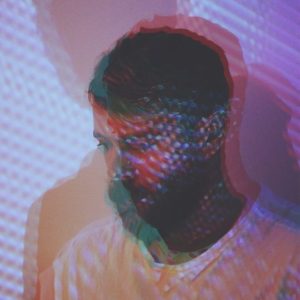 In an enlightening chat with ELECTRICITYCLUB.CO.UK after his 'Infinity Mirror' album launch show, Ryan A James, the talented Welshman behind MAN WITHOUT COUNTRY confessed that 'Beta Blocker' was where his headspace was currently at and indicative of his future musical direction.
Using the competitive antagonist drug prescribed predominantly to manage abnormal heart rhythms as a lyrical metaphor, 'Beta Blocker' is paradoxically one of the energetic highlights from the excellent third album by MAN WITHOUT COUNTRY.
The track itself is characterised by a meaty programmed electronic bassline of the type not unlike those PPG Wave derived ones which adorned many a record by PROPAGANDA, FRANKIE GOES TO HOLLYWOOD and GARY NUMAN.
'Beta Blocker' now comes with a lyric video created by James using "an old TV, a video synth and a circuit bent video mixer found down an eBay rabbit hole."
Interestingly, Beta Blockers were also used frequently by snooker and gold professionals before they were outlawed within their sports, but the track itself is perhaps more lively and much harder than James' dreamier past offerings.
The outstanding work of primarily just one musician, 'Infinity Mirror' was one of the best albums of 2018, bursting with craft and melody. Showcasing the talent of Ryan A James, it's one that has already been recognised by ROYKSÖPP who invited him to contribute to their track 'Sordid Affair' from 'The Inevitable End'
album in 2014.
---
'Beta Blocker' is from the album 'Infinity Mirror'
released by Killing Moon Records and available from https://manwithoutcountry.bandcamp.com/album/infinity-mirror
https://www.facebook.com/manwithoutcountry/
https://www.instagram.com/mwc_music/
---
Text by Chi Ming Lai
4th January 2019