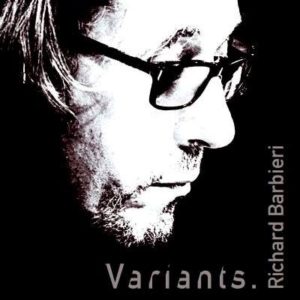 It may be perhaps surprising to learn that one-time JAPAN sound designer and synth technician Richard Barbieri has only released three solo albums.
However, Barbieri was always preferred the collaborative process, be it with Messrs Sylvian, Karn and Jansen, DJ Takemura, Steve Hogarth of MARILLION or as a member of PORCUPINE TREE with Steven Wilson and Gavin Harrison.
But since JAPAN disbanded in 1982, he has composed and recorded a large amount of material that until recently has remained unreleased. So the five volume 'Variants' series has gathered together new compositions, improvisations, live performances and re-workings of older material; "It presents a chance to put together disparate pieces of music from past and current works that wouldn't fit easily with new album plans or concepts but which I feel deserved a release." said Barbieri in October 2017 when the first volume was issued.
With 'Variants.5' having come out in the Autumn and now a double vinyl edition combining 'Variants.1' and 'Variants.2' about to be released on KScope, it continues a renaissance that has taken place in the career of Richard Barbieri since his 2017 album 'Planets + Persona', one that has seen him invited to join TANGERINE DREAM on stage in London, as well as playing solo concerts abroad and touring as part of LUSTANS LAKEJER in Sweden.
Bright and layered, 'Showered In White Light' starts 'Variants.5' and is almost flutey in texture. With manipulated voice samples of regular collaborator Lisen Rylander Löve throughout the track, the building percussive tension mutates into something quite dramatic.
Performed recently with Steven Wilson at one of the PORCUPINE TREE leader's solo Royal Albert Hall concerts, 'New Soul 2018' is a sparse electronic piano piece that originated as a PORCUPINE TREE improvisation initiation bookended by a thunderstorm recorded during the RAIN TREE CROW album sessions in the South of France.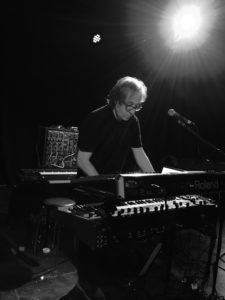 Embroiled in shimmers and harmonics, 'Run Lola' was inspired by THE BAYS, a group that have never released a record or rehearsed, who Barbieri improvised with to showings of the film 'Run Lola Run'. Its delicate sweeps are laced with trumpet from Luca Calabrese and reversed violin by Gill Morley, but as the hypnotic bass sequence permeates over ten minutes like classic TANGERINE DREAM, it makes for a trance inducing moment, especially as the abstract voices of Lisen Rylander Löve drop in.
'Unholy Live 2017' captures the original recording's initial airy ambience although this is offset by more unsettling voices through Lisen Rylander Löve's Soviet submarine microphone before a deep synth bass rumble, Löve's soprano sax and Barbieri's pulsating sequence kick in. The concluding 'Shut Down' is a drone piece and possibly a sign of things to come from Barbieri. Constructed during recuperation following an operation using a compact mini analogue modular set up by his bedside, it is sinister in tone and bereft of any true melody.
But the series started with 'Variants.1' beginning with 'Hybrid', a noirish track derived from the 'Planets + Persona' sessions and a live variation on spacey avant jazz of 'New Found Land' where Barbieri amusingly credits himself with "bad timing". Melancholically piano shaped, 'Only Passing Through' was poignantly titled, a reflection of life in the wider context of generations. Still very much into his vintage Roland System 700 Laboratory Series, 'Spacing Of Strands' was based on a step sequence improvisation where the analogue module was triggered by an Arturia Beat Step Pro Sequencer.
Interestingly on 'Variants.1', Barbieri revisited his JAPAN days with a 2009 solo interpretation of 'The Experience Of Swimming', his composition which was on the B-side of 'Gentlemen Take Polaroids' single from 1980, now boosted with some new counter melodic enhancement. The piece reappeared as a longer live rework on 'Variants.4' recorded at the St Margaret's of Anitioch Church in Liverpool featuring a different intro, sax , trumpet, percussive loops and a coda improvisation based on 'Nightporter'.

Indeed on 'Variants.3', other JAPAN related material was unveiled. The marvellous 'Ballerina' while new, harked back to 1982 when Barbieri was approached to commission music for the Ballet Rambert following the end of JAPAN. The resultant music was suitably ghostly with ethnic overtones and subtle electro-percussive textures offered a  ringing ambience as gentle cascading sequences circled.
And on a earthy cassette recorded timepiece recalling Brian Eno's '2/2' when the '1979 Rehearsal Room' was quiet, Barbieri happily programmed and played away… also on 'Variants.3' and uptempo by Barbieri's standards, 'Vibra' featuring the fretless bass of Percy Jones and violin by Gill Morley recalled Ryuichi Sakamoto, while with a drum machine assisted backbone and jazzier overtones, 'Dahlia' saw the development of another PORCUPINE TREE track written with Steven Wilson.
Containing mostly live recordings including a one-off live improvisation piece 'Antioch' and an extended version of 'Hypnotek' with an introduction echoing Jon Hassell, the highlight of 'Variants.2' was the lengthy 'Frozen Hearts Of Hollywood', a composition with orchestration potential inspired by the soundtrack of the film 'Chinatown' which starred Faye Dunaway.
The progressive nocturnal electronica of 'Broken Codes' opened 'Variants.4', inspired by Barbieri's memories of listening to a transistor radio in bed as a teenager deep into the night, while largely piano based, the soothing 'Snow Bed' allowed room for trumpet and synths too. The appropriately titled 'Slink' featuring dissonant piano by Fredrik Hermansson was according to Barbieri "an oddball piece of music" came before 'Orphan 5', a pretty tune with a four chord progression sketched during the JAPAN days featuring the haunting monologue of Sophie Worthen.
One track that would have been an interesting inclusion is Barbieri's live rendition of PORCUPINE TREE's 'Idiot Prayer' which often finishes his shows
But over five volumes, 'Variants' is a fascinating journey into the thoughtful creativity of Richard Barbieri. There is a lot of music to get through, but free of artistic restrictions and concepts as to what constitutes an album, the beauty of the 'Variants' series is as the concept title suggests, the variation, the range of colours, textures and atmospheres emanating from one artist. And that's how things should be.
---
The five volumes of 'Variants' are all available now from https://richardbarbieri.bandcamp.com/
The double vinyl editions of 'Variants 1 + 2' and 'Variants 3 + 4 plus signed 'Variants' CD box + booklet (please note – CDs not included) available from https://burningshed.com/
https://www.facebook.com/RichardBarbieriOfficial/
http://www.kscopemusic.com/artists/richard-barbieri/
---
Text by Chi Ming Lai
Photos by Martin Bostock and Ben Meadows
7th January 2019, updated 21st March 2019