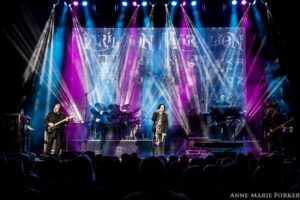 MARILLION have seen 'The Light At The End Of The Tunnel'! In these long dark days of recent times, the prog veterans hope to shed some light across the stages of Britain with a 10-date tour in November 2021 culminating in 2 nights in London.
Presently, MARILLION comprise of Steve Hogarth (lead vocals, keyboards + percussion), Steve Rothery (guitars), Pete Trewavas (bass + guitar), Mark Kelly (keyboards) and Ian Mosley (drums + percussion).
For many years now, MARILLION have enjoyed a unique relationship with their fanbase and together they pioneered the concept of crowdfunding in music via the sponsorship of an American tour in 1996.
Despite a difficult 2020 for all, MARILLION united with their family of faithful fans for the online Couch Convention weekend in September which raised £31,530 for their crew who have been hard hit financially by the pandemic.
Of the weekend, Mark Kelly said: "What a weekend it was! We were totally stunned and knocked out by everyone's involvement in everything that went on, from Steve Rothery's late night cocktails to Pete's Bass Masterclass. Ian's Drum Q&A and my early morning fun run and all the music, chat and fancy dress in between. It was fun for us to be in the audience, too, reading and reacting to all your comments as the shows were streamed. The crew tip-jar was overflowing with your generosity, you raised a substantial sum for our wonderful crew. The money will go a long way to helping them survive a difficult year. Thank you!"
Mark Kelly kindly took time out from recording the new MARILLION album to talk about the use of keyboard technology in the band, being crowdfunding trailblazers and the modern day streaming business model among many other topics.
Thanks for taking time out of what I am sure is still a busy schedule to chat with us today…
No problem, I was hoping to home by now but I'm stuck in traffic on my way back from the studio.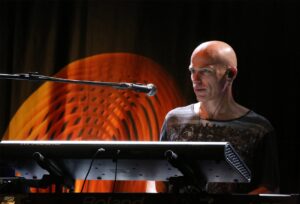 Is that working on 'Marathon' (Mark's forthcoming solo project) or MARILLION material?
'Marathon' is finished, this is for the next MARILLION album… Number 20! Funnily enough on the tour next year we play the Cambridge Corn Exchange almost 40 years to the day of my first gig with the band, in the same town.
I've been a fan all that time and it doesn't feel like 40 years…
You're right, it doesn't feel like 40 years at all. You hear older people say time flies by and now I know where they are coming from.
Folk coming to this interview may wonder why we are speaking with you, but there is crossover between what you do and our usual fare, Vince Clarke for example is a GENESIS fan…
Funny you should say that, I was reading an article on one of the sites like TechRadar and they listed the Top 30 synth players and Vince Clarke was number 5 or 6 which surprised me. But thinking about it, there is a lot of crossover with the electronic stuff like TANGERINE DREAM and KRAFTWERK which is very much in the prog genre… Krautrock… the early days of synthesiser music and progressive rock were both experimental
So how are you all surviving the lockdown?
We've had a pretty good year by luck more than anything as we had already decided we weren't going to tour this year. All we had in the book was 'Cruise To The Edge' which got cancelled back in April. So we didn't need to change our plans much at all and for me it gave me the chance to do a solo album as we were in lockdown for 3 or 4 months.
We had just started work on the MARILLION album and had to stop. We are back in the studio now having resumed work on the album at the end of the summer. We are at that stage now where we've done a lot of jamming, have quite a lot of ideas and just need to get them past the arranging stage really. We are quite slow these days, we will jam then take those and jam around them again, working on the ideas we like to see what comes out and eventually they start to take shape as songs and that's where we are at now.
We have 20 or 30 pieces, some lyrics and I'll be optimistic and say by early next year we will have an album ready to record.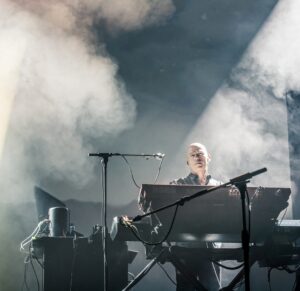 That's great news both that you are busy and all keeping well. Moving on can you give us a recap of Mark Kelly, the early years?
I never saw being in a rock band as a viable career opportunity, it was something I did for fun playing on the local pub circuit. The guys I played with didn't take it that seriously. I'd been an art student then switched to electronics as I wasn't really enjoying the art stuff.
MARILLION were the opening act for the band I was playing for, Mick Pointer (the then-drummer) and Fish came up to me and asked if I fancied joining MARILLION.
I didn't really know who they were and only watched them because our guitarist said "you should watch this lot, you'll like them" and that was my start at becoming a professional musician.
It's interesting as the documentary on the 'Script For A Jester's Tear', MARILLION's 1983 debut album boxset shows you as having, as a band, quite a drive and determination to succeed?
That was one of the things that attracted me to MARILLION was how serious they were about it all. Everyone back then talked about making it and back then, that meant as far as we were concerned getting a record contract with a major label.
Everyone was laser focussed on it, it wasn't a hobby. We turned professional and that meant giving up any job you had and signing on the dole. Making a living back then as a gigging musician was hard, God it's much harder now, and we actually did manage to feed ourselves.
We would play 5 or 6 nights a week in pubs and you would get paid 100 quid which I suppose wasn't bad, it was a slog though we were determined.
The 'Script…' album… I joined at the end of '81 and we had signed within a year and were recording the album by Christmas 82. At the time, it didn't seem to happen that quickly but looking back it did.
The great thing about the early days of MARILLION was wherever we went, we picked up new fans. There was a real buzz about the band at grassroots level where there wasn't much from the mainstream press. We had a session on the Friday Rock Show and Sounds wrote about us but we weren't cool enough for Melody Maker and NME!
So looking back it did happen pretty quickly, we were selling out Hammersmith Odeon by the time the first album came out…
I remember back in the day looking at that very prog thing of listing all the keyboards that you used on the album credits…
That's funny cos as a kid, I remember pouring over the sleeve of 'The Six Wives of Henry VIII' by Rick Wakeman and the bird's eye view looking down at all the keyboards that were labelled. Of course there was no internet, so you had to look things up in the library or rely on keyboard magazines. I think I was just trying to emulate my heroes, they all listed what they played so we did the same…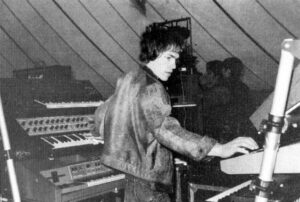 The equipment you used was pretty much top of the want list for the period. I have often thought, did you hire it in or how did the band feel about you blowing the entire advance on a new keyboard rig?
I was thinking about this the other day and I was lucky. The A&R guy at EMI, Hugh Stanley-Clarke, was a real keyboard fan and he also represented Thomas Dolby and he said "you've got to get an Emulator and you have to get a PPG 2.2" and these were really expensive.
To give you an idea, the PPG was about £6000 and the Emulator about 5, so that's £11,000 on 2 keyboards. Around the same time, I bought my first house and that was £23,000! And those weren't the most expensive if you think about, something like the Fairlight which was £30,000 or… what was that thing Keith Emerson played, the Yamaha GS1 that was about the same price!
You had a Jupiter 8 as well?
I loved my Jupiter 8, that was what another £3000…
So most of the advance went up on A-frames next to you on stage?
You're not far wrong actually. We bought a drum kit and some amps, but I spent about 15 grand on keyboards so I was lucky. At the time, we got the money and bought the gear.
Advances in that technology was going leaps and bounds at the time and you were probably one of the last people to record an album before MIDI came in. I think you had the DX7 the next album, 'Fugazi'?
I think I got that just after that. Folk were buying things like the DX7 but you couldn't really do anything with it. It wasn't until I bought a Juno 106 and could link that and the DX7 together with a MIDI cable to stack the sounds, it was then you could say, my God listen to this. The opening bars of 'Misplaced Childhood' are the sound of the DX and the Juno together. At the time it was groundbreaking.
I had a Commodore 64 computer and a guy at Hansa Studios in Berlin where we recorded 'Misplaced Childhood' showed me a box you plugged into the back of it. It was a Steinberg 16 track sequencer, the box had MIDI In and Out and you could record stuff and play it back. It was really basic, but at the time it was amazing to be able to do that.
With the technology, did you feel you needed to keep up with things like sampling?
I loved it, it was a great time to be getting into keyboards, at that time there was a lot of great things happening with the technology. There was a shit period in keyboard development…
The early analog stuff of the 70s and those early polyphonic synths like the Prophet 5 and the Jupiter was great through to the late 80s with iconic keyboards like the Korg M1 and the Roland D50, then in the 90s there were a lot of sampling keyboards that weren't that good.
Then you had all the VST instruments that weren't all that good either, but now a lot of those are really nice and you can get lots of interesting sounds. It's all a bit too easy now I suppose, a bit like recording…
Do you not find the amount of choice you have in the libraries for these instruments can be counter-productive when you can spend hours just flipping through string sounds?
You're probably right. I don't use the software where you can hit a button and it writes for you, gives you chord progressions and stuff. I've dabbled with it but the stuff that comes out is great sounding but uninspiring. You have to differentiate between something that sounds good and the actual music you are playing.
For me, I search for sounds that are inspiring and make me be creative in what I play and I feel I am much more prolific these days than I used to be and part of that is having this amazing palette of sounds at your fingertips.
So are you more software or predominantly hardware based these days?
I'm totally VST based these days… the only bit of hardware I have been playing about with recently is I have broken the old Minimoog out for the 'Marathon' album and I have been using that with a ribbon controller hooked up to the gate and voltage control and that's a bit of fun and to be honest that's it.
I still use the Korg Karma for a few sounds but everything else is in software… if I had to choose one software synthesiser to be stranded on a desert island with, it would be Omnisphere by Spectrasonics. There's a Bob Moog commemorative sound library that a load of well-known folk like Trent Reznor contributed to for the Moog Foundation and the sounds are lovely, I always go back to them.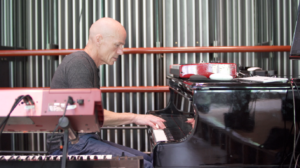 There's a huge amount of fetishism around all that old gear and the majority of people don't care…
And I don't think the majority of keyboard players can tell the difference either.
Steve Rothery, MARILLION's guitarist had bought a modular system and it's fun to play around with but that's it…
To make car alarm sounds…
Hahaha! Yeah, I think I am with you on that. Some of the software emulations like Minimoog or Hammond organ or electric piano are great now and even things like acoustic piano which was always hard to get right for example, but the Modartt Pianoteq 6 is spot on, really responsive and nice to play which was always an issue in the past.
So do you have any formal training?
No, it's one of the things I regret. I didn't start playing until I was 15 which is very late and it's always been something I am aware of and a bit embarrassed about. You watch someone like Jordan Rudess playing… I'm not saying I love every note that he plays but his technique is phenomenal. He probably started when he was 3, went to Juilliard etc and I didn't do any of that and it shows.
I'm not trying to compete with Keith Emerson or Rick Wakeman or Jordan, what I do isn't that technical really but I try and play to my strengths.
After 40 years, you'll probably be OK for at least the next album anyway!
Hahaha! I hope so yes!
One of the things I wanted to ask you about that is very related to ELECTRICITYCLUB.CO.UK is your involvement with The Midge Ure All Star Band at the Mandela 70th Birthday concert at Wembley Stadium in 1988. How did that come about?
Midge Ure just called me up, I don't know where he got my number, and asked me and I was flattered to be asked to play with all these amazing people.
At the age of 26 or whatever I was, to be asked to play in a band with Paul Carrick, Phil Collins, Mark Brzezicki, Mick Karn and Midge with all these superstars was amazing. We had a great time. We only had about 3 days rehearsal and the only stressful time was with Joan Armatrading… Paul didn't want to sing 'How Long' for the umpteenth time and said can I just play keyboards so we worked out what to play between us.
The Joan Armatrading song 'Love & Affection' had some strings on it… I turned up at the rehearsals shitting myself as I hadn't learnt any of the songs and neither had anyone else! We were all having fun, apart from Joan… she turned up after Paul and I had worked out the parts and stopped everything and said "just one keyboard player please" and told Paul to stop playing! So then I had to play both parts and as I say I'm not technically that good and she's standing over me watching me do it… no pressure! It was all really good fun though, everyone else was great… THE BEE GEES were really nice chaps…
Not sure about the horns on 'Kayleigh' though…
Well the David Sandborn Horns were onstage so we had to use them. Phil and Mark has fun on that, they worked out little drum fills into the chorus which were different… Midge winged the guitar solo a bit but as I say, it was great fun.
You are a great advocate and early adopter of the use of the internet and you are recognised as one of the founding fathers of the whole idea of crowdfunding. Are you surprised by how the concept has taken off and developed over the years?
It developed out of necessity really. In 1997, we had a group of fans that wanted us to tour America and I said it wasn't going to happen. We didn't have a record deal and we would always lose money when we went to the States. One of the fans said "why don't we create a tour fund and folk can donate money and then you can come and tour?"
It was incredible really, this wasn't crowdfunding as we know it, it was just people putting money in a bank account, like charity almost. And when we hit the magical figure of $60,000 which is what I said we would need, I plucked the figure out of the air, as we had lost upwards of 100K in the past, they raised the money as we did the tour.
That's what gave me the idea… if fans are will to spend that money to bring us over on tour and then still have to buy tickets, it shows there was a lot of goodwill towards MARILLION out there.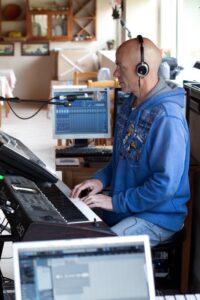 So when we wanted to do another album, we didn't have a deal and were free. I said all we need is the money to live and record the album, why don't we ask the fans to buy it in advance. Maybe surprisingly or maybe not, at the time it was revolutionary. Even the other band members were saying "Are you sure? Won't the fans expect to have a say in what gets recorded and put on the record" as no one had done it before and we didn't know if fans would actually put their hands in their pockets and pay upfront.
It was looking back such an obvious idea because of the internet and email and the fact you can reach out to people so easily and update them so readily, so it's time had come and for us with the fans being so supportive, it wouldn't have been something every band could have pulled off at that stage in their career.
I think it became something that some folk looked as an easy way to make money…
Yes and it wasn't just the bands, the platforms that were set up to do it too. We went through Pledge Music for the last MARILLION album and after we had finished, they went out of business a few months owing lots of people lots of money! I think you're right a lot of bands looked at it as a way to make easy money, but you have to do it with the right intentions. You have to show your audience appreciation for what they are doing for you, it's not free money. It's a collaboration, they are involved.
You are very good at that as a band and having a relationship with your fans…
We were lucky as we had had many years of doing that, being available and chatting with the fans. We used to do that right back in the early days on the first big tours, we would stay behind after shows and meet with the fans. Of course, word got round we did this and eventually the audience would stay behind in the venue and it would take hours to sign stuff, get a picture or whatever but you'd end up having 500 or so folk staying back, so we had to knock it on the head!
We used to like it as you would get to see the girls in the audience close up!
There were girls in the early MARILLION audiences, I don't remember that!!!
Well if you have 500 folk, you might get 50 girls! So if there was a good looking one, there was a signal word where the tour manager would go and invite them to the after show party. But he got the signal word mixed up, and it was Fish that then came up with this one 'Dodo'…
He thought that meant time to go, clear the room… the signal for stop without saying stop. So this good looking girl is there, Fish says "Dodo" and the next thing he is say "right everybody out" and we are like, what's happening?!?
He says "Fish gave the signal" and he was like "no I didn't you f*cking Dodo!'"
You are also to your credit heavily involved in the field of artist rights via FAC (Featured Artists Coalition) and PPL. Is this more important now that ever?
Yes, I think it's necessary really. I don't really do as much for FAC these days as it's hard to find the time to do everything, though I am still on the board of PPL. I'm up for re-election soon and I have been doing it for 11 years now so maybe I will get voted off!
I think these days, people are much more aware of how artists make a living or don't make a living and the issues around streaming services like Spotify.
I have a love / hate relationship with Spotify. I love it as a punter being able to just dive in and check stuff out if someone mentions a band. I am also aware however that it pays so little money unless you are up in the stratosphere which very few artists are there is nothing in it really, it's just a promotion tool
Do you think there will ever be a balance struck?
It simply comes down to, unsurprisingly, that the labels are keep as much of the money as possible. They pay artists royalties based on old deal structures when they, the labels, had all those overheads, manufacturing, shipping, warehousing and all the rest of it and now they should be paying, at the very least, the artist 50% of what they get, where most are on probably 15 to 20% if that.
The labels are making decent money and many of the artists are not and I hope that at some point in the future things will be more balanced. I don't think you can blame Spotify, they have never made a profit. They pay the labels a billion dollars a month which sounds like a lot of money, but it's spread across the entire music industry and most of it never finds its way into the pockets of the songwriters or artists.
How big a risk or otherwise has the decision to put on a tour for next year been?
I think it's a bit of a risk as we don't know how things will pan out, but I do think there is a good chance the tour will happen. It is in a year's time so…
You have a solo album coming out, what does that outlet give you that working with MARILLION doesn't?
There are quite a few musical ideas I had over the years that never get used and I couldn't see them ever getting used. The album has a bit more of an early MARILLION feel to it as the band has moved on from that.
I started working with a lyricist who was the person that was pushing me. Then I worked on some musical ideas with my nephew Conal and then we found Ollie who does vocals on the album and he has a great voice. Then because of lockdown, I said to everyone "let's do this and record our parts at home" that it started taking shape
Do you think had given the album a different feel as you have done things in isolation rather than together in a studio?
The guys that mixed it says it doesn't sound like it's been recorded that way, it all hangs together really well, I very pleased with how it's turned out. When we did finally did meet, some of us for the first time, we had a couple of days in Real World Studios and it sounded like we had been together for months.
---
ELECTRICITYCLUB.CO.UK gives its warmest thanks to Mark Kelly
Special thanks to Sharon Chevin at The Publicity Connection
Mark Kelly's 'Marathon' is released on 27th November 2020 and is available in CD, vinyl and a limited edition CD with a DVD of the album being performed live plus bonus behind the scenes footage direct from http://www.marillion.com/shop/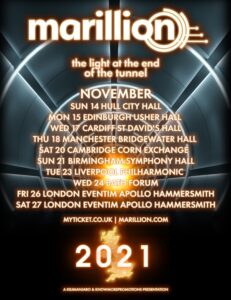 MARILLION's 'The Light At The End Of The Tunnel' tour dates for November 2021 are as follows:
Hull City Hall (14th November), Edinburgh Usher Hall (15th November), Cardiff St David's Hall (17th November), Manchester Bridgewater Hall (18th November), Cambridge Corn Exchange (20th November), Birmingham Symphony Hall (21st November), Liverpool Philharmonic Hall (23rd November), Bath Forum (24th November), London Hammersmith Apollo – seated (26th November), London Hammersmith Apollo – standing (27th November)
Tickets available from https://myticket.co.uk/artists/marillion
https://www.facebook.com/MarillionOfficial
https://twitter.com/MarillionOnline
https://www.instagram.com/marillionofficial/
https://www.facebook.com/mkmarathon
---
Text and Interview by Ian Ferguson
30th November 2020