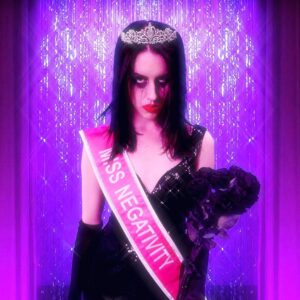 Don't watch that, watch this… this is the heavy heavy sound of NIGHT CLUB!
While Emily Kavanaugh's voice may playfully echo that of Britney Spears, lyrically she comes over like a vengeful angel of doom. Meanwhile, Mark Brooks' exploration of rock and metal using only synthesizers gives NIGHT CLUB their rather unique sound as they resist pressure to use drummers and guitars.
Having reflected on the 'Scary World'
of 2018, the duo of Emily Kavanaugh and Mark Brooks go on the attack in 2020 with their new album 'Die Die Lullaby'.
With song titles like 'Die In The Disco', 'Misery Go Round', 'California Killed Me' and 'Civil War', the NIGHT CLUB motto of "Keep your friends close and your enemies in your songs" is undoubtedly being maintained.
But in a slight twist, the superb first single 'Miss Negativity'
returns to the uptempo danceable synthpop of their third EP 'Black Leather Heart'
despite its dark austere. Poignantly capturing the zeitgeist, Kavanaugh sings: "No, I don't want to go out cos I won't have any fun, I am sick and infected with pure pessimism…"
NIGHT CLUB describe the video to 'Miss Negativity' as being "trapped in your own personal hell. Struggling to find positivity in a world gone wrong" and when Kavanaugh is creepily pitched shifted to announce "Who's gonna save me from myself? I'm no good for my health, I'm cryin' out for help, I'm beggin' you", she is eerily covered in blood in a flaming homage to 'Carrie'…
Opening for alternative rock supergroup A PERFECT CIRCLE for their 2018 North American arena tour and significantly expanding their audience, NIGHT CLUB were able to embark on their own headlining jaunt the following year.
On the cusp of a wider breakthrough, NIGHT CLUB have been riding on an upward momentum since they were commissioned to provide the soundtrack to the Comedy Central animated series 'Moonbeam City' starring the voice of Rob Lowe in 2017. Their track 'Cruel Devotion' from 'Black Leather Heart' also appeared on 'The Electricity Club'
compilation alongside the likes of ERASURE, OMD, SIN COS TAN, MESH, MARSHEAUX and VILE ELECTRODES.
---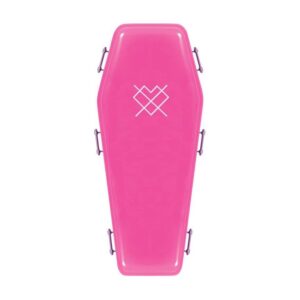 'Miss Negativity'
is from the new album 'Die Die Lullaby' released by Gato Blanco on 9th October 2020 as a CD, purple vinyl LP and download, pre-order direct from http://nightclubband.com/
https://www.facebook.com/nightclubband
https://twitter.com/nightclubband
https://www.instagram.com/nightclubband/
https://soundcloud.com/nightclubband
---
Text by Chi Ming Lai
29th August 2020