Of late, Swedish poptronica duo PAGE have well and truly fallen under the spell of the imperial Synth Britannia era.
The releases in the last few years from Eddie Bengtsson and Marina Schiptjenko like 'Det Är Ingen Vacker Värld Men Det Råkar Vara Så Det Ser Ut', 'Start', 'Fakta För Alla' and 'Under Mitt Skinn' have clearly been influenced by imperial phase ULTRAVOX, TUBEWAY ARMY, VISAGE and DRAMATIS.
'Puls' ('Pulse'), an energetic track from their most recent album 'Fakta För Alla', gets a period makeover in a new video clip complete with waveforms. Recorded at Gothenburg's Sticky Fingers last fall, it is made up of out-takes from a forthcoming live DVD naturally entitled 'Fakta För Alla Göteborg'.
The track itself drops in a higher glam quotient with a stomping rhythm line and saw waves lined up in catchy phrases. Strings and soaring synths point to Billy Currie as a source of inspiration, but there is nothing derivative about the stylings.
With PAGE very much in the Moog, the 'Under Mitt Skinn' EP issued in June included a cover of Gary Numan's 'Tracks', a Swedish version of which was on 'Det Är Ingen Vacker Värld Men Det Råkar Vara Så Det Ser Ut'. But the opening instrumental 'Saint Anastase' was fully in the vein of Vox 'N' Foxx.
Having adapted the ULTRAVOX B-side 'Alles Klar' as 'Allt Är Klart' previously with his SISTA MANNEN PÅ JORDEN project in 2007, these electronic pioneers are very much in the musical DNA of Eddie Bengtsson and this re-exploration of his roots has enabled him to produce some of the best work of his career which began with PAGE's debut single 'Dansande Man' in 1983.
---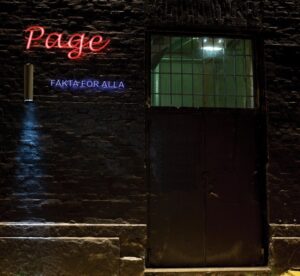 'Puls' is from the album 'Fakta För Alla' released by Energy Rekords as a CD and vinyl LP, available from https://hotstuff.se/page/x-7640
https://www.facebook.com/PageElektroniskPop
https://www.instagram.com/page_svensk_pop/
---
Text by Simon Helm and Chi Ming Lai
31st August 2020