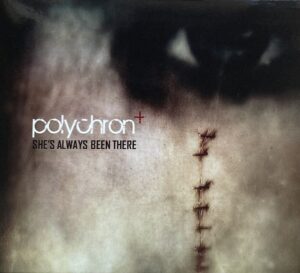 POLYCHRON+ is the new electro-acoustic project by veteran Italian producer Gabriele Gai with songwriter, musician and vocalist Aurelio Menichi.
To say their debut album 'She's Always Been There' is something a bit different and unusual would be an understatement.
Not only does it mix electronically derived Mediterranean dance music with Tuscan folk and classical forms, it has an impressive cast of guests including Anna Domino, Blaine L. Reininger and Luc Van Lieshout from TUXEDOMOON.
It is a cultured and sophisticated album that includes the synthetic torch cabaret of 'Alaska Drive' sung by NicoNote and the arty jazz-inflected Italo disco of 'Twist The Knife' featuring crooner Alex Spalck and Luc Van Lieshout on trumpet. Standing next to them is the brilliantly understated house of 'Lighter Than The Blue' which sees Blaine L. Reininger not only offer his pronounced Leonard Cohen-esque baritone but also bring a virtuoso violin performance to the party.
'Yeh-Teh' springs a surprise with some enjoyable avant garde rapping and a snarling sample from a BBC interview with John Lydon declares "I want everything in life to be transparent… let us as human beings determine our own journey in life!"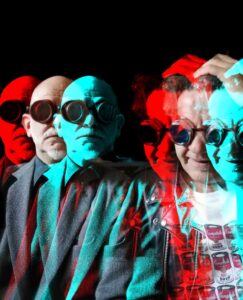 What is contained on 'She's Always Been There' is nothing but diverse, with melancholic piano assisted instrumentals like 'Morbid Love' and the delicate Anna Domino voiced flutey guitar ballad 'Pocketknife' figuring. Meanwhile 'Gum, Le Blue Jar' could be a reggaefied YELLO while a cover of Italian post-punk band GAZNEVADA's 'Tij-U-Wan' throws in spikey rock and the influence of DEVO halfway through!
Seeded by life, disappointments and grief with cinematic reference points to the Les Disques Du Crepuscule and Crammed Records catalogue as well as Italian New Wave, 'She's Always Been There' will appeal to fans of the TUXEDOMOON axis with its refined electronic base embellished by a variety of traditional instrumentation.
---
'She's Always Been There' is released in CD and digital formats by Totem Taboo and distributed by Materiali Sonori
https://www.facebook.com/polychronplus/
https://open.spotify.com/album/4FzDi2KbpvajkEmDZohmlL
---
Text by Chi Ming Lai
19th January 2022