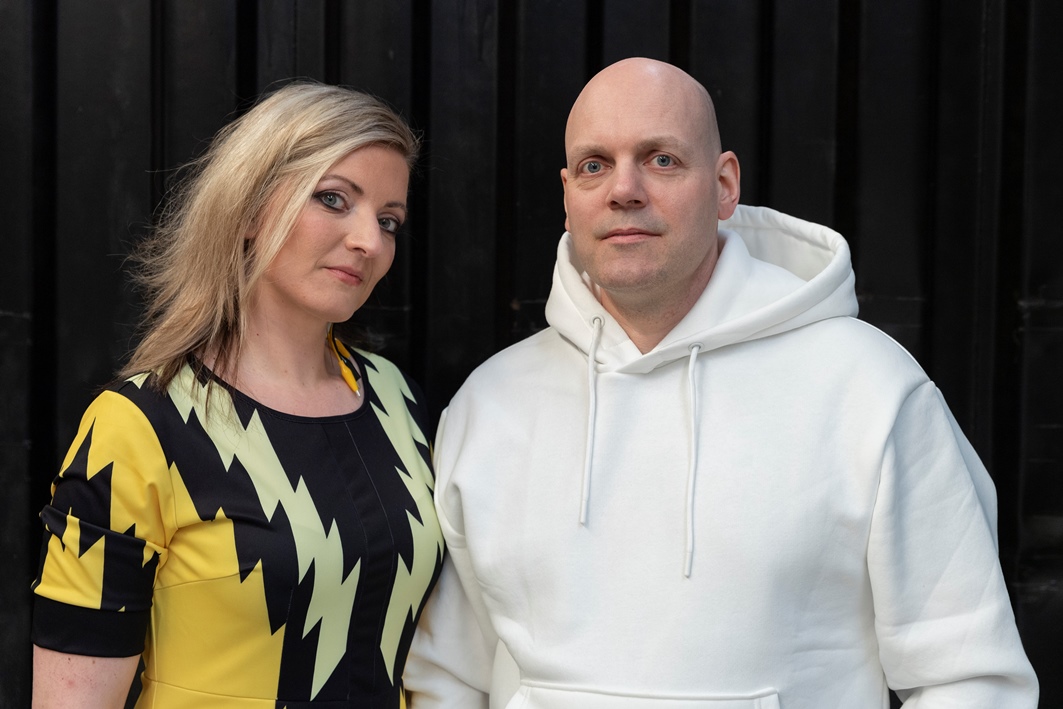 In these tense times, Danish synthpop duo SOFTWAVE have sensed a 'System Failure'…
Describing the feelings of frustration arising from small room isolation with just a computer for company, Catrine Christensen and Jerry Olsen present their new single 'System Failure'. It touches on how people all over the world have become dependent on computers more than ever before due to the pandemic crisis.
But when that system fails, some may have difficulty controlling their anger as depicted in the song's video. As they "restart and synchronize in harmony", Thor's hammer is brought into action to prevent overload. It is all in an effort to maintain an equilibrium between interconnecting with others via computers and actually mixing in person.
Following a comparative creative hibernation since opening for OMD in early 2020, SOFTWAVE chatted to ELECTRICITYCLUB.CO.UK about the best ways to deal with a 'System Failure'…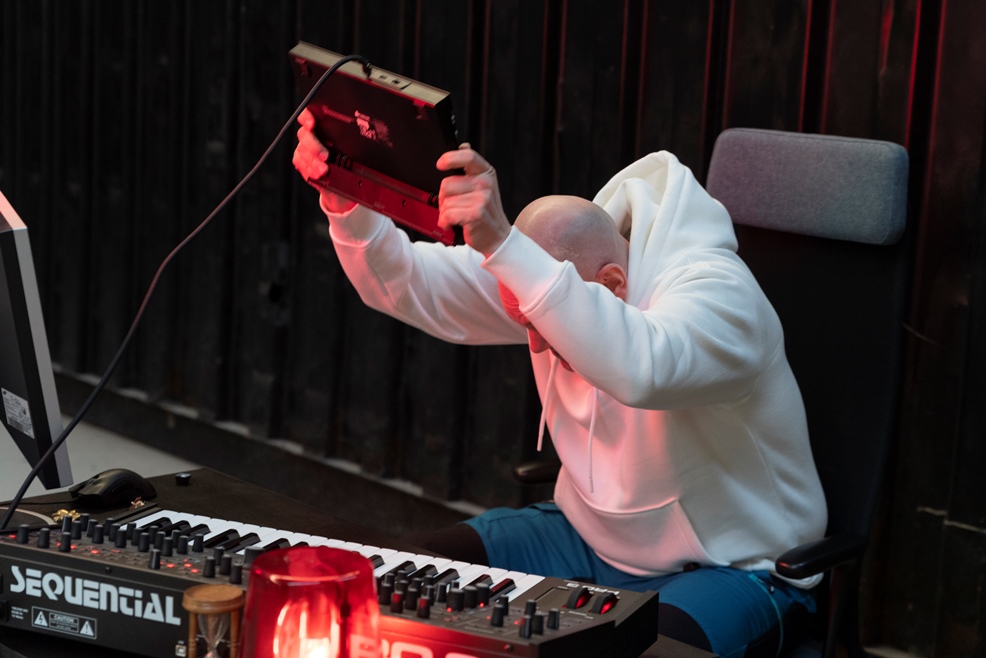 Art reflects life and that's exactly what SOFTWAVE have done with 'System Failure'?
Catrine: Definitely! To begin with, it wasn't supposed to relate to Covid and lockdowns. But what to do when that's the reality while you are writing the song. The main message in the song is how much addiction to computers these days can pull some people away from socialising physically with others.
The modern way of living. It's up to the listener to decide how they want to relate to the song. I believe it can go in many different directions.
You've not gone acoustic or rockabilly or anything, is 'System Failure' a natural progression of the 'Game On' album?
Jerry: Acoustic and rock isn't really my thing. I like it synth! *laughs*
As something completely new, Catrine suggested to me to record my voice and make it sound robotic. So I vocodered it. That was fun.
Catrine: Yeah! I remember we both were having a laugh when you removed the effects and played your clean vocal – very KRAFTWERK-ish *laughs*
'System Failure' was planned to be part of the new album, but after lockdowns etc, we decided to use it as a bridge to the new and different album.
With everything going on, how did the video come together?
Jerry: Well, Catrine planned everything.
Catrine: That's true. I wrote the manuscript, hired the crew, bought all necessary accessories and booked the best location in Copenhagen / Nordhavn, a new place Tunnelfabrikken which is for multiple future events but not yet finished.
I like to support new projects including video-marketing students, therefore the video was clipped by Mira. This video was her first music video and I think she did a great job. The after-effect guy, Jesper (who we met years ago) was hired to support his carrier. He has just got nominated for Best Visual Effects for the movie 'Victim of Love' (London International Television – Lonely Wolf).
We had a fantastic crew during the music video project and we couldn't have done it without them – not to forget – the MotionVizual who produced the video, our personal runner Kenneth, photographer Dag, stylist Cianne and Mogens who drove a long way to deliver a door to the shootings. The door was actually the hardest part of it all *laughs*
The music video has been made to show the Nordic power we consist of. Therefore we included a Thor's hammer or Mjölnir. My hair was styled with inspiration from 'Vikings' combined with the cables which indicates that I'm disconnected from the World.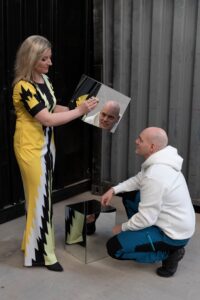 How is the new album coming along?
Jerry: Not as far as it could have been. During the lockdown we produced a lot. The last 3 months we spent time on the 'System Failure' project, the video and building a new studio. This has of course delayed the production of the album, I can't wait to continue working on it.
Catrine: Neither can I. We will continue the production of the album in July – as we have a deadline to reach.
With everything that's happened, how do you hope to regain momentum after opening for OMD at the start of 2020?
Jerry: It has been tough and strange at the same time.
Catrine: After touring with OMD, the lockdown killed many of possible gig opportunities. But just as we thought it ruined our chances to grow, we were wrong. We had a long time in the studio which was a benefit to the production of many new songs to the album. We also had a lot of merchandise sales on Bandcamp from our new and loyal fans. So this 'System Failure' period didn't ruin anything for us regarding needing regain momentum. We still have contact with Andy Bell and his Torsten-team and OMD.
Besides that, we signed a contract with a management bureau T/A/P/E who have more than 30 years of experience working at Live Nation. Overall, we have a calm and creative mood now and know for sure that nothing (not even Covid) can stop us from producing new music.
---
ELECTRICITYCLUB.CO.UK gives its warmest thanks to SOFTWAVE
'System Failure' is available digitally on a variety of platforms including https://beatify.audio/#/music/234
Other SOFTWAVE releases are available from https://softwave.bandcamp.com/
https://www.facebook.com/SoftWaveMusic/
https://twitter.com/SoftWaveMusic
https://www.instagram.com/softwave_music/
https://open.spotify.com/artist/5wo2L2BtVUYsopJnWAo8Z6
---
Text and Interview by Chi Ming Lai
Photos by Dag Stinus
24th June 2021