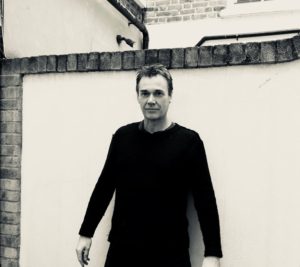 What do DEPECHE MODE, SOFT CELL, BLANCMANGE and THE THE have in common?
They all appeared on the 'Some Bizzare Album' which acted as a springboard for their fame and fortune.
But the silent success story of the 'Some Bizzare Album' has to be Paul Statham; while his band B-MOVIE with Steve Hovington, Rick Holliday and Graham Boffey were unable to achieve a foothold in the mainstream like The Big Four, the guitarist later found considerable success as a songwriter and producer.
Working with personalities as varied as Peter Murphy, Jim Kerr, Billy Mackenzie, Dido, Dot Allison, Sarah Nixey, Kylie Minogue, Lisa Scott-Lee, Tina Arena and Rachel Stevens, Statham's credits also include groups such as THE SATURDAYS and RIGHT SAID FRED.
Statham was also a member of cult electropop trio PEACH with Pascal Gabriel and Lisa Lamb, whose song 'On My Own' from their only album 'Audiopeach'
featured during a key scene in the Gwyneth Paltrow movie 'Sliding Doors'.
Although B-MOVIE reformed in 2004, Statham has continued his songwriting and production career in parallel. More recently, there has also been his dark country project THE DARK FLOWERS, while he has also been releasing a series of ambient electronic albums, as well as establishing his own label Loki Records.
Paul Statham kindly took time out of his busy schedule to answer some questions about his career outside of B-MOVIE…
What has motivated you to start Loki Records in the current climate?
Well, exactly the words "current climate"! I did approach some leftfield labels, but the response time was tragic! Also as a long standing writer through Warner Chappell, there is always the thought that the song has to be commented on or is specifically 'aimed' at something , even going through an experimental label. So setting up my own label means I can go sit in the woods filming the moon all night, then decide that will be the video as it was for the track 'Who Won't Wait'! Of course who sees the video is then down to you endlessly trying to put links up!
After years of songwriting, how did this move towards more experimental music come about?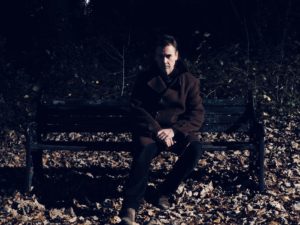 I have been involved in writing or creating pieces of instrumental music since 2002 through an art curator friend Victor De Circasia to run alongside writing more commercial music.
My project THE DARK FLOWERS put a small element of experimental into traditional song using backdrops of wind or recorded atmosphere behind tracks, but my favourite album is Brian Eno's 'Another Green World' and also I love reading about his compositional practice.
Your third ambient release is 'Asylum', how does this differ in concept from your first two releases of this type 'Ephemeral' and 'Installation Music 1' which were given away on Bandcamp?
I did plan to do it this way. The first two are unaltered pieces that were actually used in two installations, 'Installation Music 1' is very specific to a sculpture 'Diving Woman' by Sottish artist David Mach. 'Asylum' took some installation music from the Asylum Chapel in Peckham and simply used it as the starting point to create an album that was added to and experimented on over time.
What do you get out of this more experimental direction that you wouldn't get from writing pop songs?
Total Freedom. A real journey from going out and exploring sounds in the outside world to developing artwork / films and setting out and letting the unfolding music direct where it heads to with no thought of who may like this. That's why sometimes I'll give them away for free!
Any thoughts about trying to compose hour long pieces like Brian Eno has done?
I already have a 28 minute piece that was used in an installation. It involved 28 pieces of thirty seconds long, starting with one then adding to it the next piece every 30 seconds to create a collage of found sound, then after 28 minutes it reverses. I will locate it and put it out for free on Bandcamp now you have reminded me! It was accompanied by painter Daisy Cook's series of 28 small paintings of the Australian landscape but taken from the air. We made a film but I've since lost it!
The B-side to B-MOVIE's 'Marilyn Dreams' was 'Film Music Part 1', what ever happened to Part 2 and is composing film music a direction you would like to head in?
That was written by Rick and I really like it! I think it was Rick, although Steve wrote most things back then! Film music is something I would love to do and would offer the music for free to any budding or low budget film in need!
After B-MOVIE first ended, you started to work with Peter Murphy in 1988 and continue to do so today, how would describe your creative dynamic?
Slow development! No, it's completely different than my usual co-writing and has been long distance, with us rarely or actually ever sitting down in the same room and writing anything together. 'Love Hysteria' was me sitting in his attic with a four track and a few instruments, then leaving it with him. 'Deep' was similar but in a studio room, with Peter adding stuff once I'd put any sort of sketch down. After his move to Turkey, I would visit Ankara but again go into his studio room alone and sketch ideas, whilst he would then go in after me later at night and really shape them up. Since the internet, we simply share files. Some people find this dynamic difficult but after such a long time, I find it easy to send him anything I feel will intrigue.
In 1996, you formed PEACH who you described as "ABBA Meets THE KLF"? What inspired this?
Hahahaha! That was meeting Pascal Gabriel who produced the Murphy album 'Cascade'. After the 'Holy Smoke' album, Peter dropped THE 100 MEN (band) and I went back to co-writing the whole album via sketches and lots of different styles, but with a more electronic feel.
We all went to Spain to record, Peter, Pascal and myself and it was fairly high pressure. On returning to London, I began to hang out with Pascal and he suggested that we form a very up dayglo electronic trio… very different to my Murphy work and at the time, it was something I definitely needed to do.
How did getting signed to Mute come about? It appeared to happen quite quickly…
We signed to Daniel Miller's Mute label after playing him two demos in his office with no singer and Pascal sorting of humming vocal ideas. I really respect Daniel Miller and how he got what we were trying to do immediately and offered us a deal on the spot!
I will always be grateful to Pascal as he gave me studio keys and access to all these incredible synths and recording gear and simply let me learn my way around it, whilst we simply began recording with no agenda, other than kicking electropop tunes!
While your first single 'On My Own' wasn't a UK Top 40 hit, it attracted positive responses…
It was a hit in the States and reached No 11 on the radio charts and also was a pop Top 40 hit. It was No 1 in Canada, Israel and bizarrely Singapore where Lisa Lamb and myself headed out to play the city's 33rd birthday celebrations…v v odd!
How did you feel when 'On My Own' featured in the film 'Sliding Doors'?
I remember being very excited, especially meeting Gwyneth Paltrow at the aftershow of the London premiere. Also seeing your name come up at the end of the film credits was worth it!
'From This Moment On' is a timeless pop tune…
I wrote the majority of that alone, picturing a sort of ABBA / ACE OF BASS crossover with a different rhythmic feel than the rest of the more uptempo songs.
I started with the sequencer and then went back and wrote this long intro as I may have discovered a jazz chord or two from some book! Lyrically, I just liked the sound of the words / sentiment without it being particularly about anything! I don't normally write lyrics, perhaps you can see why!
The eventual 'Audiopeach' album was one of the last recordings that the late Billy Mackenzie contributed to. His ad libs on 'Deep Down Together' are so unmistakable, how did you know him and what was he like to work with?
Billy Mackenzie was a friend of Pascal's and I was a HUGE fan of ASSOCIATES. It was shortly before he committed suicide and he arrived very down to earth and humble with a few cans of beer. He simply opened his mouth and that voice exploded. I loved it so much, I owned a DAT tape of him simply singing his vocal line unaccompanied, it was so pure with such a range. He also sang on 'Give Me Tomorrow', replacing the high sampled opera vocal. I have read 'The Glamour Chase' biography twice now and recently have started listening to him a lot.
By the time 'Audiopeach' came out in 1998, the momentum appeared to have stalled, what happened?
Basically we didn't all get on. Lisa proved difficult at the time, while Pascal and her were complete 'Polar Opposites' in just about everything. I think Lisa herself will admit she found it difficult and although we had success, our vision of what PEACH should sound like / appear like were pulling in two very different directions.
I was sad as I had left a long running collaboration with Murphy, found success with this pop / electronic vibe, signed to Mute and then walked away from it all.
PEACH supported ERASURE in London but did not play live much, could this have been a contributory factor?
I loved playing live, especially after some amazing live shows around the world with Peter Murphy, who was and is a great frontman and thrived on chaos. Pascal wasn't so much a live musician and Lisa just got more outrageous, so it wasn't really a live show at all, just playing a few chords over a backing track. We played three shows with ERASURE in London and before that, two in Hamburg. The German shows were a real success and very enjoyable, but somehow we'd lost enthusiasm by the time we played London!
PEACH appeared to help kickstart your next phase as a pop writer with artists like Kylie Minogue, Rachel Stevens and Lisa Scott-Lee?
Yes, that was only due to the fact I signed via PEACH to Warner Chappell and became great friends with my A&R man Mike Sault who began getting us co-writes with other artists and also, the great work that Sandy Dworniak at TMT Management did as Pascal's and my manager.
Some might say your best known song is 'Here With Me' which you did with Dido, how do you look back on it?
It was so good as Dido had no expectations on her and I loved her voice; as a person and collaborator, she was great fun and wrote quickly and strongly in terms of her lyrics / melodies. We wrote quite a lot of songs and I remember vividly writing 'I'm No Angel' with her in about two hours!
So how would you approach a song for a singer, as opposed to artists like Dido, Sarah Nixey or Dot Allison who are more involved in the composition side? Is there a brief from the label?
Yep, sort of. It's always strange as they give you a reference video by another artist, then the artist plays you something different and the management tell you they want something off the wall and different, so I just try and write the most interesting music I can and see where it goes. It's so hard to get these things right and you end up with literally hundreds of very very good songs, but then so does everyone else who co-writes with them. It's frustrating going back and seeing a huge iTunes library with lots of songs that you feel could be hits if the artist / A&R / manager had chosen to go with the song you co-wrote!!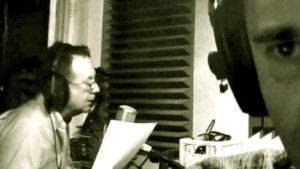 You also worked with Jim Kerr on 'Return Of the King', a tribute to Billy Mackenzie for his LOST BOY solo project and subsequently, 'Kill Or Cure' for SIMPLE MINDS, what was that like?
Fantastic! I saw SIMPLE MINDS four times in one year when I was a teenager and was a HUGE fan of the first four albums. Not so much 'New Gold Dream' onwards, but 'Reel To Real Cacophony' and 'Empires & Dance'.
So writing with Jim Kerr in my small bedroom sized home studio was one of those moments you think if I could have told my 18 year old self that, he wouldn't have believed me! Also we share a lot of great music references in Bowie, Bolan, Roxy and certain literary styles / books. Jim is a very optimistic and supportive friend, he encouraged THE DARK FLOWERS and we have written a lot of material that may or may not see the light of day!
So what's happening with THE DARK FLOWERS, which has featured Jim Kerr, Peter Murphy and Dot Allison amongst others?
I have all the music… it's like herding cats trying to get a song or two from each person as they are all involved constantly in their own work. However I'm getting excited about the second album as its shaping up well… darker in tone than the first (deliberately) and featuring David J as well. Lloyd Cole was interested and started a track, but as of yet???!!!!
In all, are you quite happy with how you music career has turned out in its various guises?
I'm very happy… more so than ever. I re-signed to Warner Chappell in January and balance my week with running a course at BIMM in London once a week and heading up the songwriting workshops at Solent University (sixth year now) once a week too. This leaves me plenty of time to work on my own stuff and collaborate with long standing friends / artists
What's next for you in whatever guise?
– THE DARK FLOWERS 2
– The continued release of experimental music via Loki Records
– AFTER THE RAIN (my new sample / DJ Shadow style project)
– New B-MOVIE album
– New Peter Murphy collaborations
– A new KRAFTWERK / vaporwave project with film composer Magnus Fiennes out in LA
– And continued co-writing via Warner Chappell's, particularly with electro R'n'B singer Billie Black.
---
ELECTRICITYCLUB.CO.UK gives its grateful thanks to Paul Statham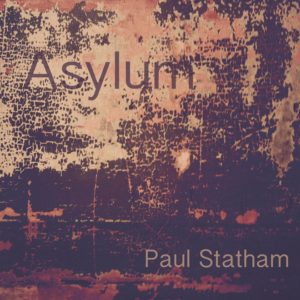 'Asylum' is released on CD by Loki Records, available from https://www.lokirecords.com/shop
https://www.facebook.com/paulstathammusic/
https://paulstatham.bandcamp.com/
http://www.inspiracy.com/peach/
https://www.lojinx.com/artists/the-dark-flowers
https://www.facebook.com/theflowersdark/
---
Text and Interview by Chi Ming Lai
22nd February 2018