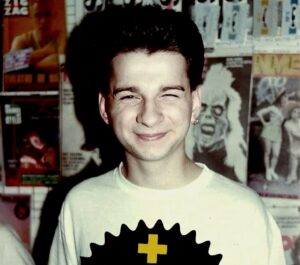 Over the last 10 years, ELECTRICITYCLUB.CO.UK has been a voice for the discerning enthusiast of electronic pop.
With a balancing act of featuring the classic pioneers of the past alongside the emergent new talent for the future, the site has become well known for its interviews and reviews.
It asks the questions people have always wanted to ask while celebrating the continuing development of the synthesizer in popular music.
All this while holding to account those who deliver below expectations, assuring the listener that if they are perhaps not hearing the genius that some devoted fans are declaring, then ELECTRICITYCLUB.CO.UK is there to assist in affirming or denying that assessment.
But when artists do deliver, they tend to build a strong relationship with ELECTRICITYCLUB.CO.UK. So with the site celebrating its first 10 years, presented here are greetings and messages from some people who you might know…
---
Rusty Egan, VISAGE
ELECTRICITYCLUB.CO.UK is 10 years old with the synth knowledge of a 50 year old. If I can't remember something electronic I don't Google, I visit ELECTRICITYCLUB.CO.UK!
---
Glenn Gregory, HEAVEN 17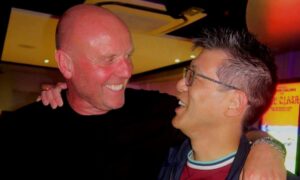 ELECTRICITYCLUB.CO.UK and its wonderful leader Chi is like the League Of Super Heroes for Electronic Music. Our future is safe in his hands.
I have been involved in electronic music making for 40 years, yet one half hour conversation with Chi makes me realise how little I know. From then to now, he's knows!
---
Neil Arthur, BLANCMANGE
Chi has been brilliantly supportive of BLANCMANGE, for which I am very grateful. We've always managed to have a good laugh during our interviews, as he would ask me about the darkness and gloom lying within a given BLANCMANGE song! I look forward to our next chat.
ELECTRICITYCLUB.CO.UK has a very important place and a role to play, in spreading the news of electronic music, new and old, far and wide. Here's to the next ten years. Well done and good luck.
---
Gary Daly, CHINA CRISIS
Thanks for all your wonderful support Chi, so glad someone has taken the time to ask some great questions…
---
Sarah Blackwood, DUBSTAR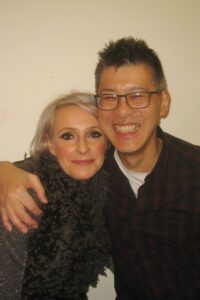 I love the website. It's a treasure trove of informative articles, both a very readable historical archive and a forward looking platform for encouraging new talent. In what can be traditionally and lazily categorised as a very male dominated scene, Chi encourages great music regardless of gender and I enjoy the updated Spotify playlist if I'm ever stuck for what to listen to whilst running.
As regards interviews, it's always enjoyable – Chi is a bit too easy to talk to and his passion for music and synth geekery shines through – heaven forbid you try sneaking a (cleared) sample past him, he will spot it!
Is it 10 years already? Happy birthday ELECTRICITYCLUB.CO.UK!
---
Chris Payne, DRAMATIS
With 18,000 likes and 12,000 Facebook followers; ELECTRICITYCLUB.CO.UK under the guidance of its purveyor Chi Ming Lai, has become the leading place for the Electronic Music fan. Intelligent, well written and well researched journalism with a great team of writers presenting an array of brilliant fascinating new acts (and some older ones as well!), hopefully it will continue for at least another 10 years.
---
Tracy Howe, RATIONAL YOUTH
Congratulations to ELECTRICITYCLUB.CO.UK on ten years of brilliant reporting of, and support to, the electronic pop scene. ELECTRICITYCLUB.CO.UK is the authoritative publication "of record" for fans and makers of synthpop alike and is the international rallying point and HQ for our music. We look forward to many more years of in-depth interviews and probing articles, all in the beautifully written style. Happy birthday ELECTRICITYCLUB.CO.UK!
---
Mark White, ABC + VICE VERSA
Chi Ming Lai and Paul Boddy are two of the most learned, nay, erudite music journalists I've had the pleasure of meeting, a rare experience indeed to be quizzed by a pair who know their onions. And unusual integrity. Chi promised me if we asked, he would turn off the tape recorder and it would never appear in print. And has been true to his word. This has literally never happened in my career. Also these two chaps are bloody good fun. I laughed til I cried. Go see the movie!
---
Rob Dean, JAPAN
10 years of ELECTRICITYCLUB.CO.UK? Only one for me (yes, I know…), but it's heartening to know that Chi and the crew have created a site so cutting edge for us die-hard fans of electronica. Having read the highly entertaining VICE VERSA chaps interview, I was delighted to be asked to do my own, confident that the questions would be thoughtful and intelligent and yes, a little bit probing too. Here's to the next 10 and thank you!
---
Richard Silverthorn, MESH
On several occasions I have done interviews for ELECTRICITYCLUB.CO.UK. Every time I felt like they actually cared about the music and scene and put some educated thought into the questions. It's good to feel that enthusiasm.
---
Tom Shear, ASSEMBLAGE 23
Congratulations on 10 years of covering and supporting the scene! Here's to another 10 and beyond…
---
Sophie Sarigiannidou, MARSHEAUX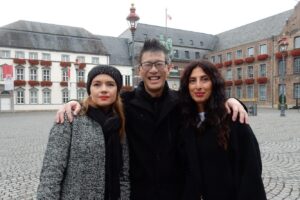 I first met Chi at Sparrowhawk Hotel, Burnley in November 2000 for an OMD convention. It took me 13 hours to reach by train to Burnley from London due to bad weather. I saw him playing live (!!!!) with his covers band THE MESSERSCHMITT TWINS, they were having their time of their life, dancing and singing, so so happy! Us too of course!! From that moment on we became friends. Then he supported our band MARSHEAUX from the very early beginning and I thank him a lot for that!
It's always great having Chi asking questions for interviews. We as a band had our best interviews with ELECTRICITYCLUB.CO.UK! We spent a lot of hours talking about the history of electronic music and the future of synthpop. My favourite articles are the "Beginners Guide To…" series, you have a lot to learn from these pages!!! Happy Anniversary Chi, we've indeed had 10 amazing years with ELECTRICITYCLUB.CO.UK. I hope and wish the next 10 to be even better.
---
Mark Reeder, MFS BERLIN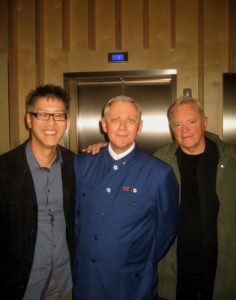 Congratulations and a very Happy 10th Birthday! Over the past 10 years, ELECTRICITYCLUB.CO.UK has developed into becoming the leading website for all kinds of electronic synthpop music. It has become a familiar friend, because it is something I can personally identify with, as it is maintained by fans, for fans.
However, it is not only commendable, but can also be quite critical too, and that is a rare balancing act in the contemporary media world.
It has been a great source of regular electronic music information. I have discovered and re-discovered many wonderful electronic artists, and regularly devour the in-depth interviews and features.
Through ELECTRICITYCLUB.CO.UK, I have been introduced to and worked with some of the wonderful artists presented on your pages, such as QUEEN OF HEARTS or MARSHEAUX and in return, it has supported my work, my label and my artists too, and I thank them for that! We can all celebrate ten years of ELECTRICITYCLUB.CO.UK and together, look forward to the next 10 years of inspiring electronic music.
---
Per Aksel Lundgreen, SUB CULTURE RECORDS
ELECTRICITYCLUB.CO.UK is a highly knowledgeable and very passionate site! They are digging out rarities from the past as well as exploring and discovering new acts, giving them attention and writing about them often before anybody else around have even heard of them.
This makes ELECTRICITYCLUB.CO.UK a very interesting page to follow, as their in-depth stories about older bands "missing in action" as well as the latest stuff "in the scene" gets perfectly mixed together, giving you all you want basically in a one-stop-site for everything electronic. I also love the way they give attention to unsigned / self-released bands and small indie-labels, giving everybody a fair chance as long as the music is good enough. Congrats on the 10th Anniversary, well deserved!
---
Jane Caley aka Anais Neon, VILE ELECTRODES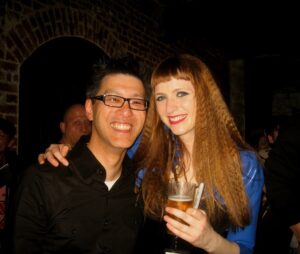 When VILE ELECTRODES were just starting out, we heard through the Facebook grapevine about a new electronic music blog called ELECTRICITYCLUB.CO.UK. We had a London gig coming up, and had recently made a promo video for our song 'Deep Red', so we dropped them an email about both, not expecting to hear back, since we were virtually unknown.
However it transpired they really liked our sound, likening us to "Client B born and raised in the Home Counties fronting Dindisc-era ORCHESTRAL MANOEUVRES IN THE DARK".
ELECTRICITYCLUB.CO.UK subsequently gave this very description to Andy McCluskey, which piqued his interest such that he checked out our music. We were invited to tour Germany with OMD as a direct result!
---
George Geranios, UNDO RECORDS
Chi is a really rare quality of a man. He is passionate about music which is so obvious of course while reading ELECTRICITYCLUB.CO.UK. Through our mutual love for OMD, we discovered that we have the same musical taste. ELECTRICITYCLUB.CO.UK helped us promote all of Undo Records projects and finally we ended collaborating and releasing this brilliant double CD compilation! Chi, I wish you health and to continue writing the best music texts in the industry!!
---
Adam Cresswell, HAPPY ROBOTS RECORDS
Some people say ELECTRICITYCLUB.CO.UK doesn't support the scene but I've not found that to be the case; having been a part of two gigs and the recent CD, I know how much blood, sweat and tears they put into what they do. ELECTRICITYCLUB.CO.UK might get a few people's back-up, but they know their stuff when it comes to synth-driven music and I'm massively grateful that they have supported so many Happy Robots artists since 2010.
---
Stuart McLaren, OUTLAND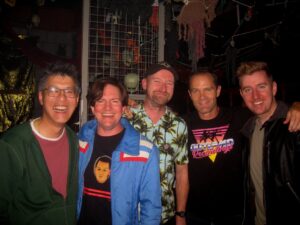 It's no secret that the burgeoning new synthwave genre shares a common history with the great synthesizer acts and pioneers of the 80s, like Dolby, Jones, Luscombe, Wilder, Daly et al who created new soundscapes with what we now define as vintage synths.
These sounds are brought back to life by pioneers in their own right like FM ATTACK, GUNSHIP, ESPEN KRAFT and BETAMAXX to name a few.
ELECTRICITYCLUB.CO.UK and Chi Ming Lai have always been at the forefront of championing, interviewing and reviewing the luminaries of this great instrument past to present, and are likely to remain the de facto voice of the synth scene well into the future… we agree on one thing and that is FM-84's singer Ollie Wride is deffo one to watch as a star for the future!
---
Paula Gilmer, TINY MAGNETIC PETS
Happy Birthday ELECTRICITYCLUB.CO.UK. thank you for your support. You never fail to impress with your encyclopedic knowledge of synthpop. Here's looking forward to 10 more!
---
Mr Normall, NUNTIUS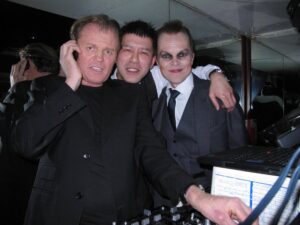 I've been following most of my favourite artists since they were brand new and often this means it's a period of 30+ years, yet when reading articles and interviews by ELECTRICITYCLUB.CO.UK, I have learned every time something new about of my favourites.
Following ELECTRICITYCLUB.CO.UK have made me pay attention to several new acts that I would likely know nothing about if they hadn't appeared on the page.
---
Catrine Christensen, SOFTWAVE
An outstanding magazine supporting new and upcoming artists whom they choose carefully as they have great taste of music regarding to their huge knowledge within the synthpop genre, when it comes to their writing and promotion – there's no one like them. Happy birthday ?
---
Elena Charbila, KID MOXIE
Happy 10th birthday ELECTRICITYCLUB.CO.UK! Your love and commitment to the synth community is unparalleled and your support has meant a lot to me on a professional but also on a personal level. Here's to the next 10 years! ?
---
Alexander Hofman aka Android, S.P.O.C.K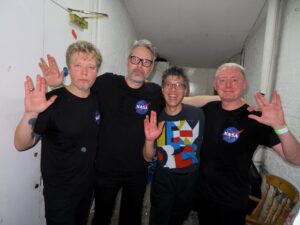 I'm a fan of ELECTRICITYCLUB.CO.UK for several reasons. You showed up when I perceived the majority of the electronic scene had turned more and more harsh; as much as I can appreciate an occasional emotional outburst, I'm a happy guy and thus I'm into pop – ELECTRICITYCLUB.CO.UK showed, and still shows me that there's still electronic pop music being made. Good electronic pop! Which makes me glad, as I find the greater part of the generally popular darker scene to be of lower musical quality.
Moreover, ELECTRICITYCLUB.CO.UK writes in an amazingly happy tone – remember, I'm a happy guy, so it's right up my alley. Add the fact that ELECTRICITYCLUB.CO.UK regularly publishes interesting articles, using intelligent and varied vocabulary, shows enormous knowledge and interest of the theme, the style, the scene – and I'm hooked. Thanks for being around – keep up the good work, it's much needed! And congratulations – let's grab a beer again! ?
---
Text compiled by Chi Ming Lai
15th March 2020