Swedish synth duo TRAIN TO SPAIN return with their most optimistic statement yet in 'I Follow You'.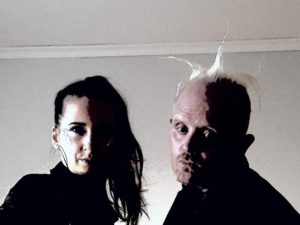 Continuing the theme set by the 2016 single 'Believe In Love', this slice of vibrant Kylie-esque pop originated from a demo that singer Helena Wigeborn had: "It's actually a really old song that I wrote in my teens when I was around 13-14 years old. It's one of those love songs that just fills you with happiness and for me I guess I was dreaming about finding someone like that in my future. I normally sat with my guitar after school and wrote songs and dreamt about relationships."
The promo video for 'I Follow You' is a London travelogue from when the pair last visited the city. Despite the cold temperatures in which it was filmed, the end result suits the positive mood of the song.
Of his role in the stomping accompaniment to 'I Follow You', synthesist Jonas Rasmusson simply added: "It´s one of Helena's old songs so I just put my touch on it"
TRAIN TO SPAIN are currently recording the follow –up to their 2015 debut album 'What it's All About', set for release in early 2018 while they will be playing in Germany this October at the Synthetic Orange event; the line-up also includes VILE ELECTRODES and fellow Swedes PRESENCE OF MIND.
---
TRAIN TO SPAIN play Synthetic Orange with VILE ELECTRODES, PRESENCE OF MIND, LIFE ON DEMAND + HELIOPHILE on Saturday 14th October 2017 at Karlsruhe Substage not far from Stuttgart, further information at http://www.synthetic-orange.net/
https://www.facebook.com/train2spain/
https://twitter.com/TrainToSpain
---
Text by Chi Ming Lai
1st September 2017