This is 'Music Since Tomorrow'…
The Scottish Swedish pairing of Andrew Montgomery from GENEVA and Leo Josefsson of LOWE release their second album together, but their first under their extended UNIFY SEPARATE moniker. As the duo formally known as US, they impressed with their 2019 debut album 'First Contact' which successfully combined the soaring vocal aspects of British indie with the melodic melancholy of Nordic synth. Shaped by the worldwide pandemic and Montgomery's own confidence crisis following the end of a relationship, 'Music Since Tomorrow' looks at the future in an uncertain world.
As a result, a denser sound is presented, augmented by more guitars than before. The album also benefits from Josefsson's intense study of music theory and studio reinvention during lockdown. In some ways, this record is also Montgomery's reconnection of sorts with his past as the front man of indie band GENEVA, reinforced by UNIFY SEPARATE opening for former Nude label mates SUEDE on their recent 'Coming Up' 25th anniversary show at Stockholm Annexet.
Documenting a period of personal struggle, 'Music Since Tomorrow' attempts 'Closure' and this epic album opener sets the scene with a building atmospheric trance tune that simply mesmerises, especially when Andrew Montgomery hits his trademark falsetto. Meanwhile 'Dying On The Vine' provides a slice of industrial Schaffel not dissimilar to Swedish doompopsters TITANS but with an impassioned vocal high instead of a deep baritone.
Like DEPECHE MODE meeting MUSE before bursting with spicy arpeggios, 'Solitude & I' morphs from a drum 'n' bass lilt into a blistering mutant attack. Montgomery does not let up with his Jeff Buckley inspired delivery, reflecting his isolation and unsettlement.
First released in 2021 and one of the best songs of that year, the outstanding 'Embrace The Fear' touches on the existential crisis at a life's crossroads. Josefsson's machines channel DAFT PUNK and NEW ORDER while guitarist Christian Persson chops in to ramp up the intensity. With a topline inspired by MUSE's 'Uprising' and / or Billy Idol's 'White Wedding', despite its emotive melancholy, 'Embrace The Fear' possesses a defiant motivational message.
Taking the pace down as "it is time for us to go", 'Visitors' is balladeering close to U2 territory with its guitar inflections and military percussion. However, the rhythmic electronic rock of 'The Void' sees Richard Oakes from SUEDE do a masterful guitar turn as schizo children's voices ask "where are you?" like a haunting journey into The Upside Down, while rousing NEW ORDER-styled synthetic strings settle into the coda.
'Radio Waves' has echoes of GENEVA with its chopping virtual string section and why not, while with a simple but strong distorted hook, 'The After' looks at post-traumatic stress following heartbreak with a thumping electro-indie backdrop.
Using rugged electric bass to provide the gloomy austere, 'Way To Love' displays some weary expressionism as church chimes get dropped into a mix that features guitars, synths and drums galore for a towering climax. Bouncing into a weighty Schaffel two-thirds in, 'Waiting Game' points towards a spirited adventure with strident six string interventions courtesy of Richard Oakes.
Then with a hypnotic mantra comprising of voices and keys like a Philip Glass miniature-symphony, 'In Over My Head' eerily closes the album on an icy note and as Montgomery emotes like a tortured soul, Josefsson provides additional drama with bursts of Jarre-like laser harp.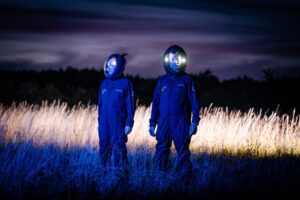 A darker, more indie sounding album than the US debut, although 'Music Since Tomorrow' is swathed in expressions of emotional conflict, anxiety and self-doubt, unlike THE CURE's 'Disintegration', there is light at the end of the tunnel in its indie-electro cinematics.
Despite the midlife sorrows, UNIFY SEPARATE have provided a collection of glorious pandemic pop to savour.
---
'Music Since Tomorrow' is released on 7th October 2022, available direct from https://unifyseparate.bandcamp.com/
https://www.facebook.com/usmusicspace
http://www.instagram.com/unify_separate
https://open.spotify.com/album/6jPsbHt8uoSM0kEacwynyx
---
Text by Chi Ming Lai
Photos by Mehdi Bagherzadeh
5th October 2022