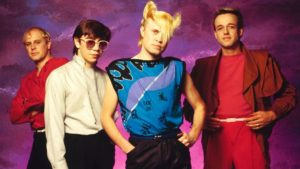 A FLOCK OF SEAGULLS were one of the most heavily rotated acts on MTV after it first started broadcasting in 1981.
But it was the Liverpudlian based quartet's ability as a live band and their willingness to tour as support the likes of GENESIS, THE POLICE and THE GO-GO'S in the US that cemented their success.
Despite relocating to Philadelphia in 1985, the band lost momentum and eventually split. However, for the first time since 1984, the original line-up of frontman Mike Score, his drummer brother Ali, bassist Frank Maudsley and guitarist Paul Reynolds have reunited on 'Ascension'
, an album of A FLOCK OF SEAGULLS' best known songs like 'I Ran', 'Telecommunication', 'Space Age Love Song' and 'Wishing (If I Had A Photograph Of You)' all re-recorded with the Prague Philharmonic Orchestra.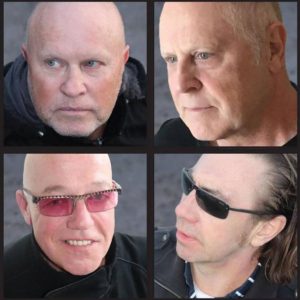 Despite being one of the first UK acts to gain a foothold in the American market and winning a Grammy in the process, A FLOCK OF SEAGULLS are often under-rated. However, their futuristic synthesized rock (which was not that dissimilar to ULTRAVOX) has stood the test of time, with Mike Score's solo incarnation of the band having been still very much in demand on the live circuit worldwide.
Mike Score kindly took time out to chat about both the musical and cultural impact of A FLOCK OF SEAGULLS.
The original quartet has been reunited for 'Ascension', what was the catalyst for this?
August Day Records asked us if we would do it. It was a no brainer, who wouldn't want to hear this?
What do you think the Prague Philharmonic Orchestra have added to A FLOCK OF SEAGULLS' music?
A new dimension, it's probably easier to listen to. It's wider and deeper and fuller.
Why did you choose 'Space Age Love Song' as the single to launch 'Ascension' with?
It's the best Seagulls song, followed by 'Wishing' and 'I Ran', and it's the one I think people will gravitate to easily.
How do you think you sat within that Merseyside post-punk scene, did you find any kindred spirits?
We didn't really find kindred spirits in Liverpool, didn't seem to fit in with the scene there in '79. We had our own thing going, never wanted to be part of a "scene" really – we were individual / original / different to what was going on.
Bill Nelson who produced '(It's Not Me) Talking' and 'Telecommunication' was a key mentor for you in the early days?
Bill did seem understand us and what we were going for – he is a great guy and producer, easy to work with as well. I still listen to his CDs even today.
What attracted you to using synthesizers and what was your first one?
My first synth was a Korg MS-10, a brilliant little synth. I shoved it through a Clone Theory box and got some deep gritty chorus sounds from it. It was only monophonic, the second was a Korg Delta because it was polyphonic. I "played" synths because it was easier than guitar and just seemed kinda exiting at the time.
Which was your favourite synth and why?
I don't really have a fave synth these days, the Jupiter 8 was good, the Fantom X6 is great and the new crop of synths that are out now all sound great. Not such a big fan of Moog or Yamaha but that might be because I've never really sat with one. My favourite soft synth is Hybrid!! Love it!
Do you think that having quick Paul Reynolds' rock infused guitar alongside the synths helped you along in your American success?
Sure, Paul's guitar work was great, to me it sounded like a distorted synth so it blended right in. It became part of our signature sound.
Do you have a fun story you can tell from one of those American tours at the time?
What happens on the road, stays on the road ?
How important was producer Mike Howlett in realising your sound?
Mike Howlett was a great producer for us – he didn't over produce anything – he just guided us – didn't try to change us – just made sure what we were doing was treated correctly and sounded great. A really good friend who didn't try to put any stamp on us, just let us be us and used his skill and knowledge to make us better that we thought we could be.
'Wishing (If I Had A Photograph Of You)' is acknowledged as one of your best known songs, what was its genesis? The melody just uses black keys?
With 'Wishing', I had the riff / melody for a long time, just playing it at home here and there. It was a bit weird seeing as it was all black keys, I recorded the demo and wrote the lyrics at Mike Howlett's house one night when he was out – he had just installed a 16 track studio so I did the demo there.
You won a Grammy Award, which is something OMD and DEPECHE MODE never managed, for 'Best Rock Instrumental Performance' with 'DNA'?
I guess that means I can't sing! *laughs*
When did the cracks start to appear in A FLOCK OF EAGULLS, history has shown that siblings in bands together can be a volatile cocktail?
Brothers will be brothers, that part was quite volatile. But really, the old drugs n booze tale was the downfall of the band.
A FLOCK OF SEAGULLS have made an impact in popular culture with comic references in 'Friends', 'Pulp Fiction' and 'The Wedding Singer', how do you feel about that?
They didn't forget us ??
I can look back and laugh along with them, crazy hair crazy band but still nothing else like us and that part is great.
But A FLOCK OF SEAGULLS has actually had an influence on newer electronic pop acts. THE MODERN released a single entitled 'Industry' which bore more than a passing resemblance to 'The More You Live, The More You Love' while MARSHEAUX borrowed the main riff from 'Space Age Love Song' for their 'Dream Of A Disco'?
When people are so influenced by your songs, it is in fact quite nice – it shows you created something that sank in to people's thoughts and became part of their lives, quite humbling in a way.
Which A FLOCK OF SEAGULLS songs remain favourites for you?
It varies – but – 'Space Age Love Song', 'Wishing' and 'Nightmares' all have their place…
The new version of 'Space Age Love Song' comes in a remix by TINY MAGNETIC PETS who opened for OMD in 2017, how did you come to hear about them?
That was to do with August Day Records, not us really.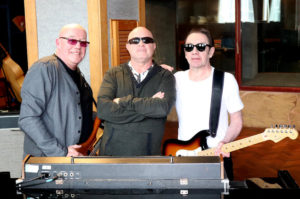 Is this a fleeting reunion like with the previous 'Bands Reunited' programme on VH1 or will this original line-up tour together again?
I don't think so, it was nice to do this record with them but it's not really of any interest to me. But I don't count it out completely, I don't know what is coming around the next corner.
---
ELECTRICITYCLUB.CO.UK gives its sincerest thanks to Mike Score
Additional thanks to Lisa Freeman at Quite Great PR
'Ascension'
is released by August Day Recordings in a variety of formats
http://www.aflockofseagulls.org
https://www.facebook.com/seagullsrunning
https://twitter.com/seagullsrunning
https://www.instagram.com/seagullsrunning/
---
Text and Interview by Chi Ming Lai
30th July 2018