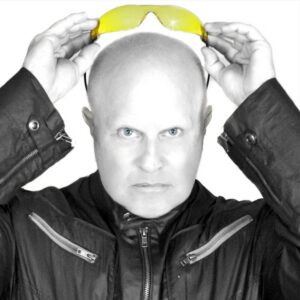 Led by Mike Score, A FLOCK OF SEAGULLS will embark on their first UK tour for a number of years this July.
A FLOCK OF SEAGULLS got their original break when Bill Nelson produced and released their debut single '(It's Not Me) Talking' on his Cocteau label in 1981 while another Nelson produced song 'Telecommunication' was their first major label release on Jive Records.
But the original line-up of Score, brother Ali on drums, bassist Frank Maudsley and guitarist Paul Reynolds didn't achieve a breakthrough until their fourth single 'I Ran'.
It became a 1982 US Top10 hit in the Billboard Hot 100 and later that year, the band scored their biggest UK hit 'Wishing (I Had A Photograph of You)'. Meanwhile in 1983, the band won a 'Best Rock Instrumental Performance' Grammy Award for the track 'DNA', at a time when The Second British Invasion had still yet to fully take hold in an America still drunk on TOTO and JOURNEY!
A FLOCK OF SEAGULLS continue live today with Mike Score being the sole remaining original member and have a collection of extended essentials called 'Inflight' on the way. He kindly had a quick chat with ELECTRICITYCLUB.CO.UK about the continuing interest in their music.
It's been a while since you've done a full UK tour, why is the time right now?
Just happened that way really, the time and the offers to play coincided and it all fell in to place. Other years it hasn't, we are really looking forward to it.
The use of 'I Ran' on adverts for Grand Theft Auto Vice City, Sensationail, Diet Pepsi and Lexus won't have done your profile or bank balance any harm? What was the song originally inspired by and how did it come together in the studio?
That's a big question, the popularity of the song. 'I Ran' has kept it alive in the hearts of fans over the years and some of our fans are in position to want to use it in movies and advertising etc.
The song itself was inspired by a photo of two people running from a UFO, I think the photo was being considered for an album cover for a TEARDROP EXPLODES album as I saw the photo in Zoo Records office in Liverpool. The song was well rehearsed, so there were no problems recording it and we had great input from our producer Mike Howlett and occasional visits from Mutt Lange to see how it was coming along and of course Mike Shipley engineering. For sure, it sounded fab.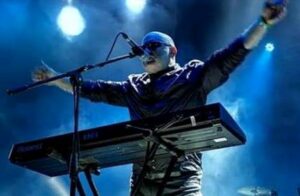 How do you look back on the 'Ascension' project with the original band reunited and performing with the Prague Philharmonic Orchestra?
It was just another way of looking at the songs a different flavour if you like. We recorded everything in separate studios and then the orchestra was added and it was mixed. Apart from doing my parts, I didn't have too much to do with it really!
So who will be joining you in your live band for the upcoming shows?
The band for the UK shows will be my band from the US, me on keys and vocals, Gordon Deppe from SPOONS on lead guitar, Patrick Villalpando on bass and Kevin Rankin on drums.
You released a solo album 'Zeebratta' in 2014, what led you to drop the A FLOCK OF SEAGULLS moniker for this project and how do you think the album stands up now?
I just wanted to do a solo album for myself and I never intended to release it. I think it's as good as anything I've ever done.
Most people know 'I Ran', 'Wishing (I Had A Photograph Of You)' and 'Space Age Love Song' but 'The More You Live, The More You Love' is one of your most under rated singles, any thoughts?
One of my best songs I think, again it was a personal song after a chat with my mom. It's a bit of a lesson in life and a bit of advice to young romantics to be careful with your feelings.
Were many of the songs a result of jamming?
Yes, of course. You come in with an idea of sorts and show it to the band. Then you just jam it out into shape. Some ideas are just one line it a riff or even a beat but after a while, it takes shape and tells you what it needs to turn in to a song.
What were your tastes in music back in the day?
Then THE BEATLES, PINK FLOYD, ULTRAVOX, ELO and good songs from anyone.
Gary Daly of CHINA CRISIS kept his Jupiter8 and still uses it, what happened to yours?
I had two JP8s, they were stolen. Some people love them but I think synths are much better now and with software synths. Emulating the old ones it's easy to have a huge range of sounds.
You are back living in the UK again, how are you finding it?
I'm not permanently living in the UK, I live between UK and USA as I have done a long time. But I'm English and I love coming home.
---
ELECTRICITYCLUB.CO.UK gives its sincerest thanks to Mike Score
Additional thanks to Debora at London Variety
A FLOCK OF SEAGULLS tour the UK in 2019 with special guest KNIGHT$ (except Bristol), dates include:
Wolverhampton Robin 2 (11th July), London Dingwalls (12th-13th July), Liverpool Cavern (14th July), Bristol Fleece (16th July), Leeds Brudenell Social Club (17th July), Newcastle Riverside (18th July), Glasgow Art School (19th July)
http://www.aflockofseagulls.org
https://www.facebook.com/seagullsrunning
https://twitter.com/seagullsrunning
https://www.instagram.com/seagullsrunning/
---
Text and Interview by Chi Ming Lai
10th June 2019