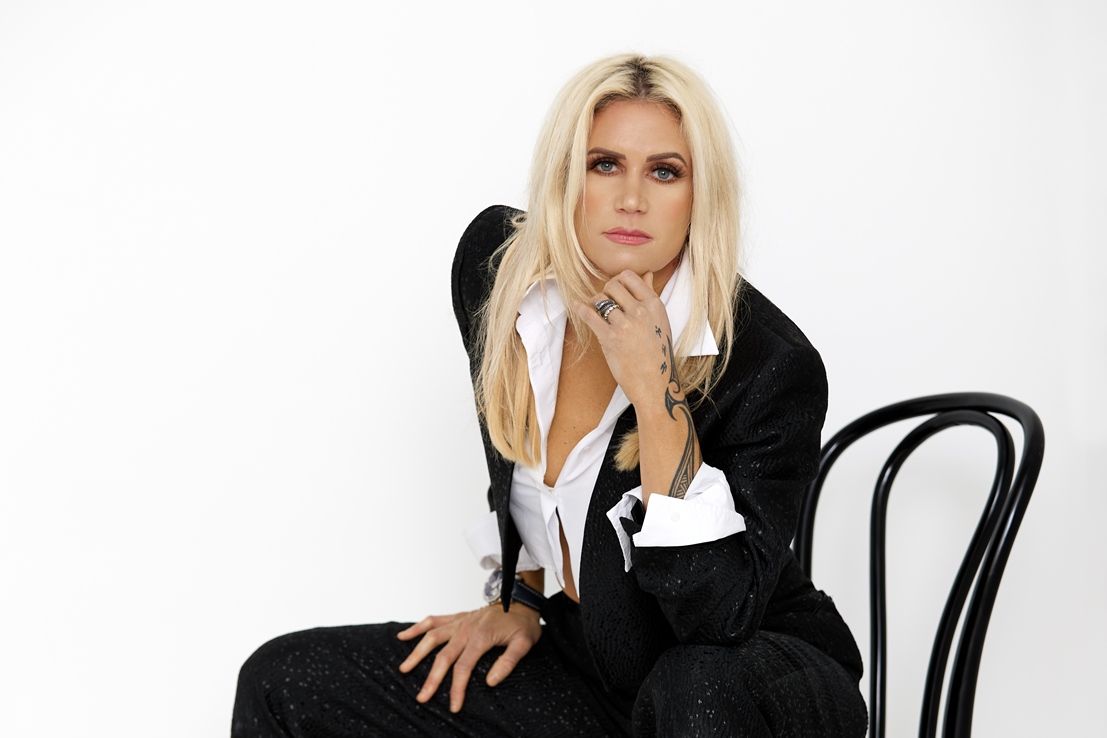 Berenice Scott is the musician and singer-songwriter who has played live with the likes of HEAVEN 17, BEF, JOHNNY HATES JAZZ, HOLY HOLY, P!NK and SIMPLE MINDS.
In her latest role as keyboardist for SIMPLE MINDS, she was part of the band which performed their classic 1982 album 'New Gold Dream' for a new concert recording 'Live At Paisley Abbey'. In a connection with HEAVEN 17, the original album was produced and engineered by Peter Walsh who also worked on 'Penthouse & Pavement'.
Together with HEAVEN 17's Glenn Gregory, Berenice Scott is also an acclaimed composer for TV and film while also fronting their more pop-oriented duo AFTERHERE whose first album 'Addict' was released in 2018.
Berenice Scott independently released her debut solo album 'Ten Takes' in 2007 and followed it up with the excellent 'Polarity' in 2014. Now in 'A Joni Kind Of Mood', as the title suggests, her new album features intimate personal arrangements of Joni Mitchell songs plus her own compositions that encapsulate the spirit of the influential Canadian artist. She chatted about this musical journey to ELECTRICITYCLUB.CO.UK and much more…
People are likely to be familiar with you playing live with HEAVEN 17 but may not be aware you have been performing with SIMPLE MINDS for the past few years, how has that been?
Yeah, that's been great, it was a good long process leading up to it, learning all the material and about their back catalogue which was the first thing I did when I got the call to meet Charlie Burchill and Jim Kerr. I put a playlist together of their immense catalogue and went through it like that. It's been very informative, challenging and rewarding all at the same time.
As you did you HEAVEN 17, you have performed a classic album with SIMPLE MINDS, in this case 'New Gold Dream', have you had analysed musically why that record has meant so much to people for so long?
I think that's a really good question because I definitely saw that correlation between that album in particular and that period of music which HEAVEN 17 were a part of. I heard a lot of stories from Glenn about how they would all bump into each other at The Townhouse, so there was a lot of history there that I wasn't aware of at all because it was a little bit before my time.
I can hear it in the sounds and the synths… but SIMPLE MINDS moved away from that into more stadium rock. I think it's all to do with the analogue synths and the way that they approached using them. I know Charlie is a massive fan of synths and does a lot of that himself. And it's the same with HEAVEN 17, the both of them have that love affair with synths, the organic nature of those early instruments. You couldn't always recreate those sounds that you discovered, you put it down on tape and then because you couldn't always programme that into a memory like with the early Moogs, that's just it there, printed, like a painting…
Did you have any particular tracks from 'New Gold Dream' that you particularly enjoyed playing in your keyboardist role?
I love playing them all for different reasons but 'Hunter & The Hunted', when I first heard that to learn the solo, I was like "ooooh"! I didn't know about the history of it at first but then Charlie told me it was Herbie Hancock! Fantastic! It was an interesting solo to learn, I wanted to recreate it as close as possible. Roland helped me recreate the sound for that.
What have been the differences for you between performing with HEAVEN 17 and SIMPLE MINDS?
There's a different vibe, how they are on stage is very different. It's not so much that one is serious and one isn't, but I've never really analysed that. But there's a definite different feel on stage. The SIMPLE MINDS band is quite big and it's more contained with HEAVEN 17 so the proximity is closer to Martyn and Glenn. It can be quite vast with SIMPLE MINDS with the arena venues and festival shows.
After doing the soundtrack to TV drama 'Liar' with Glenn, the commissions have been coming in with 'Vigil', 'Vanity Fair' and 'The Suspect' being recent examples, how have your approaches grown and changed as you've progressed?
It changes due to the subject and what the directors and production companies want, so you are accommodating and adapting to that. I wouldn't say I was necessarily getting better but the workflow can become a bit more streamlined. I think the approach for me has always been the same since the beginning. But you are really just trying to fit the bill, that's the most important thing and do that as efficiently and as good as possible.
I hadn't realised you did the music for a 2017 off-Broadway production of 'A Clockwork Orange' which is obviously interesting because of the HEAVEN 17 connection?
That was great, obviously that is a favourite film of Glenn and Martyn so that was one side of it. I love Stanley Kubrick so it was strange and wonderful. When we went over for the opening night, it was a real New York affair.
Will there be any more song oriented work with Glenn as AFTERHERE following 2018's 'Addict'?
Definitely, it's just finding the time to do it, obviously the past 4 years, it's been pretty much impossible with touring and the pandemic. But yes, there will be another AFTERHERE album.
It's been 9 years since 'Polarity', how do you look back on that record?
NO! It's not been 9 years! It's a different kind of world now, everything has been altered and is just different, so maybe there's a feeling of that being longer because it was almost a different epoch! I'm still the same, I still do music for the same reasons but I've lived more of course…
I'd argue that you appear more confident now…
Oh really, that's good, OK! We haven't seen each other for years? *laughs*
It's been a while, it was 2018 for the AFTERHERE album launch, the girl then compared with the girl who I met at the HEAVEN 17 aftershow party in 2012 who was actually quite shy… *laughs*
YEAH! I can see that, I definitely think dealing with a lot of work situations and being on the road, it's not that it hardens you up but you do approach each day as "I've got to just get this done". But at the same time, you're right, I think it's important to remember that soft side because you don't want that hardening up, otherwise I'll lose connection with creativity, it's something that has happened to me too. Which is why there's a neat segue into the 'A Joni Kind Of Mood' album, I spent time doing that because I felt I was losing that soft creativity core.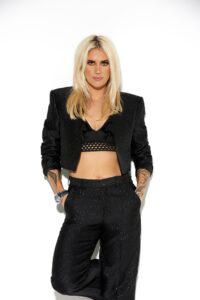 So what got you into 'A Joni Kind Of Mood'?
I was going through periods of feeling pretty lost for various reasons and Joni Mitchell's music saved me in a way. I found the way life changes on a personal level and also musically… just life, the same reasons that she wrote those songs, for herself.
The beauty of her music is that you relate it to yourself, you're not necessarily thinking about the artist, you're thinking about the art which is incredible… I wanted to sing them.
You make a good point about the importance of the art, because I think today with the music industry in this social media world with TikTok and this Instagram reel nonsense, it seems to be now about how much flesh you show or how loud you can shout, have you any thoughts about that?
Hmmm! There's always been that quick sell nature and there will always be that with humanity, in every industry, there's a quick sell. I do worry that people are not spending their formative years well, when you should be locking yourself away to get to grips with your art, because it's not easy to do it, to express yourself. I think a lot of time is spent on the outside with social media… I mean, it's good to use it to promote yourself but there's pros and cons; I do think an element of "practice" time is needed, do you know what I mean?
Are all the songs on 'A Joni Kind Of Mood' covers?
There's a couple which are original which weren't necessarily based on Joni, but fitted the mood of how I feel when I am listening to Joni… I thought why not?
How did you choose the songs because 'Both Sides Now' and 'A Case Of You' are quite well known ones to take on which is quite brave?
There's definitely a fear factor but you know what, you only live once don't you… I think my favourite Joni Mitchell album at the moment (because I'm sure it will change, and it will change) is 'Hejira' the album. So I started with a couple of those, I think 'Little Green' is such a beautiful sentiment, the more I started listening to the lyrics, the more it resonated so that's why I chose that one. Then I was thinking more, not necessarily her more mainstream ones, but they are just lovely tunes and I just wanted to try them.
Why did you choose the 'Hejira' title song as the first single as it's not an obvious choice because it's really long?
Yes, it's a bit long and impossible to get radio play but that's fine! *laughs*
This is very much a personal project but there are Joni fans out there and I hope it resonates with them; 'Hejira' is just an amazing piece of poetry music and you don't hear many 9 minutes tracks! But it's just poetry and poems are long and that's that.
What about the other songs of your own that fitted in with the vibe of this record rather than say the next AFTERHERE record?
I think as I was working through them, and how that was panning out, I don't really know, it all just fell into place really.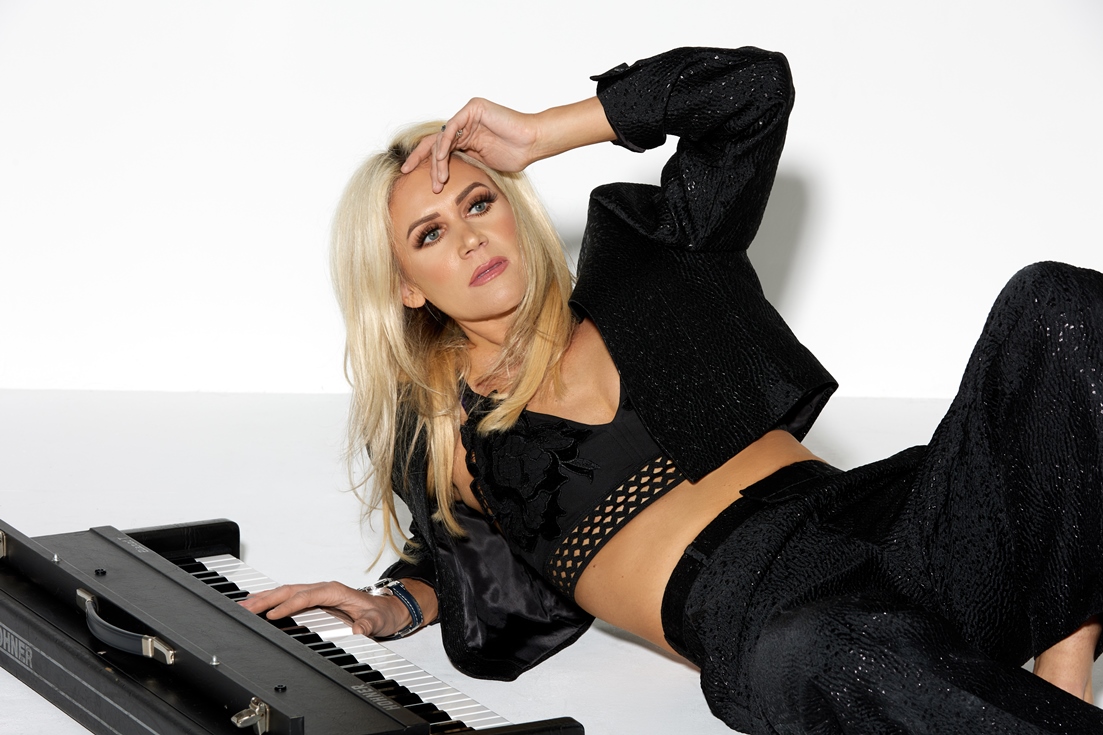 You're a Roland Ambassador, is there anything new in tech and gear that has excited you?
I've just got my hands recently on the GAIA 2… oh my goodness, it's absolutely incredible! Normally it takes a while to get to know keyboards but I just plugged and played the other day, I was there for 2 hours with my headphones! Absolutely amazing! From an instant play, it sounds incredible and everything is accessible, it's got some amazing features on the interface, it's everything in one. I'm kinda blown away by it at the moment and I can't wait to have some more time with it. Roland have asked me to do a little video for it so that will be my first port of call. I'm excited about that!
I really enjoy working with them, they're such a great company and have been so supportive over the years. I can't really tell you how amazing to work closely with them. It's been one of my favourite things about my music career so far.
How are you releasing 'A Joni Kind Of Mood'?
I think potentially there may be some physical but at the moment it's just digital because obviously that's easy, it's across all platforms and so accessible. If there's a demand for some vinyl, I guess we'll put that together, we'll see how it goes really.
What is next for you?
I've got a gig on 12 January 2024 at PizzaExpressLive in Holborn, that's the next big step which I'm really excited about.
---
ELECTRICITYCLUB.CO.UK gives its warmest thanks to Berenice Scott
Additional thanks to Sacha Taylor-Cox at Hush PR
'A Joni Kind Of Mood' is available now via the usual online platforms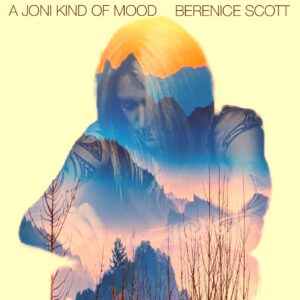 Berenice Scott performs songs from the album at PizzaExpressLive in Holborn on Friday 12 January 2024, tickets available from https://www.pizzaexpresslive.com/whats-on/berenice-scott
http://www.berenicescott.co.uk/
http://www.facebook.com/berenicescott
https://twitter.com/berenicescott
https://www.instagram.com/berenicescott/
https://open.spotify.com/artist/3DbWAPmoi3cZVnTbbHTgi8
---
Text and Interview by Chi Ming Lai
3 November 2023