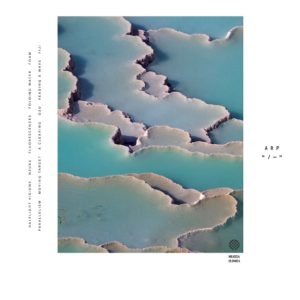 ARP is back with a new eleven track instrumental album entitled 'Zebra'.
The moniker of New York based multi-instrumentalist Alexis Georgopoulos, things have been quiet for ARP over the last couple of years, although there was a collaborative album with Jefre Cantu-Ledesma under his own name. 'The Soft Wave'
 in 2010 proved to be ARP's breakthrough release and featured the wonderful kosmische melodies of 'High Life', the  beauty of 'Summer Girl' and the progressive clustered sonics of album opener 'Pastoral Symphony_ I. Dominoes II. Infinity Room'.
2013's 'More'
ventured into primarily song based territory and Georgopoulos' own Eno-esque green world with 'Judy Nylon' coming over as the ultimate homage to the art rock of 'Here Come The Warm Jets'. The cassette album 'Inversions'
from 2016 explored ambient via Moog and violin, as well as arpeggio driven rhythmic trance.
Never one to sit still and keen not to brand himself with any particular style, Georgopoulos continues his aural exploration and like the zebra itself, his latest work sees him revelling in contrast and duality, using a wider spectrum of musical colours than previously.
With the minimalistic air of Terry Riley and Steve Reich, the gorgeous 'Halflight Visions', held together by a marimba arpeggio and some tinkling Fener Rhodes, sets the scene for 'Zebra'
.
Meanwhile the African flavoured 'Nzuku' continues use of the marimba derived backbone with a live percussive swing, guitars and an assortment of buzzy synths for a jam of extended cosmic jazz. Using tribal drum mantras, 'Flourescences' and 'Folding Water' both continue on the theme.
The combination of sweeping synths and marimbas gives 'Parallelism' a distinctly spacey vibe while the two minute long 'Ozu' adds flutes and string bass to the soundtrack. At nearly nine minutes, the piano laden 'Reading A Wave' ventures into avant jazz and perhaps overindulges.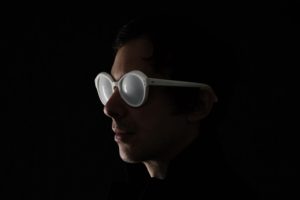 Utilising the Fourth World tremors of Jon Hassell and Brian Eno, 'Fiji' combines a variety of textures including snatches of double bass, shimmering string machine and bleepy electronics for a pleasingly hypnotic ride to the terminus.
Eclectic to say the least but less instantly engaging and melodic than 'The Soft Wave', 'Zebra' sees Georgopoulos continue his path towards jazzier territory.
Those who preferred the pan-European overtures of 'The Soft Wave' might be disappointed, but those in for the long haul on the ARP journey will appreciate the ambition, the musicianship and the masterful quality of its production.
---
'Zebra'
is released by Mexican Summer on 22nd June 2018 in double vinyl LP, CD + digital formats
http://www.studioalexisgeorgopoulos.com
https://www.facebook.com/arpsoundss/
http://www.mexicansummer.com/artist/arp/
---
Text by Chi Ming Lai
Photos by Shawn Brackbill
21st June 2018