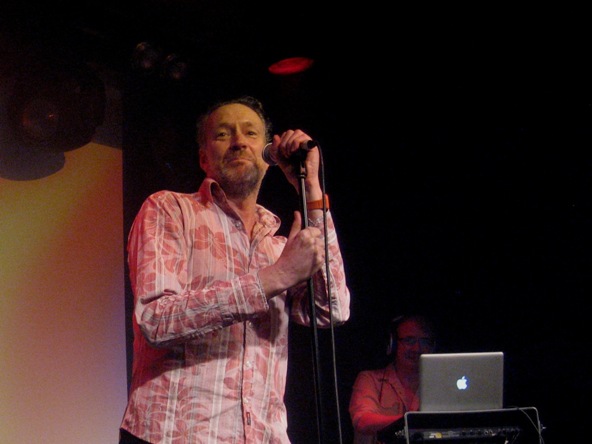 The concept of an album being revisited and restyled for a live setting is now a regular staple of the professional circuit but can be controversial.
In 2008, GARY NUMAN gave an industrialised makeover to his classic 'Replicas' which delighted some but alienated many others, so much so that when Mr Numan undertook his 30th Anniversary tour of 'The Pleasure Principle' a year later, it was note-to-note faithful, right down to the absence of guitar as on the original.
Since their return in 2011, BLANCMANGE have been very much about looking forward with frontman Neil Arthur focussing on material from the comeback album 'Blanc Burn' during live shows and even daring to omit their much loved ABBA cover 'The Day Before You Came'. But this year has seen a slight change of heart with Arthur now comfortable with BLANCMANGE's legacy as shown by a willingness to play at the 'Rewind Festival' in Henley.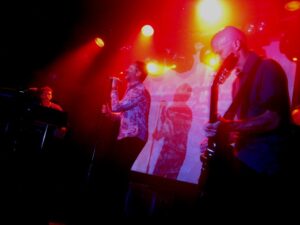 Tonight, BLANCMANGE journeyed back to their recorded beginnings by airing their highly regarded debut album 'Happy Families'.
But rather than go through the practice of recording the show via the Live Here Now process and issuing it on the night, warts 'n' all, Neil Arthur has gone through the unusual process of re-recording the album as a memento for fans attending the shows. Not surprisingly, it's been retitled 'Happy Families Too'
Much loved by people unless their name was Julian Cope, the original 'Happy Families' album was produced by Mike Howlett and featured then new kit such as the Linn Drum Computer and Roland Jupiter 8.
The Linn in particular was a star of the album with busy digital claps and congas manifesting themselves in a way that a trained percussionist would never have dreamed of attempting. But while 'Happy Families' is as a result, an album very much of its time, it also gives it a unique and sparkling charm.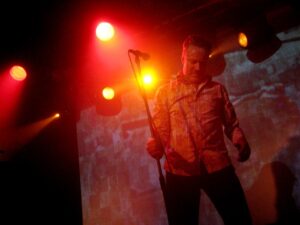 Thus Neil Arthur's concept for 'Happy Families Too' was to realise the starker vision that Arthur and his BLANCMANGE partner Stephen Luscombe had envisaged when writing the songs with more basic approaches.
After all, the version of 'Sad Day' for the now iconic 'Some Bizzare Album', which also launched DEPECHE MODE, SOFT CELL, THE THE and B-MOVIE, was just a Minipops rhythm unit, a borrowed Wasp synth, a battered string machine and Arthur's countrified guitar.
While Arthur has used VSTs for the sounds to keep it very much in the present, it's the more minimal approach that has been the key.
Bearded and in a floral shirt, Neil Arthur was as down-to-earth as ever but giving it his all. First up, there was 'Lose Your Love', the lost second single from 1985's 'Believe You Me' album. On a mission to ensure the show was not just about nostalgia, highlights from BLANCMANGE's comeback album 'Blanc Burn' formed the initial part of the set. Several of the audience were actually heckling for the more recent material such as 'The Western' and 'Drive Me', both of which are certainly on a par with the best of anything Neil Arthur and the sadly absent Stephen Luscombe have recorded.
But as well as the newer songs like 'By The Bus Stop @ Woolies' (accompanied by archive news reel of Arthur's hometown of Darwen in Lancashire) and 'Ultraviolent', there were also the 'Happy Families' era B-sides 'Game Above My Head' and 'Running Thin'. It was particularly nice to hear the latter, a number that has only ever been recorded as a John Peel Session but now to be properly recorded and included on the deluxe edition of 'Happy Families Too' slated for 2014.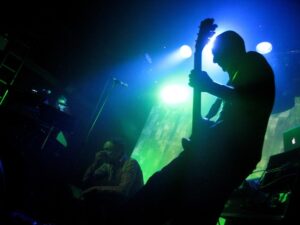 Focussing on 'Happy Families Too' in tracklist order for the second half of the show, 'I Can't Explain' was as enthrallingly ferocious as ever but with the added tension and bite of live guitar.
Swapping positions as Neil Arthur's on-stage straight man with regular percussionist Pandit Dinesh (who only actually played on one 'Happy Families' song), it was David Rhodes who was on virtually all of 'Happy Families' that returned to the BLANCMANGE fold.
A regular sideman of PETER GABRIEL and JAPAN's live guitarist on their 'Tin Drum' tour, his virtuoso expertise varied from the E-bowed strings on 'Waves' to the Spiders/Ronson power chords replacing the Hawaiian zing of 'Wasted'.
Arthur himself took to lead six string for 'Sad Day' in a rework that almost returned to the 'Some Bizzare album' take, referencing ENO and his 'Taking Tiger Mountain (By Strategy)' long player, in particular 'The Fat Lady Of Limbourg' and the beautiful title track.
'Living On The Ceiling' required no introduction and even featured an audience chant-along of its main Middle Eastern motif at the song's conclusion as Arthur held the mic on its stand out into the crowd.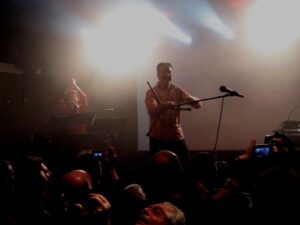 'Feel Me', 'I've Seen The Word' and 'God's Kitchen' are already enjoyable regulars in the usual BLANCMANGE live set, so positive reaction to those was not to be unexpected.
But the premiere of 'Kind' as part of 21st Century BLANCMANGE was highly welcomed, its sub-JOY DIVISION tension and percussive ferocity providing a fitting companion to 'I Can't Explain' played earlier. Returning to encore with the vocoder layered 'Radio Therapy' and a stomping 'Blind Vision', it was a wonderful evening of post-modern artistry and entertainment that celebrated history rather than pandered to nostalgia.
And as if to make that point further, 'Don't Tell Me' and 'The Day Before You Came' were bravely left out of the evening's proceedings. No-one seemed to mind though as the throng around the merchandise stall to purchase CDs of 'Happy Families Too' and meet the big man at the end of the night proved. Yes, it was one big happy family 🙂
---
Special thanks to Duncan Clark at 9PR
'Happy Families Too' is released on Blanc Check Records. A deluxe edition will be issued in 2014 featuring a new version of 'Running Thin', Vince Clarke's remix of 'Living On The Ceiling' and much more.
Meanwhile, BLANCMANGE's debut EP 'Irene & Mavis' is reissued on 10 inch vinyl by Minimal Wave; please visit
www.minimalwave.com/articles/article/blancmange-irene-mavis-ep-10 for more details
www.facebook.com/pages/blancmange/116356598425703
---
Text and Photos by Chi Ming Lai
16th November 2013