Featuring the haunting afflicted vocals of Essex songstress Polly Scattergood, Bruce Woolley reimagines his classic 'Video Killed The Radio Star' in a new epic arrangement with the fitting subtitle of 'Dark Star'…
Recorded with THE RADIO SCIENCE ORCHESTRA, Woolley introduces them with the proclamation: "Listen to The Sound of Tomorrow – Today!"
A number co-written with Trevor Horn and Geoff Downes, Bruce Woolley recorded 'Video Killed The Radio Star' first with his band THE CAMERA CLUB in 1979 and originally released as the B-side to the single 'English Garden'. But it was THE BUGGLES featuring Horn and Downes who scored the UK No1 in a version with slightly different lyrics later that Autumn.
The song was to become prophetic and when MTV launched in August of 1981, the very first music video broadcast on the new channel was 'Video Killed The Radio Star'. Fast forward to 2017 and while radio maintains a presence via the internet, video continues to rule via platforms such as YouTube and Vimeo.
The spacey monochromatic visual accompaniment for 'Video Killed The Radio Star (Dark Star)' sees Scattergood clad like Barbarella in thigh length boots, while enticingly twiddling with an EMS VCS3 in the ultimate homage to retro-futurism and vintage Sci-Fi. She said in an interview with ELECTRICITYCLUB.CO.UK in 2014: "I have always been fascinated by electronics. When I made my first album, although I enjoyed experimenting, it was all fairly new to me. But by the time I made 'Arrows', I guess I felt more confident in the sound I wanted to make". 
Polly Scattergood is no stranger to cover versions, having previously offered reinterpretations of 'Hurt', 'New York, New York', 'The Look Of Love', 'Comfortably Numb' and 'Only You' in her various guises. Meanwhile, THE RADIO SCIENCE ORCHESTRA sees Woolley reunited with Thomas Dolby who played keyboards with THE CAMERA CLUB.
---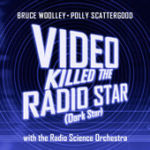 'Video Killed The Radio Star (Dark Star)'
is released as a download single by Gramophone Records
http://www.pollyscattergood.com/
https://www.facebook.com/brucewoolleyhq/
https://www.facebook.com/polly.scattergood/
---
Text by Chi Ming Lai
6th March 2017