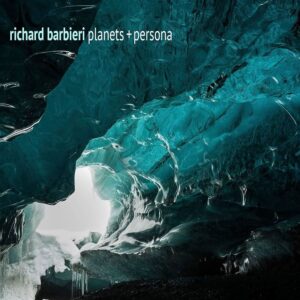 Richard Barbieri releases his most sonically expansive album yet in 'Planets + Persona'.
But despite a recording career of nearly 40 years, which began as a member the innovative art muzak combo JAPAN, 'Planets + Persona' is only Barbieri's third solo work. Over the intervening years, he has worked with his former band mates in various guises, Steve Hogarth of MARILLION and most notably, prog rockers PORCUPINE TREE.
'Planets + Persona'
comprises of seven lengthy instrumentals which while primarily electronic in nature, encompass organic tones and voice manipulation. Steve Hogarth, Barbieri's wife Suzanne and Swedish musician Lisen Rylander Löve are among the vocalists who have been morphed into these new sounds. In an interview with ELECTRICITYCLUB.CO.UK, Richard Barbieri said of this ethos of innovation: "I layered up these voices that had quite interesting close harmonies so I manipulated them, put them into a sampler and further synthesized it… you know it's real voices but it sounds slightly weird".
Opening track 'Solar Sea' is a sleazy rhythmic excursion into another world. Using System 700 bass, the track's atonal jazz feel is then augmented by the haunting voice manipulations of Lisen Rylander Löve; these warping noises are offset by soothing brass inflections and live drumming. Followed by the spacey avant jazz of 'New Found Land' which was originally written by Barbieri for PORCUPINE TREE, this one is probably the most melodically framed piece on the album, ideal for those who are perhaps a bit more cautious about sub-seven minute instrumental work.
The three movement 'Night Of The Hunter' begins sparsely with '(1) Summer'; cascading harps run in before some beautifully picked acoustic six string from Christian Saggese accompanied by Barbieri's gentle orchestrations. However after those brighter beginnings, '(2) Shake Hands With Danger' is much starker and sombre with the title's announcer sample creeping in over the building percussive tension. The mood then subsides and on '(3) Innocence Lost', sweeping synths, cacophonies of sax and a drum loop take things to their natural conclusion.
'Interstellar Medium' is the only piece that Barbieri performs totally solo on 'Planets + Persona' and here, he utilises the detuned pentatonic sound design that he pioneered on JAPAN's 'Tin Drum' as well as more eerie manipulated voicing; it's well-titled as it does what it says on the tin.
Meanwhile, the beautiful tinkling ambience of 'Unholy' is countered by unsettling Nordic voices before a deep synth bass rumble and acoustic guitars change the mood completely, aided by Löve's soprano sax. As the album heads towards the final straight, 'Shafts Of Light' uses largely conventional instrumentation to achieve its icy atmospheric aims, featuring some lovely trumpet from Luca Calabrese.
Closing with the magnificence of 'Solar Storm', this is practically a full band jam with the legendary Percy Jones on bass and Kjell Severinsson on drums, while the ever versatile Löve blasts in with her sax. It's all held together marvellously by Barbieri's programming of bass and ethnic chimes, while what appears to be a guitar solo is anything but. As Jones solos with his fretless in the middle section over a mass of electronic sequences, it recalls why he was such a key influence on the late Mick Karn; JAPAN and ENO fans will love this!
'Planets + Persona' is not a one-paced ambient record, the variations in structure and tempo make this an enticing musical adventure outside of the conventional song format. Coupled with a sonic accessibility, this makes for a perfect mid-evening album of aural escapism.
As Barbieri himself put it: "'Planets + Persona' is more cinematic, it's a wide spectrum of sounds so if I was a painter, you could say I'm using more colours".
---
'Planets + Persona'
is released in CD, double vinyl and digital formats by Kscope
RICHARD BARBIERI appears at Exeter Phoenix on Thursday 16th March and London Hoxton Hall on Tuesday 28th March 2017. He will also perform as part of The Seventh Wave Festival of Electronic Music in Birmingham on Saturday 25th and Sunday 26th March 2017.
https://www.facebook.com/RichardBarbieriOfficial/
http://www.kscopemusic.com/artists/richard-barbieri/
---
Text by Chi Ming Lai
Photos by Ben Meadows
6th March 2017