The switch to digital technology in the production of synthesizers caused a seismic shift not just in the way that music was produced, but also how analogue devices were perceived.
The advent of the Yamaha DX7 was the catalyst which caused many musicians to throw out/sell their old Moogs and Korgs with the viewpoint that these new devices could do everything sonically that they could plus more besides. The newly pioneered Frequency Modulation and Phase Distortion forms of synthesis meant that harmonically complex sounds such as bells and pianos could now be simulated and the warm, analogue sounds of synths such as the Roland Jupiter range began to sound immediately dated in comparison.
The trend was continued when both Korg and Roland introduced their PCM/sample-based M1 and D50 synths which added in new layers of complexity in sound creation which again would have been impossible to create using a voltage controlled oscillator-based device.
One only has to listen retrospectively to songs like 'Human' by THE HUMAN LEAGUE or albums such as 'Provision' by SCRITTI POLITTI to hear how the sawtooth-based electronic sounds of the past had almost overnight become replaced by shiny bell-like tones and THAT omnipresent rubbery 'Lately' DX bass sound.
However, hindsight is a wonderful thing and many producers/musicians were left with major egg on their faces when it eventually became apparent that digital synths weren't the be all and end all, lacking the warmth and ease of programmability that their earlier analogue counterparts were able to provide.
Tales of vintage synths being sold for relative peanuts are now legendary and most keyboard players who experienced this era will have an appropriate sob story to tell relating to this!
The next wave of technology to have a significant impact was the birth of the digital sampler – now musicians were able to grab any sound and trigger it from a keyboard and again this had a huge effect on the sound of music production.
Ironically in 2016, everything has now come full circle; manufacturers are now frantically reissuing remakes of earlier analogue and digital products, while with the birth of the virtual synthesizer, packages such as the Arturia Collection V offer up software versions of the Prophet 5, Oberheim SEM and Minimoog at an affordable price.
The choice of digital synthesizers here is a fairly personal one and it isn't intended to endorse a particular product. Some of the chosen synthesizers weren't necessarily the highest specified ones either, but were adopted because a producer/musician managed to use it in such a way that belied their lower price point. The synths chosen are also from the first wave of digital synths and as such doesn't include any of the current wave of digital-based products.
---
FAIRLIGHT CMI (1979)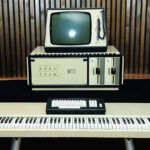 The Rolls Royce of samplers and a fully integrated workstation that included a digital synth, sequencer and rhythm programmer, the Australian Fairlight CMI and its 28mb of memory (!) indelibly left its mark on music production. Costing as much as a decent sized house, the CMI helped transform the sound of artists such as JEAN-MICHEL JARRE who used it extensively on 'Magnetic Fields' and 'Zoolook'. Its omnipresent 'Orchestra 5' "Whooomph!" patch was used and abused by everybody from PET SHOP BOYS, KLAUS SCHULZE and KATE BUSH to U2 and prog rockers YES…
Iconic example of use: PET SHOP BOYS 'It's A Sin'
---
NED SYNCLAVIER (1979)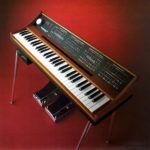 The Synclavier was an all singing, all dancing sampling mega-workstation that was favoured by DEPECHE MODE, MICHAEL JACKSON and THE CURE. The cost of some of the versions of the Synclavier made the Fairlight seem affordable in comparison, with a top-spec system going for the outrageous price of $200,000 dollars! Like the CMI, the Synclavier was way ahead of its time and brought a higher quality of sampling and sequencing into a few privileged high end studios.
Iconic example of use: SOFT CELL 'Tainted Love'
---
CON BRIO ADS200 (1980)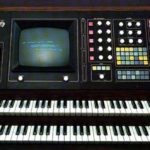 With only two units being produced, once seen, the Con Brio ADS200 can never be forgotten. Looking like something out of 'Space 1999', with a built-in display monitor and clad wall-to-wall in veneer, the ADS200 is probably the nearest the synth world came to an outlandish concept car; it looked incredible, but ultimately was doomed to remain a pipe dream. One belonged to BECK's father David Campbell who reportedly paid £17,000 for it. The ADS200's implementation of FM synthesis raised a few legal eyebrows at Yamaha although no action was taken.
Iconic example of use: Fittingly the Con Brio ADS100 got used for sound effects on the movie reboot of 'Star Trek'
---
PPG WAVE 2 (1981)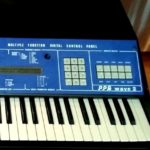 The striking and very blue-looking PPG (Palm Products GmbH) Wave 2 synth became another popular digital synth. Its bell-like quality can be heard on DEPECHE MODE's 'A Broken Frame'. TANGERINE DREAM also toured with one extensively after assisting the company with the development many of their other products. Martin Gore had a Casio MT30 sat on his PPG Wave 2 with a 'Fairlite' name stuck on the back in what could be seen as a side swipe at Vince Clarke who had ploughed a large percentage of his royalties into a Fairlight purchase.
Iconic example of use: DEPECHE MODE 'The Sun & The Rainfall'
---
YAMAHA GS1 (1981)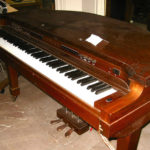 Despite its 19th Century appearance and looking for all intents and purposes like a grand piano, the GS1 was the first keyboard produced by Yamaha to feature the patented Frequency Modulation (FM) technology. Like the Fairlight, the GS1's prohibitive price tag of $25,000 meant that it was out of reach for most musicians. The size and weight of the machine at nearly 90kg meant that it was never intended to be a touring machine; only a 100 units were manufactured too, but it still deserves its place in synthesizer history for kick-starting the FM revolution.
Iconic example of use: TOTO 'Africa'
---
DIGITAL KEYBOARDS SYNERGY (1982)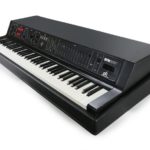 The Synergy used additive synthesis to generate its sounds and its 74 note keyboard made it attractive to keyboard players like WENDY CARLOS who used the Synergy on 'Digital Moonscapes' and 'Beauty In The Beast'. It was unusual in that it allowed the layering of four sounds and also possessed a four track in-built sequencer, but unfortunately lost its memory once the machine was powered down. Sadly, the DX7 signalled the death knell for the Synergy, costing three times less and being fully programmable…
Iconic example of use: WENDY CARLOS 'Tron' soundtrack
---
YAMAHA DX7 (1983)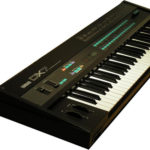 Taking the technology first used in the GS1, the DX7 brought FM Synthesis to the masses and along the way transformed the sound of the charts between 1983-1989. The DX's distinctive rubbery bass sound started to appear everywhere from A-HA's 'Take On Me', HOWARD JONES' 'What is Love?' through to LEVEL 42's 'Hot Water'. But unless you were a musical brainiac like BRIAN ENO, the DX7 was notoriously difficult to program and legend has it that most units which were returned back to Yamaha for any maintenance still had their preset sound banks left untouched!
Iconic example of use: BERLIN 'Take My Breath Away'
---
YAMAHA DX1 (1983)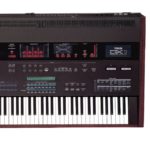 The DX1 could be considered as a connoisseur version of the DX7, every part of it is THAT more expensive looking from its fully weighted keyboard, deeper control panel through to its wooden end cheeks. The sound of the DX1 was much thicker than the often thin sounding DX7 because the user was able to layer two sounds together. If however you intend buying one of these, the secondary market is extremely limited as only 140 models were produced. Users included PET SHOP BOYS and DIRE STRAITS.
Iconic example of use: DIRE STRAITS 'Money for Nothing'
---
CASIO CZ101 (1984)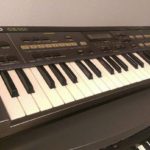 The CASIO CZ101 and YAMAHA DX100 were almost like distantly related cousins; both had mini keys, utilised digital sound generating techniques and had guitar strap pegs which allowed them to be played in a keytar style. The 101 was adopted by Vince Clarke and was used extensively on the debut ERASURE album 'Wonderland'. Despite being digital, the CZ range was still capable of some pretty rich analogue style sounds and patches like the Organ preset soon found themselves appearing on many a house track.
Iconic examples of use: BLANCMANGE 'Believe You Me' album
---
EMU EMULATOR II (1984)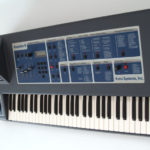 Much beloved of DEPECHE MODE and NEW ORDER, the follow-up to the original Emulator was an 8 bit machine that had analogue filters. In contrast to the rack-mounted Akai range, the keyboard-based Emulator became a much more popular live machine, with sample storage being held on 5.5 inch floppy disks. The addition of MIDI compatibility, in-built sequencer and separate audio outputs made it a highly sought after sampler. PET SHOP BOYS' Neil Tennant played one in the infamous Old Grey Whistle Test performance where he fluffs the string part in 'Opportunities'.
Iconic example of use: DEPECHE MODE 'Christmas Island'
---
ENSONIQ MIRAGE (1984)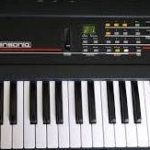 The Mirage was a good value for money sampler/synthesizer, although the specifications these days look laughable with 8 bit, 333 note sequencing memory and 128kb of RAM. It featured analogue filters, a velocity sensitive keyboard and 8 note polyphony. Even now, players swear by the warmth that the filter can give to a sample, but the inscrutable programming method it utilised via hexadecimal-code manipulation meant that editing samples was only for the faint-hearted! Users included SKINNY PUPPY and JANET JACKSON on the 'Control' album.
Iconic example of use: SKINNY PUPPY 'Jackhammer'
---
KORG DW8000 (1985)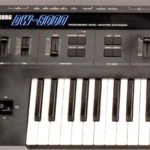 The heart of the KORG DW8000's sound was digitally generated from its DWGS (Digital Waveform Generator System). The DW8000 was a bit of a hybrid, half-way between a DX7 and an analogue synthesizer in that its waveforms were digital and its filter analogue. The synth gained a lot of fans because of its in-built arpeggiator and FX and although not as successful as the M1, it was still used by artists such as DEPECHE MODE and KEITH EMERSON.
Iconic example of use: EMERSON, LAKE & POWELL 'Love Blind'
---
YAMAHA DX100 (1985)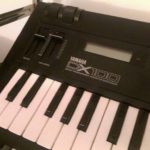 The DX100 along with the FB01 sound module were the entry level points for those wishing to explore FM synthesis. Whilst not possessing the same amount of operators as its bigger DX brothers, the DX100 became popular with Detroit Techno producers like Kevin Saunderson, Derrick May and Juan Atkins because of its distinctive bass sound. If you also check out an equipment list from the 'Electric Café' era of KRAFTWERK, you will see that one surprisingly also found its way into the German electronic maestros synth armoury too.
Iconic example of use: RHYTHIM IS RHYTHIM 'Nude Photo'
---
SEQUENTIAL CIRCUITS PROPHET VS (1986)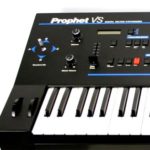 After their success with the Prophet 5, Prophet 10 and Pro One, the Prophet VS was a departure for Sequential Circuits and featured an innovative joystick which allowed the user to mix/program sounds. The VS was used on the soundtrack to 'Tron' and John Carpenter's 'Big Trouble in Little China' with synthesist Alan Howarth using some of the synth's more 'eastern' sounding presets to evoke the atmosphere needed for the film. This was another favourite synth for Vince Clarke and featured extensively on both 'The Circus' and 'The Innocents' albums.
Iconic example of use: ERASURE 'It Doesn't Have to Be'
---
BUCHLA 700 (1987)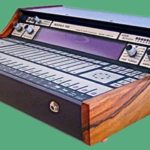 Although generally known as Robert Moog's competitor in the analogue modular synth stakes, Don Buchla actually produced a digital synth in the shape of the 700. Used by Alessandro Cortini of NINE INCH NAILS fame, it used a mixture of synthesis techniques (FM/Wavetable/Subtractive/Additive) and in true esoteric Buchla fashion, let the user create their own tunings with as many or as little notes per octave as wanted. Only six were made, but BENGE went on to create a mini-album using the 700 called 'Chimeror' produced as a result an hour's improvisation with the machine.
Iconic example of use: BENGE 'Chimeror'
---
ROLAND D50 (1987)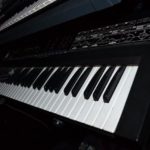 Utilising a combination of Pulse Code Modulation (PCM) and Linear Arithmetic (LA) synthesis, the D50 was another omnipresent synth. Its many famous users included ENYA, VANGELIS, JEAN-MICHEL JARRE and Nick Rhodes from DURAN DURAN. For some reason there was a bitter rivalry between M1 and D50 owners as to who had the 'best' synth, and to this day, debates still rage on in synth forums! Arguments aside, the D50 was certainly one of the 'big three' digital synths that transformed the sound libraries of most synth players in the period.
Iconic example of use: JEAN-MICHEL JARRE 'Computer Weekend'
---
AKAI S1000 (1988)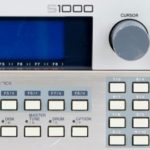 Despite being a royal pain in the ar*e to program due to its small LED screen, the S1000 was THE digital sampler which found its way into the equipment list of every decent studio of the period. Bringing sampling to the masses it also featured a timestretch function which let samples be warped and became the de rigueur vocal effect on tracks such as JOSH WINK's seminal acid track 'Higher State of Consciousness' and DOUBLE 99's Speed Garage anthem 'Ripgroove'.
Iconic example of use: PORTISHEAD 'Dummy' album
---
KORG M1 (1988)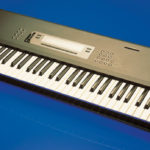 Alongside the D50 and the DX7, the M1 was THE synth that was most likely to appear on 'Top Of The Pops' when a band featured a keyboard player. With a range of sounds from arguably the first decent 'real' piano sound through to some complex/atmospheric patches, the M1 was adopted by everybody from house producers using the organ bass like on 'Show Me Love' by ROBIN S through to your typical functions band of the day. OMD's 1991 'Sugar Tax' album is almost entirely Korg M1!
Iconic example of use: GARY NUMAN 'Sacrifice' album
---
ROLAND W30 (1989)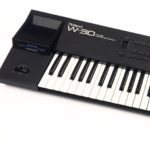 The W30 deserves its place if only for the way that Liam Howlett from THE PRODIGY was so devoted to it for nigh on 20 years. Despite being Roland's 1st workstation synthesizer and featuring sampling technology, Howlett used the W30 primarily as a sequencer to drive sounds/loops from his Akai Sampler and would go onto use up until 2008. Howlett's live use of the W30 was so extensive that he bought up the remaining keys from Roland Japan as he used to break them every other show…
Iconic example of use: THE PRODIGY 'Everybody In The Place'
---
ROLAND JD800 (1991)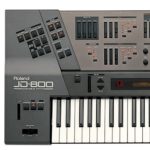 The JD800 signalled a return to the analogue-style design philosophy of its older machines with plenty of real-time control and sliders, but at the time wasn't a terribly successful selling machine. The machine featured a keyboard with aftertouch which allowed extra control of its sounds, but if you manage to find a JD800 on the s/h market now, this was one of the things to fail on the machine as the glue used had a habit of melting. Famous users of the JD800 include: FAITHLESS, UNDERWORLD and DEPECHE MODE.
Iconic example of use: JEAN-MICHEL JARRE 'Chronologie 4'
---
WALDORF WAVE (1993)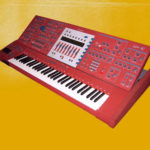 Although a digital synth (it was Wavetable based), the Wave had analogue filters which helped give it its warmth. Its users included HANS ZIMMER, LEFTFIELD, ANTHONY ROTHER, KLAUS SCHULZE and ULRICH SCHNAUSS who still has an orange model – it was also unusual in being expandable from 16 voices up to 48 voices. With only roughly 200 sold, the Wave pretty much put Waldorf out of business, losing money on each unit shipped. Due to its scarcity, the Wave is highly collectable with a price tag close to $10,000 for one.
Iconic example of use: BJÖRK 'Violently Happy (Live Version)'
---
CLAVIA NORD LEAD (1994)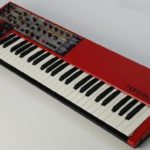 The original Clavia Nord Lead helped coin the term "virtual analog synthesis". It was followed by a series of other machines all in a distinctive red livery and was adopted by many artists including NINE INCH NAILS, UNDERWORLD and FLUKE. The addition of several real-time controls plus the ability to mimic several retro analogue synths meant that the Lead became an extremely popular synth with a range that still endures today.
Iconic example of use: THE PRODIGY 'Funky Sh*t'
---
KORG PROPHECY (1995)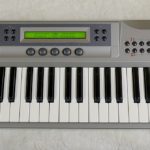 The Prophecy was unusual in that it was a monophonic synth that used virtual modelling to emulate everything from blown and plucked sounds, through to thicker, more analogue textures. Probably most famous for providing one of the lead sounds on THE PRODIGY's 'Smack My Bitch Up', the Prophecy was also blessed with aftertouch and ribbon control on what was often affectionately referred to as a 'sausage roll' on the left hand edge of the synthesizer.
Iconic example of use: THE PRODIGY 'Smack My Bitch Up'
---
KURZWEIL K2500 (1996)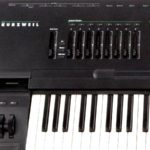 The K2500 in its keyboard and rack version was popular as a workstation synth, featuring a synth engine, sequencer and sampling with the additional ability to load in Akai samples. It found favour as live machine for several years with PINK FLOYD and in the studio with NINE INCH NAILS. The rack version wasn't the most user friendly machine to use due its over-reliance on its editing screen, but the machine had a lush warm sound to them and many users continue to swear by them.
Iconic example of use: PLASTIKMAN 'Plasticine'
---
WALDORF MICROWAVE XT (1998)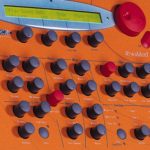 With the rise of melodic trance, synths like the brightly coloured (or some might say 'lairy') Microwave XT from the Waldorf range help artists such as FERRY CORSTEN re-introduce some welcome digital-based analogue sounds back into the musical marketplace. The Microwave XT, although a baby brother to the HUGE Wave synth, was still an extremely fat sounding synth and coloured its most prominent control (the filter cut-off) in a fetching shade of red to differentiate it from the other controls on its orange front panel. NINE INCH NAILS also count amongst one its famous users.
Iconic example of use: THE ART OF NOISE 'The Seduction of Claude Debussy' album
---
Text by Paul Boddy
4th March 2017