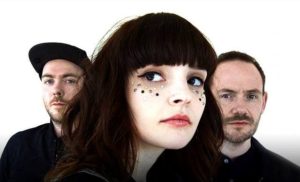 The world just can't get enough of CHVRCHES.
CHVRCHES have admirably stuck to the synthpop credentials with which they made their name and last year, delivered what LITTLE BOOTS, LA ROUX, and LADYHAWKE and HURTS all failed to do… a decent second album in 'Every Open Eye'
!
It is an indicator of how far CHVRCHES have developed. Understanding their strengths and taking a less complex approach to their effervescent synthpop, one key move was employing the more electronically tuned Mark 'Spike' Stent on the mixing desk, rather than more rock inclined Rich Costey who had looked after the debut 'The Bones Of What You Believe'. It's a lesson that a veteran band like DEPECHE MODE could learn from.
Speaking of whom, during the propulsive four-to-the-floor action of 'Clearest Blue', the song is wonderfully held in a state of tension before a dynamic surprise in the final third that recalls the classic overtures of Vince Clarke.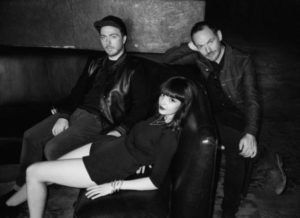 Anyone not noticing the aesthetic similarities to The Basildon Boys' first UK Top 10 hit has stubbornly got their heads in the sands.
But does it matter? Well, no! As the highly respected Factory Records biographer James Nice put it in an interview with The Ransom Note recently "I have no problem at all with something new being imitative as long as it's good"; and ELECTRICITYCLUB.CO.UK totally agrees!
One of the 30 Songs of 2015, the new surreal video for 'Clearest Blue', directed by Warren Fu, appears to have a number of symbolic connotations, with front woman Lauren Mayberry looking forlorn in the woods, suited in armour, before eventually shedding that very coat of arms to face her public. It reflects the general feisty mood of the 'Every Open Eye' album, with Mayberry emerging as a fighter following playing the victim on CHVRCHES' debut.
What Iain Cook, Martin Doherty and Lauren Mayberry have managed to do is get teenagers listening to classic synthpop. Hopefully these youngsters will research electronic music's legacy, which is why historical referencing is so important, to preserve the genre's roots.
And from that, they will attempt to create their own music. Now that can only be a good thing for the future.
---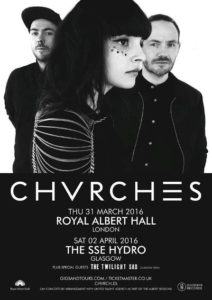 'Clearest Blue' is from the album 'Every Open Eye'
via Virgin Records, available as a CD, deluxe CD with three bonus tracks, vinyl LP and download
CHVRCHES play London's Royal Albert Hall on Thursday 31st March and Glasgow's SEE Hydro on Saturday 2nd April 2016
https://www.facebook.com/CHVRCHES
https://www.facebook.com/chvrchesfans/
---
Text by Chi Ming Lai
24th February 2016