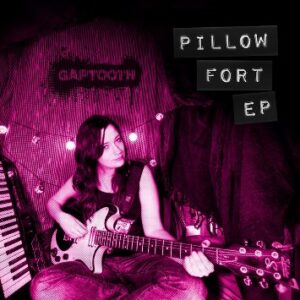 East London's Hannah Lucy aka GAPTOOTH, first emerged onto the indie / electro scene in 2013, releasing her debut album 'Connections-Departures'.
The single heralding the production, 'Ladykillers', was full of girl attitude and feisty feminist power, and it received an ample airplay on BBC 6 Music, as well as being featured on numerous compilations.
2016 sees the return of the strong minded artist with 'Pillow Fort' EP, mixed by Oli Horton, who was previously involved on 'Connections-Departures', duetting with Ms Lucy on 'Enduring Freedom'.
Horton was a core member of a great synth hope TRADEMARK, who not only supported Human League and Chicks On Speed, but also remixed various artists, such as THE MODERN (aka MATINEE CLUB featuring Nathan Cooper aka KID KASIO), GOLDRUSH, KISH MAUVE, BOY KILL BOY and CAS FOX.
Nowadays Horton is an artist and producer under the pseudonym Dreamtrak, being involved in various projects, including QUEEN OF HEARTS and further remixes such as 'No Pressure' for LITTLE BOOTS.
'Pillow Fort' minimalistically sees only four tracks, with Stay Away From Me' as the opening gambit. It's a song written to celebrate the "final unfriending of a toxic ex", where GAPTOOTH feels that she "must erase you". Rough vocals over a synth melody fortified with harsh guitar continue the feminist themes, and can be compared to those of Saffron of REPUBLICA. The video accompanying the title has been directed by Bristol based singer/songwriter Laura Kidd aka SHE MAKES WAR.
'Good Guys' sounds punky and rugged and describes dating mishaps, angrily wrapped up into a synthy piece, while 'Such A Girl' slows the tempo somewhat at first, describing the harshness of the modern world and the roles imposed on both men and women.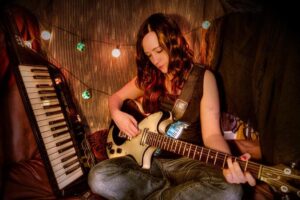 The closing track, 'I Built A Fort', with its minimalist sounds, depicts a child-like solution to the issues of the world of today. Every problem can be seemingly sorted, when one builds a fort made out of duvets and sings a grown up version of 'If You're Happy And You Know It'.
While the debut album bore heavier guitar and louder sounds, the EP, while still being angry, raw and in-your-face, deploys more electronic tones and is rather tongue-in-cheek.
The readiness of the sound of GAPTOOTH will probably appeal more to the younger electronica fans, or to those who enjoy the matters of importance being tackled using quirky sarcasm and light-heartedness, SUDDEN CREATION style.
---
The 'Pillow Fort' EP is released on 4th March 2016 by Gaptooth Music and available as a CD or download from https://gaptooth.bandcamp.com/
http://www.gaptoothmusic.co.uk/
https://www.facebook.com/gaptoothmusic
---
Text by Monika Izabela Goss
Photos by Steve Dawson
29th February 2016