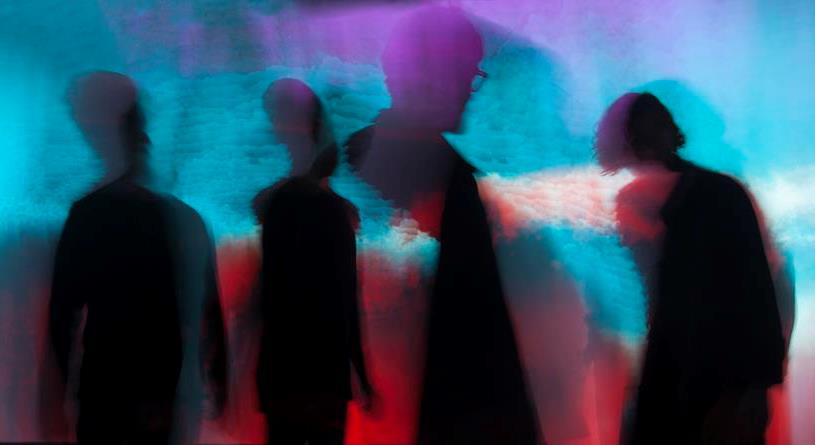 SCALPING are a five piece act hailing from Bristol, a town already with a notable musical heritage.
Over a fairly short time period, the band developed a reputation for their ferocious live shows and secured a support slot with SQUAREPUSHER which unfortunately got derailed due to the pandemic, along with their own standalone gig at Peckham Audio in London.
Made up of James Rushforth, Alex Hill, Isaac Jones, Jamie Thomas and visual artist Jason Baker, SCALPING formed in 2017 with the intention of carrying on Bristol's musical tradition, but with a sound that eschews hip hop, drum 'n' bass and trip hop in favour of an aesthetic which combines the synthetic rigidity of EBM and EDM but played primarily with band instrumentation.
SCALPING started releasing material in 2019 with the tracks 'Ruptured', 'Chamber' and 'Satan II' helping to define their sound; one which potentially appeals to both an electronic and rock audience alike. 'Chamber' was a frenetic mixture of ascending 'Computer World'-era sequencers, EBM vowel-bass and aggressive guitars. Accompanied by a trippy, dystopian promotional video, as an introduction, 'Chamber' additionally gives the listener an aural feel for SCALPING's live performances.
Taking the structure of dance music, but melding it with a live band dynamic, the band shows no respect for genre boundaries and successfully manages to achieve the tricky feat of merging these two disparate styles, with Belgium's SOULWAX coming to mind as a comparison point. More improvisational in nature than 'Chamber', 'Satan II' skips from one section to another with an uneasy mix of punkish guitars and an almost MANTRONIX-inspired bassline.
The band have recently signed to the Houndstooth label which is a new venture for the Fabric club imprint brand and this partnership sees the release of 'Deadlock'. Recorded in Bristol and Rockfield Studios in Wales, 'Deadlock' is centred around the combo of a frequency modulated synth bass and the kind of thrash-y guitar riff that wouldn't normally be seen dead in this kind of synthetic company. The influence of UNDERWORLD can be heard here too with a 'Rez' style synth part appearing early on in the track.
'Deadlock' is accompanied by a video produced by Jason Baker who is also responsible for generating the graphics which are projected behind the band for their live shows. The post-apocalyptic nature of 'Deadlock' will come as no surprise and helps to define the overall visual styling of the band (which with an act that has no lead vocalist is no mean feat). According to Baker "The video came from brainstorming sessions with the band. Ideas slowly morphed into this idea of a church service for some weird future tech religion where nirvana is replaced with oblivion and forced onto people through VR screens. Religion done right, basically."
Over the last few years it's been interesting to watch many of the metal and rock fraternity embrace electronic music, especially picking up on the much maligned Synthwave genre, even to the point where attendees were actually observed headbanging at a PERTURBATOR gig a few years ago! With this in mind, the direction SCALPING are going in surely means that they are bound to pick up many new fans from both musical sides. The other potential development will be whether the band decide to remain instrumental in nature or eventually adopt vocals into their pieces, this is a question which will likely be answered with what will (hopefully) be an upcoming album for Houndstooth in the New Year.
In the meantime, SCALPING are a visceral and exciting band who are definitely one to watch; a fantastic example of artists who are pushing the musical envelope and trying to get as far as a way from "death by laptop" live experience of many electronic bands.
---
'Deadlock'
is out now as a digital single via Houndstooth
https://www.facebook.com/scalpingmusic/
https://twitter.com/scalpingmusic
https://www.instagram.com/scalpingmusic/
---
Text by Paul Boddy
18th December 2020