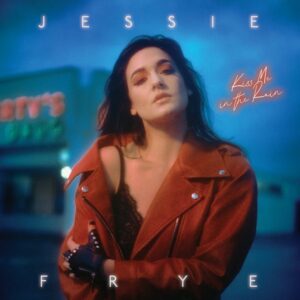 Dallas based Jessie Frye started releasing and performing music in 2008.
A classically trained pianist and vocal coach, she chose the vintage pop sounds to showcase her musical talents and since her beginnings, has gathered a decent following of fans from synthwave by blending a nostalgic outlook with modern production techniques.
Having shared stages with well-known acts of the genre like COM TRUISE or PHANTOGRAM, she has also performed alongside Beck and Pat Benatar.
Frye's songs are "the stories of her heart and life experience" with the highlight of her career being performing for thousands during Bernie Sanders' presidential campaign in 2016. Produced by Matt Aslanian, her new album 'Kiss Me In The Rain'
on NewRetroWave Records comes in at the right moment to try and raise spirits beaten by the difficult first part of 2020.
An American version of NINA, Frye opens up with a ballad to celebrate the release of her long player; 'Fantasy' is uncomplicated and cleverly served over the familiar synthwave elements, leading into equally demure 'Angel'.
FM-84 singer Ollie Wride joins Frye on 'Malibu Broken', lending his voice on this fast tempo number, while Stock, Aitken and Waterman could have easily backed 'The One' with its fast paced danceable qualities where Jessie's vocal attempts to marry the voice of Amy Lee of EVANESCENCE and Sinitta.
'Faded Memory' is what Frye hopes not to be, supported this time by TIMECOP1983. This mega synthy number is reminiscent of the superb achievements of Dana Jean Phoenix, but the bombshell descends with 'No Sleep' where somewhat rocky elements are introduced into the mix.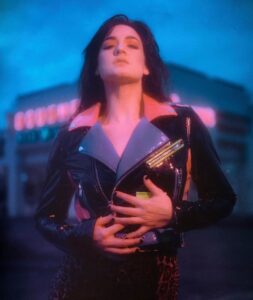 'Ocean' injects a further dose of sunny synth, while 'High' sees Frye collaborating with Robert Parker on this glistening easy listening track. 'Eighteen' slows the tempo again to lead to the closing 'Wild In My Eyes' which is a quintessential synthwave positivity loaded track.
If you're in need of a pick me up this summer, parts of this album will do just this. Being a synthwave undertaking, it is just it at most parts.
However, at times Frye's voice is dying to branch out and it would come as no surprise if she switched genres in the future.
---
'Kiss Me In The Rain'
is released by New Retro Wave and available in CD, vinyl LP, Minidisc and digital formats from https://newretrowave.bandcamp.com/album/kiss-me-in-the-rain
https://www.facebook.com/jessiefryeband
https://twitter.com/jessiefrye
https://www.instagram.com/jessiefryemusic/
https://newretrowave.com/2020/04/09/catching-up-with-jessie-frye/
---
Text by Monika Izabela Trigwell
Photos by Jamie Maldonado
17th July 2020