Laura Fares aka LAU is an Argentinian songwriter, drummer and producer, who has been living and working in London for a couple of decades.
Having studied music and musical performance, the talented instrumentalist toured with Ricky Martin as a session drummer, before opening for the likes of Adele and Robyn. As a creative director of Aztec Records, LAU released the music of BRIGHT LIGHT BRIGHT LIGHT and NINA. Indeed her work with NINA on 'Sleepwalking' and 'Synthian' took them onto several tours with ERASURE, with the duo duetting with Kim Wilde on her brother Ricky's remix of 'The Wire'.
Any self-respecting synthwave artist aspires to be associated with the big projects of the scene, and not surprisingly LAU lent her talents on 'The Rise Of The Synths' film. Now, having gone solo, she releases her debut long player 'Believer'.
The ten track opus suggests a step into the world of independence, both personally and musically, hoping to bring the much needed cheer factor during these unprecedented times.
Opener 'Stunning' could indeed be stunning with its fast tempo, but it's somehow lacking the intensity. When one chapter ends, LAU is eager to move on with heartfelt lyrics and a palpable nostalgia, leading onto 'We Had Magic', which continues the story of a broken heart. Musically light hearted, the depth of emotions is felt throughout the track, leading onto 'True'. Accusing the lost lover of never reciprocating her devotion, but playing with fragile emotions, LAU wraps the story in clever rhythms and vintage synthesis.
'Believer' hopes for a better tomorrow while 'The Cards' charms with a gorgeous melody, longing for the lost soulmate and unrequited love. 'Recognise' bursts the feels bubble with a hope for a new chapter and a fresh beginning.
The light-hearted synthy rhythms weave in and out of the drum extravaganza of 'Always On My Mind', utilising Fares' many talents as a drummer, producer and vocalist. She continues the 'Emotional' journey with a slower paced airy ballad, gently enveloping her sentimental trip over the lost relationship, being 'Unable' to forget the good times and the love she felt.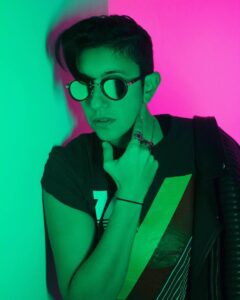 The closing number 'What It Takes' wraps up the wistful expedition into the artist's mind and emotional state with a plea to get her lover back.
While the expected comparisons with NINA's recent albums, sitting neatly on the top shelf of the synthwave establishment, will inevitably happen, one can surely say that LAU's first solo offering is a promising example what the multi-talented artist can achieve.
Although at times lacking the depth, 'Believer' is a strong debut, proving that irrevocable love is always a subject worthy of depiction. The capability clearly shines through this one.
---
'Believer' is released in red vinyl, cassette and digital formats by Aztec Records, available from https://laufares.bandcamp.com/album/believer-album
https://www.facebook.com/laufaresmusic
https://www.instagram.com/laufares/
https://open.spotify.com/album/74lNj3qYmgDJA8Qb3rwu3P
---
Text by Monika Izabela Trigwell
22nd February 2021