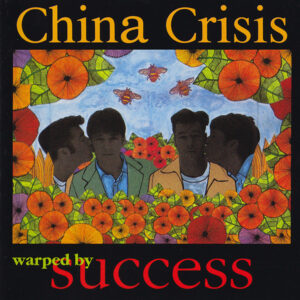 1994's 'Warped By Success' was the sixth album by CHINA CRISIS and came some five years after 'Diary Of A Hollow Horse' which was mostly produced by Walter Becker of STEELY DAN and their last record for Virgin Records.
Despite their first three albums charting in the Top25 in the UK having yielded a hit single each in 'Christian', 'Wishful Thinking' and 'Black Man Ray', sales for the next two albums were disappointing, thus precipitating the end of their seven year relationship with Virgin Records. It also saw Gazza Johnson, Kevin Wilkinson and Brian McNeil leaving the CHINA CRISIS family, having been all together as a unit since 1985.
But given the opportunity to make another album again a few years later by West Coast Productions, a mysterious company that specialised in budget compilations and bizarre rock collections, Gary Daly and Eddie Lundon regrouped to make what was to be a very personal record. One of the team assisting CHINA CRISIS to realise the sound of 'Warped By Success' was the future Grammy Award winning engineer Mark Phythian, with a creative relationship that continues to this day.
Developing on the mature laid back feel of 'Diary Of A Hollow Horse', there were jazzier overtones on the opener 'Hand On The Wheel' while glorious blue-eyed soul could be found on 'Wishing Time'. The cautious optimism of 'Everyday The Same' recalled CHINA CRISIS' later Virgin-era singles and heralded a new dawn for the duo, although 'Real Tears' touchingly captured the sadness of bereavement and 'Hard To Be Around' reflected on a relationship coming to the end of its natural course.
Something of a follow-up to 'Stranger By Nature' on 'Diary Of A Hollow Horse', 'Without The Love' celebrated the joy of parenthood while the solemn orchestrated ballad 'The Way We Are Made' was dedicated to Derek Jarman.
Despite being a fine collection of well-written songs, 'Warped By Success' is very much the forgotten album in the CHINA CRISIS portfolio. But as ELECTRICITYCLUB.CO.UK was to find out, the aftermath of its initial genesis was less than happy, perhaps indicating why it would not be until 2015 that CHINA CRISIS would release another long player in 'Autumn In The Neighbourhood'; and while that album is being re-issued in a vinyl edition, 'Warped By Success' remains unavailable.
Gary Daly kindly gave a candid recollection of the background behind 'Warped By Success' and why for him at least, it is not among his favourites and how CHINA CRISIS eventually got back their creative mojo for 'Autumn In The Neighbourhood'.
'Warped By Success' was at the time in 1994 seen as a comeback for CHINA CRISIS which seems funny now considering it had only been five years since 'Diary Of A Hollow Horse', compared with the timespan that occurred before 'Autumn In The Neighbourhood' in 2015?
I can't imagine at the time Eddie and myself thought it was anything other than a very very different experience from being with a major label… we would have thought maybe we had come full circle, from starting out on Inevitable Records then Virgin then back to a small independent label / Stardumb. And after being responsible for soooo many people's livelihoods, jobs etc etc, it was really quite a nice experience to be back to just Ed and myself…
How had things changed within the CHINA CRISIS camp by the time 'Warped By Success', both personally and creatively?
Gosh, lots… just about everything that could change, did. Our band, which had been together about 8 years, was suddenly no more. It was a mutually agreed parting of the waves, as they say but basically we had no wages for anyone and people had to make a living…
Kev got busy doing sessions and touring with bands, everyone from FISH, SQUEEZE to THE PROCLAIMERS … Gaz took over his family business and continued to play live and do sessions… Brian opened and ran his own studios up in Glasgow, Scotland.
Personally, lots of the stuff of life was happening in our lives, births deaths and marriages. And this all fed into the songwriting… Eddie singing about losing his dad on the songs 'Thank You' and 'Hands On The Wheel' and myself singing about Eddie losing his dad on 'Real Tears'.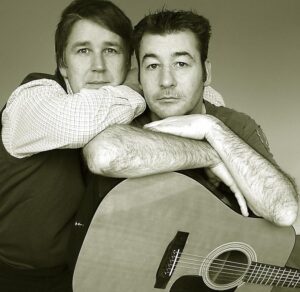 You were recording at Hatch Farm Studios in Surrey which was as different as you can get from Maui and Los Angeles where parts of 'Diary Of A Hollow Horse' had been done? Any thoughts?
Yeah, awful place, awful people! It really was a massive mistake of Eddie's and mine to get involved with the place and the people. But it was a chance to make a record and that's all we ever wanted to do really… it's a definite "If I could turn back time…" moment. We have a version of the album we made with Mark Phythian, it's a beautiful thing and we hope to release one day… I hope so.
You and Eddie were back working as a duo again. Had this been out of necessity after the full band years or had technology advanced that music could be made electronically while exuding the live performance qualities you desired?
It was basically how we found ourselves after leaving Virgin records and the band moving on, it did feel completely natural. We rented a room from Peter Coyle of THE LOTUS EATERS on Hope Street in Liverpool. Eddie and myself would make our way there each day and write and record our little instrumental demos, just like when we started out. So you can imagine after almost 10 years touring, to be back just the 2 of us demoing, it was quite lovely really.
The technology hadn't moved on that much in the early 90s… Eddie and me would have set the room up old school, synths , drum machines, effects, portastudio, mixing desk…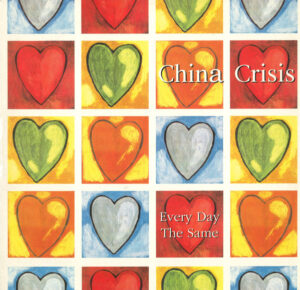 Were the sessions more relaxed than before without the pressure of being on a major label? It seems to come across like that on the record…
We was enjoying ourselves lots, it was soooooo great making a record with no real producer involved, it meant Eddie and myself could properly get fully involved with guiding the tracks.
I think on reflection though, you can hear there was no-one at the helm, steering the ship, so to speak. I think there's a lack of standout moments… most of the songs are decent, but there's not many great performances.
I think with us making some hugely standout albums with the "band" giving the songs depth with their performances, on reflection, that's what the songs lack… no Kev, no Brian, no Gaz, no Walter… awwwww…
'Warped By Success' is a great title, had that been an ironic comment on your Virgin years?
Absolutely, you have no idea what you are signing up for and then BOOM! You've been on the telly and suddenly you are different… not really, but you are… some more than others…
Now more than ever I think you could apply that title, just think of all the many many reality TV shows / talent shows / etc etc! Success like that really can warp your life and your mind! Success I think is something best "worked" for, but then again I'm an old Grandad now so I would say that… ahaaa!
'Hands On The Wheel' and 'Every Day The Same' appeared to reflect on the topics of the first two albums, or has ELECTRICITYCLUB.CO.UK read that wrong?
Eddie would have to vouch for 'Hands On The Wheel'… 'Everyday The Same' is basically myself singing about our new found freedom and how best to engage with that, and get positive again…
There was an element of being dropped from Virgin Records which wasn't great, everyone losing their jobs was tough. So this album being our first post Virgin Records album… there was deffo an element of us being "Indie" again which felt right…
'Without The Love' and 'Real Tears' were classic emotive CHINA CRISIS pop tunes, you certainly hadn't lost it?
Yeah, they are both proper lovely songs. 'Without The Love', that's me being a young dad and absolutely loving being home with my girls and not away all the time touring. 'Real Tears', well that's just myself being Eddie's old school buddy and watching him go through it a bit with his dad being poorly at the time. It would be great to see the Chinas perform these songs one day, I hope so .
There were more Eddie lead vocals on 'Warped By Success' than on other CHINA CRISIS albums, had this partly been as a result of you both writing separately during the hiatus?
Not really, because we was actually working more together after leaving Virgin than we had previously when we was still with the label and band. I think Eddie sang / wrote more then, mainly because he had more going on in his personal life…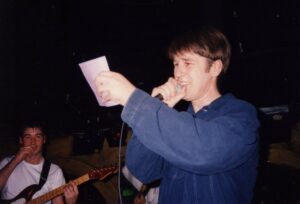 'Hard To Be Around' was very honest and emotive…
It's a funny one 'Hard To Be Around', at the time I dedicated it to Kevin mainly because in lots of ways, Kevin kept the Chinas going. He just made us all feel a lot better about ourselves and whatever situation we found ourselves in. But I think I'd really felt it when I could see Kevin was sort of throwing in the towel with us, not for any other reason than it was time to "move on"… but yeah, it was a hard pill to swallow .
Was 'Good Again' about anything specific?
Err yeah, everything that was happening round about then felt like renewal. Relationships / making a new album, it was a very exciting time. We'd gotten over no longer being with a major label and it was time to make it "Good Again".
'Wishing Time' seems to have captured CHINA CRISIS at their most soulful, those vocal harmonies, woodwinds, brass and drum machine work beautifully together…
Ah yeah, that was Eddie having his SOUL II SOUL moment, I think the drum loop is possibly from 'Back To Life' or similar. Bowie's 'Young Americans' album was a massive influence on Eddie and myself, so if you ever hear us sounding a bit "soulful", that's what it is…
Oh and Eddie would have got properly involved with arranging the brass which is something he loves to do… me myself, I'm more of a woodwinds kinda guy… ahaaaa
'One Wish Too Many' and 'The Way We Are Made' appear to be musically connected, how had they emerged?
'The Way We Are Made'… having just listened to it now, crikey ! The recordings not great at all! Hearing it now, it's deffo a rites of passage song… again, becoming a young dad, I would have been very much of a mind… the road is indeed, just as Paul McCartney and THE BEATLES had pointed out… L O N G!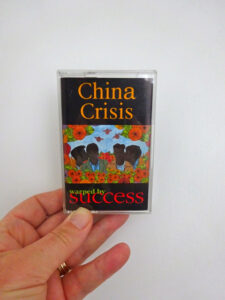 You set up your own Stardumb Records imprint to release the album, how was it for you to venture into this part of the operation?
By name only… there was no Stardumb label. The company we was working with had lots and lots of differing musical projects on the go, with our album being just one of many.
We needed something / anything to separate us from the companies other super naff projects and so we came up with the name… as I said before, it was an awful, awful situation we found ourselves in.
When 'Warped By Success' came out, how did you find the press and audience reaction to it?
The expression "piss poor" springs to mind… awww I do hope you can print that, because it's true! We were, as a musical force, absolutely spent! Imagine at the time, it was OASIS , BLUR, THE STONE ROSES and… 'Warped By Success'… no, not a great time… ahaaa but thems is the breaks which you have to weather… and weather them we did… and continue to do…
How do you look back on the album now, what are your own favourite tracks?
I don't look back at that album at all. Eddie will remind me now and then just how great some of the songs are and recently we had 'Hands On The Wheel' in the live show and we almost had 'Good Again' in there.
But as memories go, I don't "go" there… too sad and upsetting for me. They are not any of my fave CC songs but I wouldn't want to put anyone off having a listen. Lots and lots of China fans love this album, I'm just not one of them…
Out of all the CHINA CRISIS albums, 'Warped By Success' is the most difficult to one to obtain, is there any chance it ever will be back in the public domain again?
Our version, certainly… but the actual album, n , there's too much legal stuff around it. And the future is a Big Bright and Beautiful Wonderful New World .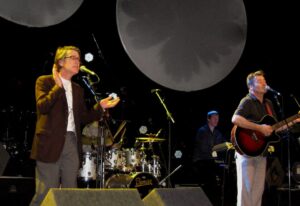 One thing that 'Warped By Success' did do was reboot CHINA CRISIS as a live entity because that is one area where there has been a demand for you…
Maybes, eventually it did…we did slowly, but surely, begin to play live again.
I would say it took us a good couple of decades to get back to "Hey ! How good are CHINA CRISIS, must go and see 'em live…"
Honestly , when we'd left Virgin in 1990, we had no live fans really, having only ventured out live when promoting each new record. And there's a big big difference between having a live following and having hit records. So yeah , we properly got on with it and I'm glad to say, I can't imagine we was ever better live than we are now… prettier, yeah, absolutely… but actually a better live act, I doubt it… ahaaa ?
The 'Warped' experience put you off releasing new music for a long time, but you finally did again with 'Autumn In The Neighbourhood' in 2015? What was the spark to get you motivated into writing new songs again?
The 'Warped' experience wasn't great… it didn't so much put us off recording as make us realise times had changed. We was properly back to being just the two of us… we did tour the album and even recorded a new live album 'Acoustically Yours' for Paul Humphreys of OMD's Telegraph label which was a super lovely evening at the Neptune Theatre in Liverpool that reunited the Classic 80s China's line up plus guest appearances from Peter Coyle and Jennifer John.
So basically the China's got busy playing live which we felt at the time we was sort of starting from scratch, not really having a "live" reputation. I think it was all the performing live that got us writing and recording again, with us being asked at almost every show "when are yous gonna record a new record????"
What made 'Autumn In The Neighbourhood' a much happier and more satisfying experience?
The fact the recording had purpose, it was properly funded and the fans what made it happen got properly involved. . .every step of the way… which at times was challenging with not everybody being on the same page at the same time… ahaaa, but it did work brilliantly. All the studio sessions had a great up against the legacy… Walter Becker, Mike Howlett, Langer and Winstanley, Phil Brown, Pete Walsh… all these amazing artists we'd worked with and had such success, that was the challenge. Back in the day , our recording budgets were huge, 80s style huge and although 'Autumn' was properly funded, it was nowhere near what it was back in the day!
Was it about being able to have more control of the creative process from start to finish, thanks to the crowdfunding process?
Yes, it absolutely was… it felt like we was back to being "indie" which is exactly how we started, 'African & White' on Inevitable Records, distributed by Rough Trade.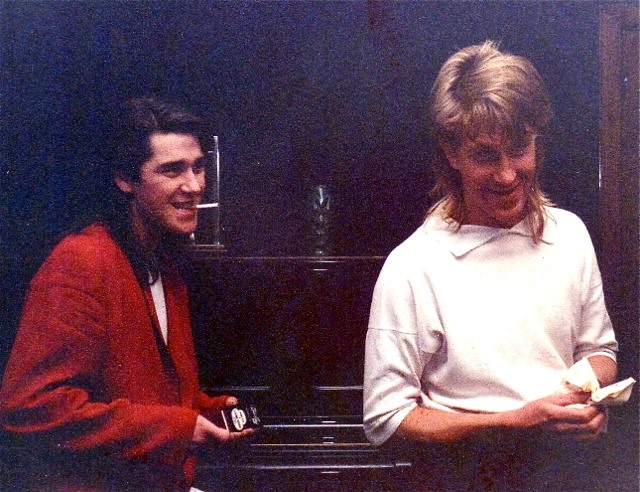 You were back working with Mark Phythian and had Carl Brown in to produce while at various points, the old band of Gazza and Brian reappear while Kevin was also there in spirit, was making the album more like a family get-together in atmosphere?
Yes, Mark and Carl and Brian all gave so much to the project… their expertise was invaluable. Mark's ears are "GOLD" and it would be him that was responsible for the stereo loveliness coming out the speakers.
Carl and Brian were very much hands on performing and recording, both being musicians / producers with years and years of experience. They would very much want to capture all the performances and again, would be very much of a mind that "this is a bit special", we've all grown up together.
Which songs 'Autumn In The Neighbourhood' were highlights for you?
'Because My Heart' is sublime , Gazza and Kevin are completely responsible for the feel of that song; I originally wrote the song on piano and when we first played it, the feel was very much 'How Long' by the band ACE. It was Gaz who went home and played it on guitar and then Kevin and Gaz came back into the studio and completely changed the feel to what it is on the record, which is what I like to call "line dancing fantastic"… ahaaa
I think Eddie's song 'Fool' worked out amazing; I'd heard it just as a song Eddie sang with his guitar. He then came into the studio and sang and played it to a click… and boom! Months and months and months later… wow! What an arrangement… Eddie worked with a pal of ours, Paul Mitchell Davis on the brass / wind arrangement. I could imagine Walter Becker would be very very impressed… incredible!
You've released two solo records since 'Autumn In The Neighbourhood', so will there be any more new CHINA CRISIS music?
YES! We are currently working on a "Classic Crisis" album / tour for 2021… we'll be reworking some of our classic Crisis songs, 'Black Man Ray', 'Wishful Thinking' etc etc alongside new material. So we'll add as many new songs as we can and all in a classical setting, strings, wind and brass, top hat, black tie and tails kinda scene… ahaaaa
---
ELECTRICITYCLUB.CO.UK gives its sincerest thanks to Gary Daly
'Warped By Success' was released by Stardumb Records and is occasionally available via private sellers on eBay and Amazon Marketplace
CHINA CRISIS' 2015 album 'Autumn In The Neighbourhood' is reissued as a signed vinyl LP, available direct from https://www.musicglue.com/chinacrisis/products/autumn-in-the-neighbourhood-lp
A selection of Gary Daly solo releases are available from https://www.musicglue.com/gary-daly/
https://www.facebook.com/chinacrisisofficial/
https://twitter.com/ChinaCrisisUK
https://www.instagram.com/chinacrisismusic/
https://www.instagram.com/garydalymusic/
---
Text and Interview by Chi Ming Lai
4th August 2020